Chief Olusegun Matthew Okikiola Aremu Obasanjo(GCFR),was born 5 March 1937 in village of Ibogun-Olaogun to a farming family of owu branch of Yoruba. He is a Nigerian top politician and military leader who was Nigeria head of state from 1976 to 1979 and later serve as president of federal republic from 1999 to 2007.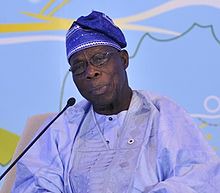 Obasanjo married his first wife,Oluremi Akinlawon, in London in 1963. She gave birth to his first child, Iyabo in 1967. Oluremi and Obasanjo divorced in 1970s. Decade after, Obasanjo began a common-law relationship with NTA reporter Gold Oruh who bore him two children. He married his second wife, Stella Abade in 1976 and she bore him three children. On 23 October 2005, the President lost his wife, Stella Obasanjo, First Lady of Nigeria.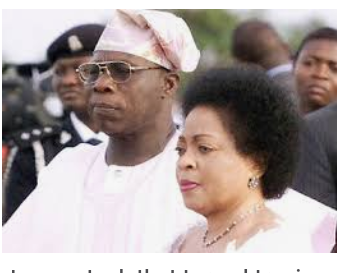 military career.
In March 1958, Obasanjo enlisted in Nigeria Army. He saw it as an opportunity to continue his education while earning salary. He did not immediately inform his family. It was at this point that Nigeria Army was being transferred to control of the Nigerian colonial government in preparation for an anticipated full Nigeria Independence and there were attempts to get more native of Nigerian into higher ranks of military. He was then sent to Regular Officer Training School at Teshie in Ghana.In September 1958 he was selected for six months of additional training at Mons Officer Cadet School in Aldershot, southern England. Obasanjo disliked it there, believing that it was a classist and racist institution, and found it difficult adjusting to the colder, wetter English weather. At Mons, he received a commission and certificate in engineering.while Obasanjo was in England,his mother died. His father then died a year later.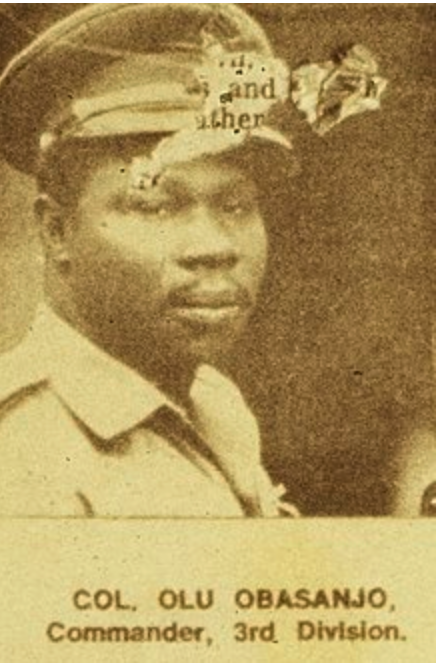 In 1959 Obasanjo returned to Nigeria. There, he was posted to Kaduna as an infantry subaltern with the Fifth Battalion.
Shortly after, the Fifth Battalion were sent to the Congo as part of a United Nations peacekeeping force. There, the battalion were stationed in Kivu Province, with their headquarters at Bukavu.In the Congo, Obasanjo and others were responsible for protecting civilians, including Belgian settlers, against Soldiers who had mutinied against Patrice Lumumba's government.In February 1961, Obasanjo was captured by the mutineers while he was evacuating Roman Catholic missionaries from a station near Bukavu. The mutineers considered executing him but were ordered to release him. In May 1961, the Fifth Battalion left the Congo and returned to Nigeria.During the conflict, he had been appointed a temporary captain.
On his return, Obasanjo bought his first car,and was hospitalised for a time with a stomach ulcer. On his recovery, he was transferred to the Army Engineering Corps. In 1962 he was stationed at the Royal College of Military Engineering in England. There, he excelled and was described as "the best Commonwealth student ever". That year, he paid for Akinlawon to travel to London, where she could join a training course.Thecouple married in June 1963 at camberwell Green Registry Office, only informing their families after the event. In 1963 Obasanjo was ordered back to Nigeria, although his wife remained in London for three more years to finish her course. Obasanjo took command of the Field Engineering Squadron based at Kaduna. Within the military, Obasanjo steadily progressed through the ranks, becoming a major in 1965. He used his earning to purchase land, in the early 1960s obtaining property in Ibadan, Kaduna, and Lagos. In 1965, Obasanjo was sent to India,he studied at the Defence Services Staff College in Wellington and then the School of Engineering in Poona.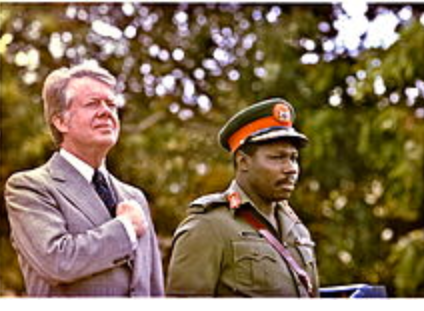 Obasanjo flew back to Nigeria in January 1966 to find the country in the midst of a military coup led by Major Emmanuel Ifeajuna.
Almost all of those involved in organising the coup were from the Igbo people of southern Nigeria. Obasanjo was among those warning that the situation could descend into civil war. He offered to serve as an intermediary between the coup plotters and the civilian government, which had transferred power to the military Commander-in-Chief Johnson Aguiyi-Ironsi. As the coup failed, Olusegun met Ironsi in Lagos.Ironsi soon ended federalism in Nigeria through his unification decree in May 1966, something which inflamed ethnic tensions. In late July, a second coup took place. In Ibadan, troops of northern Nigerian origin rebelled and killed Ironsi, also massacring around two hundred Igbo soldiers. General Yakubu Gowon took power.
While this coup was taking place, Obasanjo was in Maiduguri. Hearing of it, he quickly returned to Kaduna. There, he found that northern troops from the Third Battalion were rounding up, torturing, and killing Igbo soldiers.The Governor of Northern Nigeria, Hassan Katsina, recognised that although Olusegun was not Igbo, as a southerner he was still in danger from the mutinous troops. To protect them, Katsina sent Olusegun and his wife back to Maiduguri for ten days, while the violence abated.[35] After this, Obasanjo sent his wife to Lagos while returning to Kaduna himself, where he remained until January 1967. At this point he was the most senior Yoruba officer present in north
In January 1967, Obasanjo was posted to Lagos as the Chief Army Engineer. Tensions between the Igbo and northern ethnic groups continued to grow, and in May the Igbo military officer C. Odumegwu Ojukwu declared the independence of Igbo-majority areas in the southeast, forming the Republic of Biafra.
On 3 July, Nigeria's government posted Obasanjo to Ibadan to serve as commander of the Western State. The fighting between the Nigeria Army and Biafran separatists broke out on 6 july. On 9 July, Ojukwu sent a column of Biafran troops over the Niger Bridge in an attempt to seize the Mid-West, a position from which it could attack Lagos. Obasanjo sought to block the roads leading to the city. The Yoruba commander Victor Banjo, who was leading the Biafran attack force, tried to convince Obasanjo to let them through, but he declined.
Obasanjo was then appointed the rear commander of Murtala Mohammed's Second Division, which was operating in the Mid-West. Based at Ibadan, Obasanjo was responsible for ensuring that the Second Division was kept supplied. During the war, there was popular unrest in the Western State, and to avoid responsibility for these issues, Obasanjo resigned from the Western State Executive Council. While Obasanjo was away from Ibadan in November 1968, armed villagers mobilised by the farmers' Agbekoya Association attacked the Ibadan City Hall. Troops retaliated, killing ten of the rioters. When Obasanjo returned he ordered a court of inquiry into the events.
Gowon decide to replace Colonel Benjamin Adekunle, who was leading the attack on Biafra, but needed another senior Yoruba. He chose Obasanjo, despite the latter's lack of combat experience. Obasanjo arrived at Port Harcourt to take up the new position on 16 May 1969; he was now in charge of between 35,000 and 40,000 troops. He spent his first six weeks repelling a Biafran attack on Aba. He toured every part of the front, and was wounded while doing so. These actions earned him a reputation for courage among his men. In December, Obasanjo launched Operation Finishing Touch, ordering his troops to advance towards Umuahia, which they took on Christmas Day. This cut Biafra in half. On 7 January 1970 he then launched Operation Tail Wind, capturing the Uli airstrip on 12 January. At this, the Biafran leaders agreed to surrender.
On 13 January, Obasanjo met with Biafran military commander Philip Effiong. Obasanjo insisted that Biafran troops surrender their arms and that a selection of the breakaway state's leaders go to Lagos and formally surrender to Gowon.The next day, Obasanjo spoke on regional radio, urging citizens to stay in their homes and guaranteeing their safety. Many Biafrans and foreign media sources feared that the Nigerian Army would commit widespread atrocities against the defeated population, although Obasanjo was keen to prevent this. He ordered his troops in the region to remain within their barracks, maintain that the local police should take responsibility for law and order. The Third Division, which was more isolated, did carry out reprisal attacks on the local population. Obasanjo was tough on the perpetrators, having those guilty of looting flogged and those guilty of rape shot. Gowon's government made Obasanjo responsible for reintegrating Biafra into Nigeria, in which position he earned respect for emphasising magnanimity. As an engineer, he emphasised restoration of the water supply; by May 1970 all major towns in the region were reconnected to the water supply. Obasanjo's role in ending the war made him a war hero and a nationally known figure in Nigeria.
Content created and supplied by: Ola26 (via Opera News )
Opera News is a free to use platform and the views and opinions expressed herein are solely those of the author and do not represent, reflect or express the views of Opera News. Any/all written content and images displayed are provided by the blogger/author, appear herein as submitted by the blogger/author and are unedited by Opera News. Opera News does not consent to nor does it condone the posting of any content that violates the rights (including the copyrights) of any third party, nor content that may malign, inter alia, any religion, ethnic group, organization, gender, company, or individual. Opera News furthermore does not condone the use of our platform for the purposes encouraging/endorsing hate speech, violation of human rights and/or utterances of a defamatory nature. If the content contained herein violates any of your rights, including those of copyright, and/or violates any the above mentioned factors, you are requested to immediately notify us using via the following email address operanews-external(at)opera.com and/or report the article using the available reporting functionality built into our Platform See More