Opinion: Why I Think Nnamdi Kanu Is Yet To Reply What Sunday Igboho Said About Him In An Interview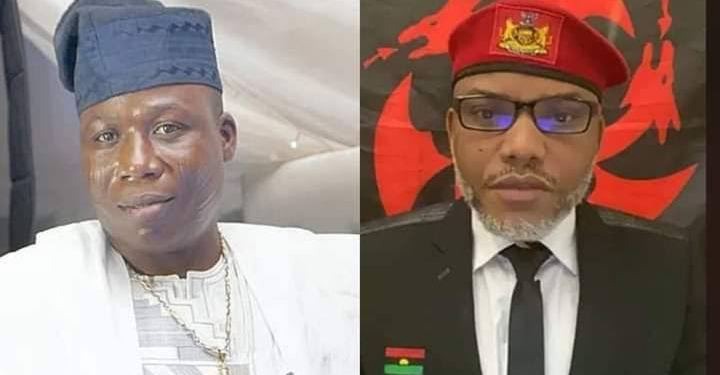 Disclaimer: This article is solely based on the writer's opinion on the two characters, (Igboho and Kanu).
As we all know that it is very unusual for someone like Nnamdi Kanu not to have send back a straight response to Sunday Igboho after he made some not so good comments about him.
As at yesterday, it was published by the Nigerian news dailies that Sunday Adeyemo popularly known as Sunday Igboho replied comments that compared him with the leader of the indeginous people of Biafra, Mazi Nnamdi Kanu in an interview session which was solely monitored by Punch News.
The self-acclaimed Yoruba activist, Igboho, said and condemned the comparison as he said he cannot be likened with the Biafra man that they both have different agendas.
Igboho in the interview indirectly blasted Nnamdi Kanu for not carrying his people along. He said, "Kanu is only imposing himself on his as a political leader on his people". However, over 24 hours now, Kanu is yet to reply Sunday Igboho. To cut the long story short, I'll be highlighting to you some few reasons why I think Nnamdi Kanu is yet to reply Sunday Igboho.
The reasons are:
1. I think Nnamdi Kanu is only trying to avoid unnecessary arguments or replies with the Yoruba activist. If he replies him, the media might twist his words and this kind of things can erupt the wage of another civil war.
Even though the comments about Kanu were right, I see Kanu as non-quiet fellow who gives instant replies to insults thrown at him but in this case he's yet to reply.
2. This is actually kind of funny but it's not, I think Nnamdi Kanu is afraid of Sunday Igboho's mystical and spiritual powers. We all know how fortified Igboho is and Nnamdi who has never come out as a fortified man might be secretly afraid to exchange words with.
It is true that every Tribe has their own means of fortification but not everyone has access to it.
3. He might see Igboho as someone little to deserve his words, so he'll rather keep quite over it.
What do you think about this? Why do you think Nnamdi Kanu is yet to give him a response over what he said?
Content created and supplied by: ibbwrites (via Opera News )