APC Vanguard Lauds Omo-Agege Exemplary Leadership, Call for Undiluted Support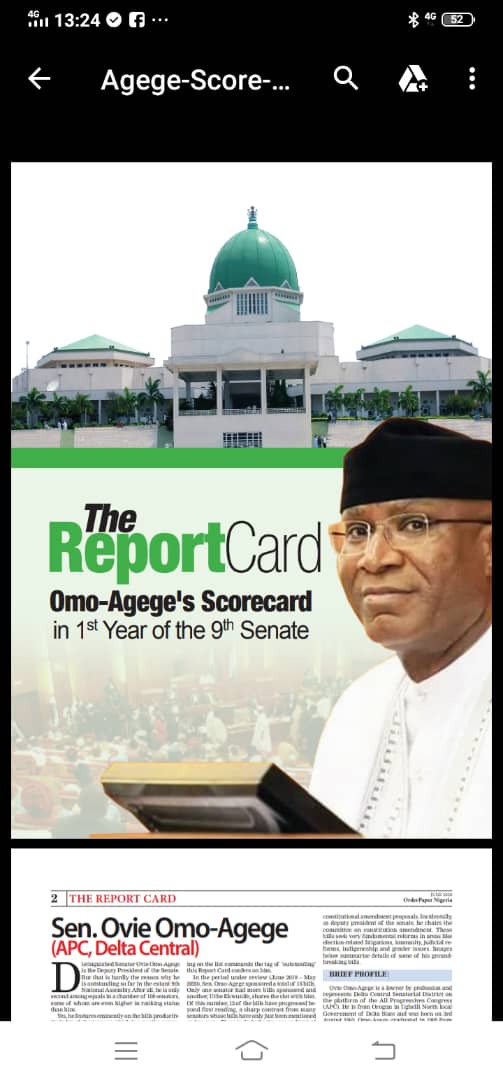 By Fidelis Onakpoma
APC VANGUARD is a leading group of the All Progressive Congress (APC) facilitating progressive movements of the Party. The group has commended the exemplary leadership of the Senate Deputy President of Nigeria, Barr. Ovie Omo-Agege, urging Deltans to give him undiluted support for continuous impact.
In a statement issued by the Convener of the group, Comr. Mamus Degreat Ejeba said "On behalf of APC Vanguard nationwide, we wish to say that we appreciate the leadership style of Senator Ovie Omo-Agege, the Deputy Senate President of the Federal Republic of Nigeria; his all-inclusiveness, show of love and concern for Deltans, Niger-Delta people, and Nigerians at large without sentiments and bigotry.
His Excellency, Distinguished Senator Ovie Omo-Agege has demonstrated astute representation of his people without a class structure, such which has never been in the case of earlier times in governance in Delta State, especially in this present democratic regime and the entire Niger-Delta region".
Ejeba ascertained that H.E. Senator Barr. Omo-Agege sees the hidden value in the extremely poor and ordinary people and gives them a leveled ground to play their way out. 
Comrade Ejeba reiterated on his leadership and communication-wise: stating that communication is an integral part of any relationship and also seen as the most essential aspect of sustainability in the affairs of an organization, which the Distinguished Senator Ovie Omo-Agege has given this a complete attention".
Ejeba reaffirmed a worthy representation as this is appreciated to retain it for the betterment of all and sundry. "I am not by any means trying to write a promotional story on this worthy and uncommon Nigerian political leader, but to convince you of the need and reasons beyond a reasonable doubt, why he should be considered as a worthy candidate to take a long time suffering, abandoned, dejected and politically tortured Deltans to the next level", Comr. Ejeba hinted.
Comr. MAMUS Degreat Ejeba,
Convener and National Coordinator,
APC VANGUARD
Content created and supplied by: SunViewNews (via Opera News )