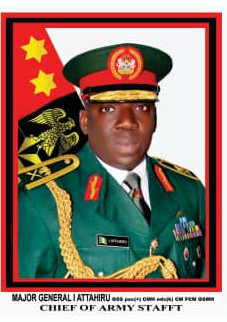 Dear sir,
       I write you this letter to share my thought on some unfavorable portions in the Harmonised Terms And Condition Of Service Of Nigerian Armed Forces (Revised) 2017.
Before i go further, let me remind you of the fact that military organizations in the whole world doesn't admit physically challenged individuals to the organization, simply because of the strenuous nature of the job, in which Nigerian Army is not an exception.
Which means, any military personnel with deformity undoubtedly got it on active service.
Sir, over the year, wounded soldiers have been marginalised in terms of promotions and other opportunities in Nigerian Army.
Initially my thought was that, the unit and formation commanders are being hostile to this set of innocent and hardworking soldiers, until some times ago when I had an opportunity to meet my commanding officer and asked some questions regarding wounded soldiers and their promotion.
The officer cautiously cleared my curiosity that commanders acted on AHQ instructions that medically unfit soldiers should not been considered for promotion, knowing fully well that this hardworking soldiers got their problems in the cause of discharging their constitutional duty, and he backed it up with a portion in the Harmonised Terms And Condition Of Service(Revised) 2017 Of The Nigerian Armed Forces, which totally dehumanized wounded and sick soldiers.
Chapter 4 paragraph 1of the HTACOS stated clearly that "promotion/ advance is a privilege, it is awarded by the service in recognition of hardworking and efficiency".
What is stipulated in this portion would have been a rewarding idea to motivate this hardworking men if it is fully implemented because they have contributed their own quota before they got injured in the line of duty.
But instead, Nigerian Army is making use of some portion in the same chapter 4 paragraph 4 which emphasises so much on medical fitness of every soldier before they can be considered for promotion.
Sir, how can a wounded and deformed soldier be medically fit?
Majority of them, especially the senior ones meet up with other criteria except the medical aspect.
This issue need be given an urgent attention before 2021 promotion board would commence in the next couple of month. Though I am exonerating commanding officers, because they have their own issue too.
It is in view of this i am pleading with you to use your good office and review the harsh portion that is standing as a blocking stone against their promotions and do the needful to favour the status of your wounded and sick soldiers.
Thanks and God bless!
Content created and supplied by: Ayinla12 (via Opera News )