Reno Omokri has been on the news across various platforms in the country.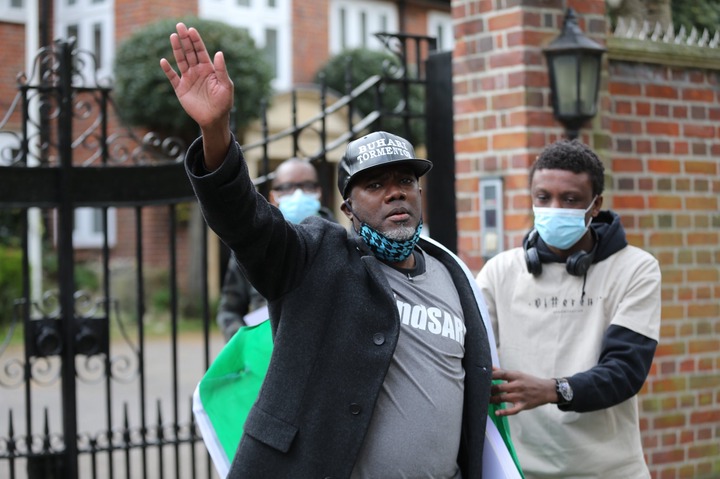 He has been given Nigerians feedback on what's going on in London regarding Buhari.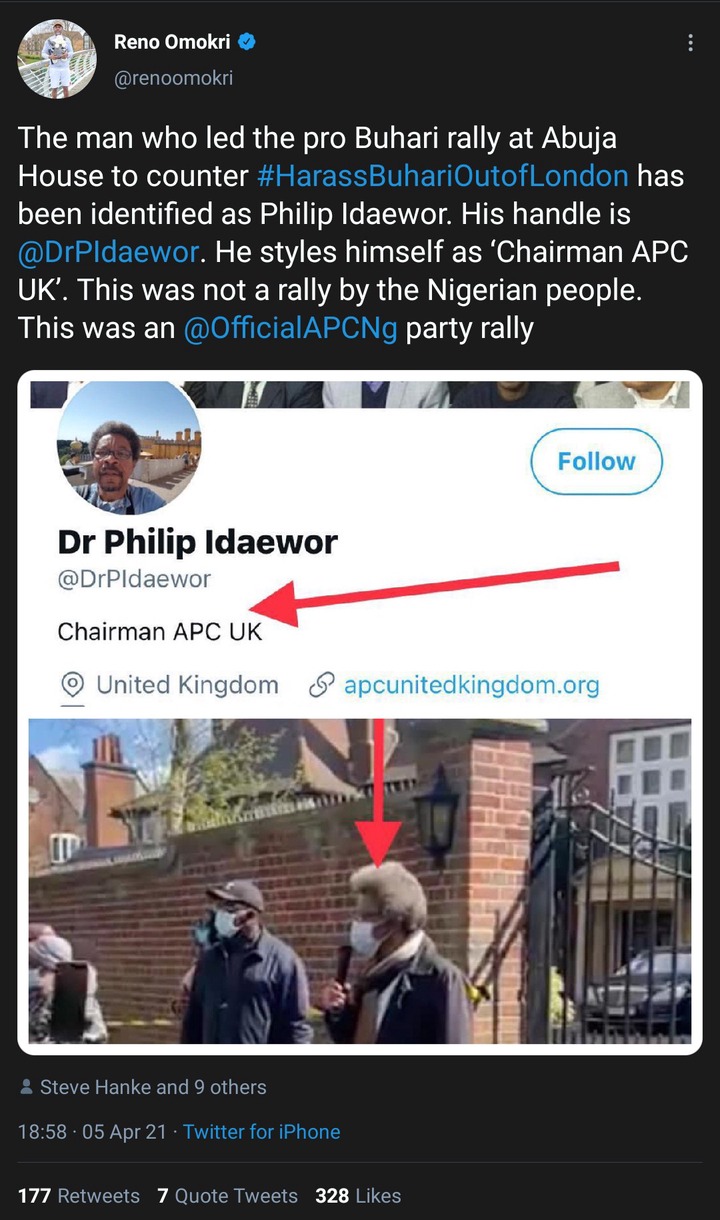 @renoomokri on Twitter stated "The man who led the pro Buhari rally at Abuja House to counter #HarassBuhariOutofLondon has been identified as Philip Idaewor. His handle is @DrPldaewor. He styles himself as 'Chairman APC UK'. This was not a rally by the Nigerian people. This was an @OfficialAPCNg party rally."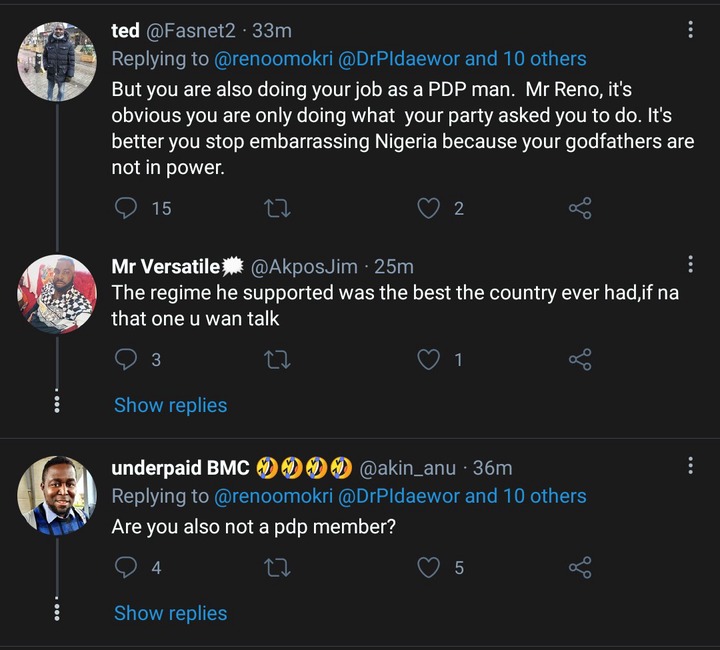 @Fasnet2 on Twitter stated "But you are also doing your job as a PDP man. Mr Reno, it's obvious you are only doing what your party asked you to do. It's better you stop embarrassing Nigeria because your godfathers are not in power."
@AkposJim on Twitter stated "The regime he supported was the best the country ever had, if na that one you wan talk."
@akin_anu on Twitter stated "Are you also not a PDP member?"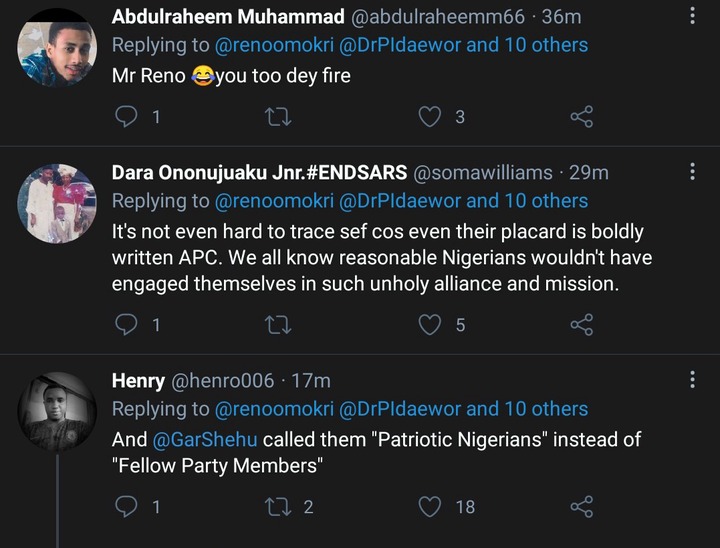 @somawilliams on Twitter stated "It's not even hard to trace self cause even their placard is boldly written APC. We all know reasonable Nigerians wouldn't have engaged themselves in such unholy alliance and mission."
@henro006 on Twitter stated "And @GarShehu called them 'Patriotic Nigerians' instead of Fellow Party Members."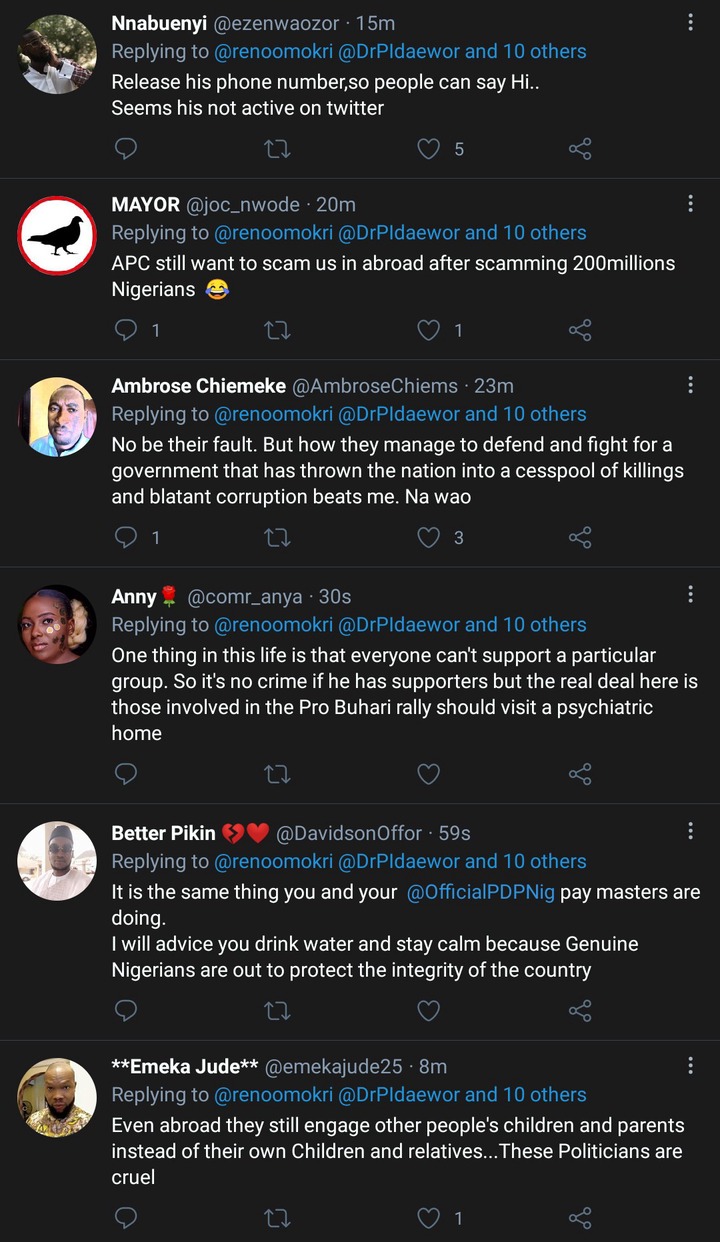 @ezenwaozor on Twitter stated "Release his phone number, so people can say Hi..
Seems his not active on Twitter."
@joc_nwode on Twitter stated "APC still want to scam us in abroad after scamming 200 millions Nigerians."
@AmbroseChiems on Twitter stated "No be their fault. But how they manage to defend and fight for a government that has thrown the nation into a cesspool of killings and blatant corruption beats me."
@comr_anya on Twitter stated "One thing in life is that everyone can't support a particular group. So it's no crime if he has supporters but the real deal here is those involved in the pro o rally should visit a psychiatric home."
@DavidsonOffor on Twitter stated "It is the same thing you and your @OfficialPDPNig pay masters are doing.
I will advice you drink water and stay calm because genuine Nigerians are out to protect the integrity of the country."
@emekajude25 on Twitter stated "Even abroad they still engage other people's children and parents instead of their own children and relatives... These politicians are cruel."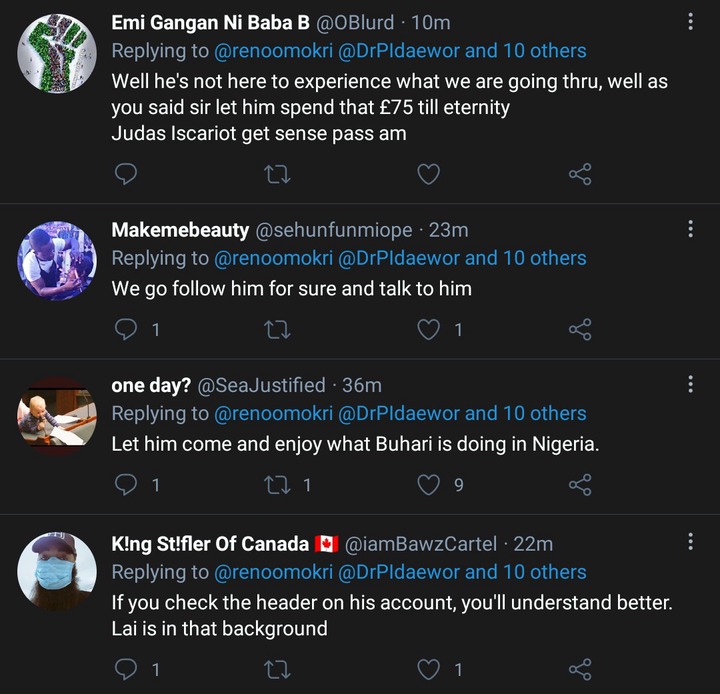 @OBlurd on Twitter stated "Well he's not here to experience what we are going through, well as you said Sir let him spend that £75 till eternity. Judas iscariot get sense pass am."
@SeaJustified on Twitter stated "Let him come and enjoy what Buhari is doing in Nigeria."
@iamBawzCartel on Twitter stated "If you check the header on his account, you'll understand better. Lai is in that background."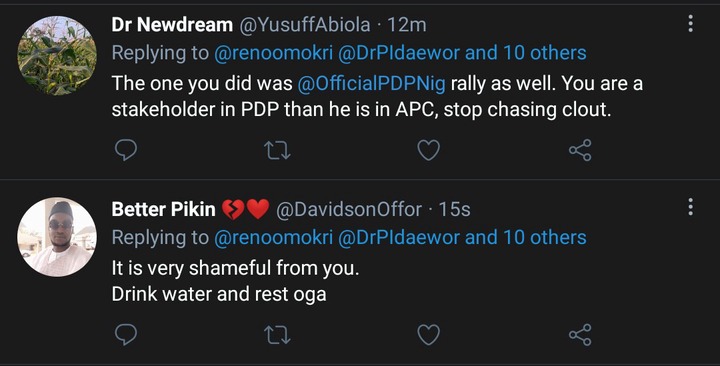 @YusuffAbiola on Twitter stated "The one you did was @OfficialPDPNig rally as well. You are a stakeholder in PDP than he is in APC, stop chasing clout."
@DavidsonOffor on Twitter stated "It is very shameful from you. Drink water and rest Oga."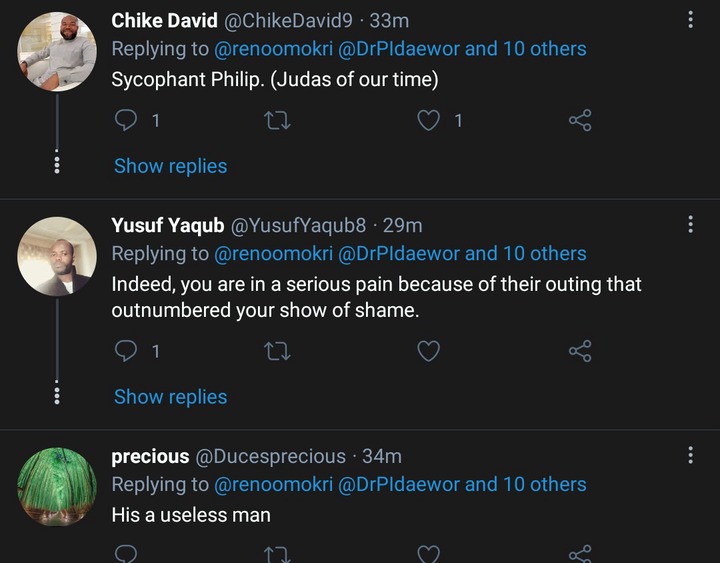 @ChikeDavid9 on Twitter stated "Sycophant Philip. (Judas of our time)."
@YusufYaqub8 on Twitter stated "Indeed, you are in serious pain because of their outing that outnumbered your show of shame."
Source: @renoomokri on Twitter.
Content created and supplied by: Thejournalist (via Opera News )