Many Nigerians has expressed themselves on Twitter following speculation of the Cryptocurrency ban imposed by the Central Bank of Nigeria.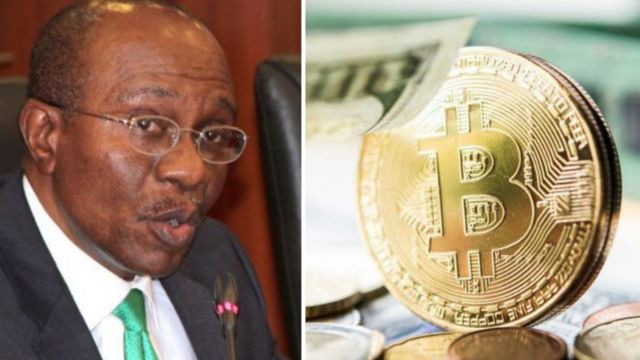 With lots of negative and positive reactions arising on Twitter about this update.
Some even felt the country isn't moving as it's supposed to and has suggested ways to move it forward.
One of the Twitter user has reacted in a rather awkward but sensitive way. Talking about the PDP and APC administration and enlightening the social media platform of his own view on the Cryptocurrency ban.
Here is how he (Somto Onuchukwu) reacted on Twitter: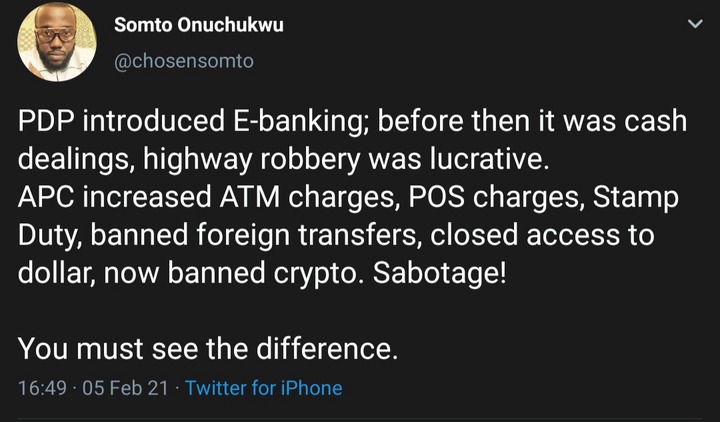 @chosensomto on Twitter stated "PDP Introduced E-banking; before then it was cash dealings, highway robbery was lucrative.
APC increased ATM charges, POS charges, Stamp Duty, banned foreign transfers, closed access to dollar, now banned crypto. Sabotage!
You must see the difference."
Upon his reaction on Twitter, many Nigerians were quick to respond to his claims in different ways.
Here are some of the reactions on Twitter.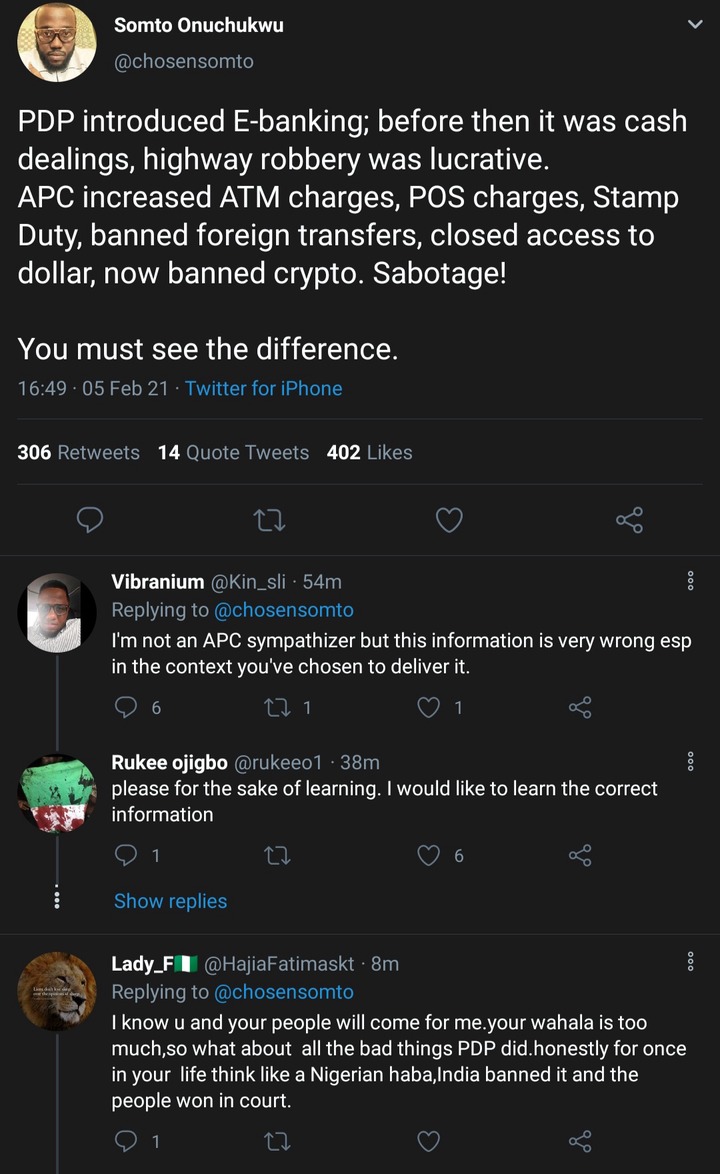 @Kin_sli on Twitter stated "I'm not an APC sympathizer but this information is very wrong especially in the context you've chosen to deliver it."
@rukeeo1 on Twitter stated "Please for the sake of learning. I would like to learn the correct information."
@HaijiaFatimaskt on Twitter stated "I know you and your people will come for me. Your wahala is too much, so what about all the bad things PDP did. Honestly for once in your life, think like a Nigerian haba, India banned it and the people won in court."

@Kizzy24 on Twitter stated "The difference is clear, there's different between a leader and a ruler."

@tosin_michaels on Twitter stated "This is not the time, manner or place for this. These people are all the same. Quit this level of reasoning, it does no one any good."

@Splendi73836507 on Twitter stated "If you are proud to be associated with PDP, followers and I will surely return the favour.
All hail the only true democratic party, PDP. A party where genuine power resides with the people."

@LawezayAbu on Twitter stated "If you think this is a party thing then you have not been up to date with the Nigeria politics, the same people are the one changing party."
Many Nigerians feels that the ban imposed on Cryptocurrency was a wrong move and should be reversed.
As a Nigerian, what would you have advised the Governor of Central Bank of Nigeria?
What proper solution would have come up with instead of blaming one party or the other?
Content created and supplied by: Thejournalist (via Opera News )