See what the border between Germany and Poland looks like
All internal Schengen borders have no obstacles. They look like any normal place. You recognize you're in another country because at roads there are signs like this:
At major roads sometimes there are additionally large tables with summary of speed limitations on different kinds of road. Besides you can notice that road signs are slightly different in size, have another font etc. But if you are a pedestrian tourist in the middle of a forest (yes, you are allowed to use every available road or path) you may see exactly nothing or some shy border poles or stones that are sometimes hundreds of meters off the path. Here it is very close (marked with orange arrow).
In popular off-road locations the stones sometimes disappear in a crowd. Here is Sniezka/Snezka; the highest mountain in Sudetes in Czech-Polish border. As you see in foreground they can serve for very practical purposes. The second stone with an arrow:
As the majority of German-Polish border is a river there is a natural obstacle and in many places you see unguarded bridges as anywhere in country side. The "Double Bridge" in Łeknica/Bad Muskau:
But you can swim across a river if you want.
In the seaside resort of Swinoujscie the border is a cycle path: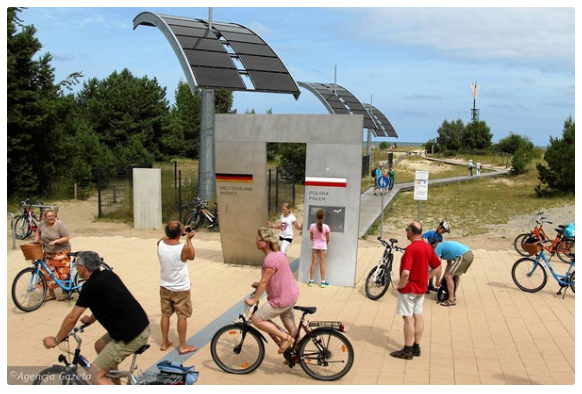 The official advice issued by the Polish authorities is to carry a passport or an ID when crossing to Germany. No problem.
Since 2015 Germany has introduced border controls with her neighbours, including Poland.
The borders are manned by Polish and German guards.
The Polish side:
It was recently confirmed that the controls will be conducted on all the border crossings, particularly along the routes used by illegal traffickers.
The German Minister of Interior, Horst Seehofer, has declared that the frequency of the controls will be increasing.
Last month the tailback on the A4 near the Zgorzelec crossing was 10km long due to the road checks.
Border controls have also been re-introduced in other parts of the Schengen zone by Austria, Sweden, Norway and Denmark.
Source: SeyiXam (via Opera News )