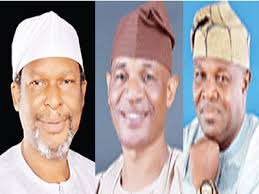 Segun Abraham
Olusegun Abraham (born 24 December 1953) is a Nigerian politician and businessman. Olusegun was born and raised in Ikare-Akoko, Ondo State, where he had his early formal education. He holds a master's degree in Technology management. He has also undertaken professional courses in notable institutions including Tyndale University College and Seminary, Canada and the Institute of Directors, United Kingdom.
In 1999, Segun Abraham delved into politics while managing his business ventures simultaneously. He was one of the pioneering members of the All Progressives Congress when it was still called Alliance for Democracy. Olusegun was also one of those who campaigned for former Governor Adebayo Adefarati. He went on to be appointed the chairman of Owena Hotels by Adebayo Farati until the hotel was bought by Oodua Investment.
In 2012, he declared his intention to run for Governor of Ondo State under the platform of the Action Congress of Nigeria but he however came short of Rotimi Akeredolu who went on to represent the party as its aspirant.
He was one of the two aspirants under the platform of the All Progressives Congress who ran for the office of Governor at the 2016 Ondo State gubernatorial election, but lost out to Oluwarotimi Akeredolu at the primaries.
Jimoh Ibrahim
Jimoh Ibrahim (born 24 February 1967) is a lawyer, politician, businessman, and philanthropist in Nigeria. He is the chairman and chief executive officer of Global Fleet Group, a diversified conglomerate based in Nigeria, with business interests and subsidiaries in neighboring West African countries.
Ibrahim traces his origins to Ondo State, in southwestern Nigeria. He studied law at Obafemi Awolowo University in Ile Ife, Osun State, Nigeria, graduating with the degree of Bachelor of Laws (LLB). Subsequently, he obtained the degree of Master of Public Administration (MPA), also from Obafemi Awolowo University. Later, he attended Harvard University in Cambridge, Massachusetts, USA, graduating with a combined Master of Laws (LLM) and Masters In International Taxation degree. His investments include the following sectors, among others: oil & gas distribution, hotels, resorts, airlines, banking, real estate, insurance, publishing and investments.
Akinyelure Patrick Ayo
Akinyelure Patrick Ayo is a Nigerian banker who was elected to the Nigerian Senate for the Ondo Central district in Ondo State in the 9 April 2011 elections running on the Labour Party ticket.
Akinyelure Patrick Ayo is an approved tax practitioner of the Chartered Institute of Taxation of Nigeria. He was Group Executive Chairman of the Allover Group, a microfinance lender, from 1994 to 2010. In January 2011 he denied that officials of the Economic and Financial Crimes Commission (EFCC) had investigated him over the withdrawal of the bank's licence by the Central Bank of Nigeria.
Patrick Ayo Akinyelure was Labour party candidate for the Ondo South Senatorial seat in April 2007. In July 2008 an Election Petition Tribunal in Akure nullified the election of Senator Gbenga Ogunniya of the People's Democratic Party (PDP) based on Akinyelure's petition. Ogunniya succeeded in appealing this decision. In the 9 April 2011 elections, Akinyelure ran again and this time was elected with 113,292 votes, ahead of Gbenga Ogunniya of the PDP with 41,783 votes.
Bamidele Olumilua
Olu Agunloye
Olu Agunloye is a Nigerian politician who is former Minister of Power and Steel and former Minister of State for Defence (Navy). In 2016 he joined the Social Democratic Party and became a candidate for Governor of Ondo State. Agunloye has previously been a member of the People's Democratic Party and the Action Congress of Nigeria.
Robert Ajayi Boroffice
Professor Robert Ajayi Boroffice (born 23 April 1949) is a public servant who was elected Senator for Ondo North, in Ondo State, Nigeria on 9 April 2011.
Boroffice was born on 23 April 1949 in Oka-Akoko, Ondo State, South Western, Nigeria. He became a lecturer at the University of Ibadan in 1975, and Professor of Zoology at the Lagos State University in 1986. He once held administrative positions at the Lagos State University including Head of Department, Dean of Faculty, and Chairman of the Committee of Deans.
Boroffice faced little opposition in his bid to become Labour Party candidate for the Ondo North Senatorial District. He gained the support of traditional rulers in the Akoko area of Ondo State.In an interview before the April elections, he criticized politicians who lacked integrity and honor, making promises they could not keep in order to get elected, and then focusing on making money once elected. In the election, Boroffice gained 84,290 votes. Runners up were the incumbent Senator Bode Olajumoke of the People's Democratic Party (PDP) with 51,112 votes and Agunloye Olu of the Action Congress of Nigeria (ACN) with 36,601 votes.On December 28, 2011, Boroffice officially decamped to the Action Congress of Nigeria so that he can pursue his ambition of becoming the next governor of Ondo state.Later on, he decamped to the All Progressives Congress the current ruling party.In the 2nd of july,the president of the Nigeria's senate(Sen.Ahmed lawal) announces borrofice as one of the principal officers(Deputy majority leader)of the 9th senate.Borrofice is the current Deputy Senate leader of the Nigeria's senate.
 Eyitayo Jegede
Eyitayo Jegede, Senior Advocate of Nigeria, SAN, was born to the family of late Chief Johnson Bosede, the Odopetu of Isinkan, Akure, and Mrs C.O Jegede (née Asokeji) from Ipele town, near Owo in Ondo State, Nigeria.
Eyitayo Jegede attended St. Stephen's "SA" Primary School Modakeke, Ile-Ife and was at Aquinas College Akure from 5 January 1973 to July 1978 for his Secondary Education. He was a Senior Prefect at Aquinas College and took active part in Sports in the best traditions of the family. He had his Higher School Certificate Education at Christ's School Ado Ekiti and was the School Volleyball Captain both at Aquinas College, Akure and Christ School, Ado Ekiti between 1978 and 1980. He also captained the University Volleyball team at the University of Lagos where he had his Law Degree Course between 1980 and 1983.
After completing his Higher Education, he was posted to Yola, Adamawa State for his National Youth service Corps where he started his career as a legal practitioner.
In the year 1984, Mr. Jegede, qualified as a lawyer after the One Year mandatory programme at the Nigeria Law School, Victoria Island, Lagos, Nigeria.
Being a dynamic and seasoned Lawyer, in the year 1992, he was appointed a Notary Public by the Chief Justice of Nigeria and in the space of less than 10 years was elevated to the rank of Senior Advocate of Nigeria. He was deeply and actively involved in political cases and election petition matters, an area of law where his industry and practice is noted and respected.
He worked in the law firm of Murtala Aminu & Co. Yola. After twelve years practice in the law firm, six years of which he was the Head of Chambers, he established his own law firm, Tayo Jegede & Co in 1996. He was heading his law firm of Tayo Jegede & Co in Abuja and Yola before he took his previous appointment as Chief Law Officer in Ondo State.
In May 2009, the dynamic Governor of Ondo State in his quest for a vibrant, dynamic and very articulate number one law officer of the state, appointed this Legal icon as the Hon. Attorney-General and Commissioner for Justice. Since his appointment as the number one law officer of the state, the Ministry of Justice has witnessed an unprecedented positive change in all ramifications.
Jegede is a former Chancellor of Anglican Communion of Jalingo, Taraba State, he was once the Chancellor of Anglican Dioceses of Yola and a member of Implementation Committee of American University, Yola, Adamawa State, as well as a member, Chairman Board of Governors, ABTI Academy International School and member, Board of Trustees, Elizade University, Ilara-Mokin, Ondo-State.
Eyitayo emerged the winner of his party's PDP primary by polling 760 votes to defeat the Deputy Governorship Candidate of the PDP in the 2012 governorship election, Hon. Saka Lawal. On November 23, 2016, The Appeal Court pronounced Mr Eyitayo Jegede as the gubernatorial flag bearer of his party, PDP. A position previously assumed by the billionaire and business mogul, Barrister Jimoh Ibrahim.
Olusola Alexander Oke
Olusola Alexander Oke is a Nigerian lawyer and politician.
Oke was born on 7 April 1956 in Ilowo, a coastal town in Ilaje Local government Area of Ondo State. His father was from Ilaje and his mother hailed from Imoru town in Ose Local Government Area of Ondo state. he attended UNA Primary School, Ode-Ilowo between 1961-1963. At age 7, he dropped out of school in 1963 and became a professional fisherman who lived and earned his living from the creek of the rivers in Ilaje and its environs. He wrestled with the wicked conspiracy of poverty and social deprivation that almost prevented him from being educated. Between 1963 and 1973, he engaged in subsistence high sea fishing, a career in which he acquired great fame.
His quest for knowledge compelled him to abandon fishing to the amazement of his fishermen colleagues and returned to Methodist Primary School, Ilepete in 1973 to complete his primary school education. He later proceeded to Methodist Secondary Modern School, Ilepete where he graduated in 1976. He attended Ilaje Grammar School, Atijere in Ilaje Local Government where he bagged his WASC in 1980. Oke taught briefly as auxiliary Teacher at Happy City College Ayetero, Ilaje Local Government and Methodist High School, Okitipupa.
In October 1981, he was admitted to Ondo State School of Arts and Science, Ikare where he was, when the prestigious University of Ife offered him admission in 1982 to study law. He attended the prestigious University of Ife, a citadel for intellectual giants established within the vortex of Yoruba origin by the evergreen sage, Chief Obafemi Awolowo and other leaders of the emerging post-colonial south-western Nigeria. He bagged a degree in Law from the renowned Great Ife in 1986 from where he proceeded to the Nigerian Law School and was called to the Nigerian bar in 1987.
He joined Olufemi Lanlehin and Co., a law firm in Ikeja, Lagos in 1987 from there, he moved to Okitipupa to establish Olusola Oke and Associates on 14 July 1988. His resolve to commence his law practice early enough was encouraged by his easy grasp of routines and outstanding delivery in all the matters he participated in. He had always seen law as an embodiment of the moral values, sentiments and dispositions of the people and therefore, he had long resolved to employ it as an instrument of societal re-engineering in line with the tenets of Roscoe Pound; And to earn hisliving from it too. He took that decision with a firm faith in God.
In 1996, he became the Secretary of the Nigerian Bar Association, Okitipupa Branch. Between 1997 and year 2000, he was the chairman of NBA, Okitipupa Branch. Also, between 1997 and year 2000, he was a member of the National Executive Committee of NBA. His professional practice provided the platform that earned him the opportunity to blossom in politics and to join others in liberating his people. Today, his law firm has its headquarters in Abuja. He has been listed for the prestigious title of the Senior Advocate of Nigeria, SAN, three times and in all the three instances, he made it to the final listing.
As the National Legal Adviser of the PDP, between 2008 and 2012, he practiced law to its fullest and paved a way for equity and constitutionality to prevail unhindered in all the matters he handled.
He was a popular youth activist in the ranks of Ilaje Patriotic Front (IPF), a frontline youth pressure group in the late 80's. The desire of the IPF was for Ilaje people to get to the promised land. They employed their intellectual prowess, provided leadership and ignited the thirst for development in the people. Through purposeful plans, commitment and loyalty to the course of the people, they made a mark and created legendary marks in our land. The group later metamorphosed into a political group. The group, in recognition of his stoic contributions insisted on him going into politics. In spite of the pressure of the group on him to join active politics, he stayed the course of his law practice until 1991 when he was made Local Government Legal Adviser of the Social Democratic Party, SDP. From 1991 to 1992, he was a member of Board of Internal Revenue in Ondo State. Since then, he has combined politics with his legal practice without necessarily leaving one for the other. He was elected a member, Federal House of Representatives representing Ilaje/Ese-odo federal constituency in 1992. By year 2000, he was appointed into the pioneer board of the Niger Delta Development Commission, NDDC. At NDDC, his team executed and completed over two hundred and fifty projects. What he did on the board of NDDC and the experience garnered facilitated his appointment as the Executive Chairman of the Ondo State Oil Producing Areas Development Commission (OSOPADEC), another intervention agency, in 2004.
In 2005, he was nominated and served in the National Political Reform Conference and in 2007, he served as a member of the Presidential Technical Committee on Niger Delta. He was appointed the Chairman of the Federal Polytechnic Bida in 2009 and also appointed Chairman, National Steel Raw Materials Exploration Agency between 2009 and 2011.
He was a governorship candidate in Ondo state in the 2012 gubernatorial election. In the televised debate before the election, Olusola Oke was adjudged winner by a vast majority of the viewers. According to popular youth activist, Olatunji Ariyo, in the second debate which featured only the three leading candidates, Olusola Oke appeared to be the indisputable winner. He exhibited candour, depth and came out smoking hot. The incumbent governor however did well in holding his ground while Akeredolu of the ACN improved upon his earlier performance. The debate was also richer on issues although the candidates could not escape the temptation of typecasting one another as they laboured hard to adorn opponents with the corrupt tag which was an avoidable distraction.
Olusola oke was a top contender for the All Progressives Congress (APC) ticket for the state Governorship election coming up in November 2016. He decamped to the Alliance for Democracy (AD) after the APC primaries.
Content created and supplied by: studio.opera.com (via Opera News )
Opera News is a free to use platform and the views and opinions expressed herein are solely those of the author and do not represent, reflect or express the views of Opera News. Any/all written content and images displayed are provided by the blogger/author, appear herein as submitted by the blogger/author and are unedited by Opera News. Opera News does not consent to nor does it condone the posting of any content that violates the rights (including the copyrights) of any third party, nor content that may malign, inter alia, any religion, ethnic group, organization, gender, company, or individual. Opera News furthermore does not condone the use of our platform for the purposes encouraging/endorsing hate speech, violation of human rights and/or utterances of a defamatory nature. If the content contained herein violates any of your rights, including those of copyright, and/or violates any the above mentioned factors, you are requested to immediately notify us using via the following email address operanews-external(at)opera.com and/or report the article using the available reporting functionality built into our Platform See More