Aisha Yesufu wrote on twitter today that what will come out from the nuisance value of Buhari Presidency is that Nigeria might separate.
She said, it is glaring that Nigeria needs to have a conversation on whether to remain as one or go it's separate ways. I am okay with seeking for visa to Kano, Lagos and Enugu, she said.
With the way our country is going, some people are agitating for separation of Nigeria so that they can manage their own resources, fight and defend their people as the Government has failed in their leadership and bad governance has become the order of the day.
People are scared of their lives because the Government have failed to provide security for the people and things are falling apart in Nigeria.
Insurgents have made lives unbearable for people as they can't travel or go to farm. They have over powered our country and our leaders are clueless on what to do and they have failed to seek for professional advice to crush insecurity.
Buhari administration is only good at heaping blames on the past administration and the worst thing that has ever happened to this government is always listening to regional and religion sentiments before choosing their administrators without considering the person's capability and competency.
Indeed, our country is in big mess.
See Aisha tweet and people's reply below;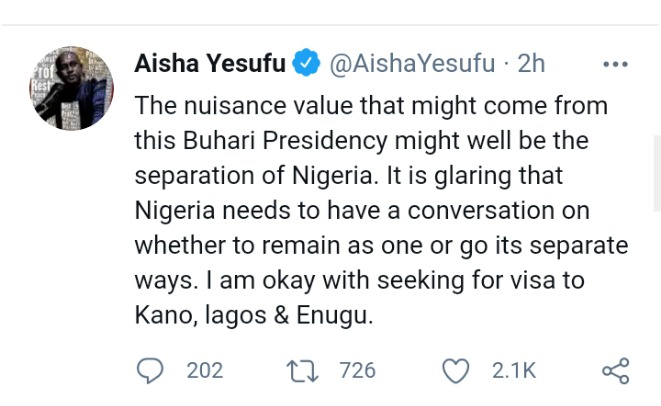 Replying to @AishaYesufu
Its becoming glaring that this country is likely to break up but pls let it peacefully. Heaven will not fall if this country splits. Though I will still like this country to remain one provided things begin to work.
Replying to @AishaYesufu
Nigeria is a square peg in a round hole.
Nothing is working. The earlier Nigeria is restructured or divided the better for everyone.
Replying to @AishaYesufu
They are busy looting. The fire they ignited will consume them.
Replying to @AishaYesufu
I concur with this..
We can't keep pretending we are cool with each other, let's discuss our unity and save our future generations.
Replying to @AishaYesufu
I don't want to believe that Nigeria will separate because i believe in one Nigeria but right now there is nothing like one Nigeria. I hate to say it but you just said it all.
Replying to @AishaYesufu
I'm in favour of state autonomy instead of separation. Let each state be given the freedom to develop and control there resources how they want and contribute to the FG a percentage once a month.
Replying to @AishaYesufu
This is your best tweat of the year. Govt. Should try and understand that they can't force people to belong, and live peaceful.
Replying to @AishaYesufu
I still don't know why I so much believe in one Nigeria. Probably because one will chase a thousand and two will chase Ten thousand. Restructure this Niger area and let's work together to have a great nation Nigeria!
Replying to @AishaYesufu
I love your objective nature...kudos!!!.. speak it louder !!!
Replying to @AishaYesufu
Thank you my leader.. U will always remain the voice of freedom in our nation.
Replying to @AishaYesufu
Thanks madam, I waited for this tweet from you, thanks God you are beginning to see the reality of Nigeria dividing, if that is what bring sanity and accountability. The truth is that if we divide no idiot will take advantage of us and then play the tribal and the religion game.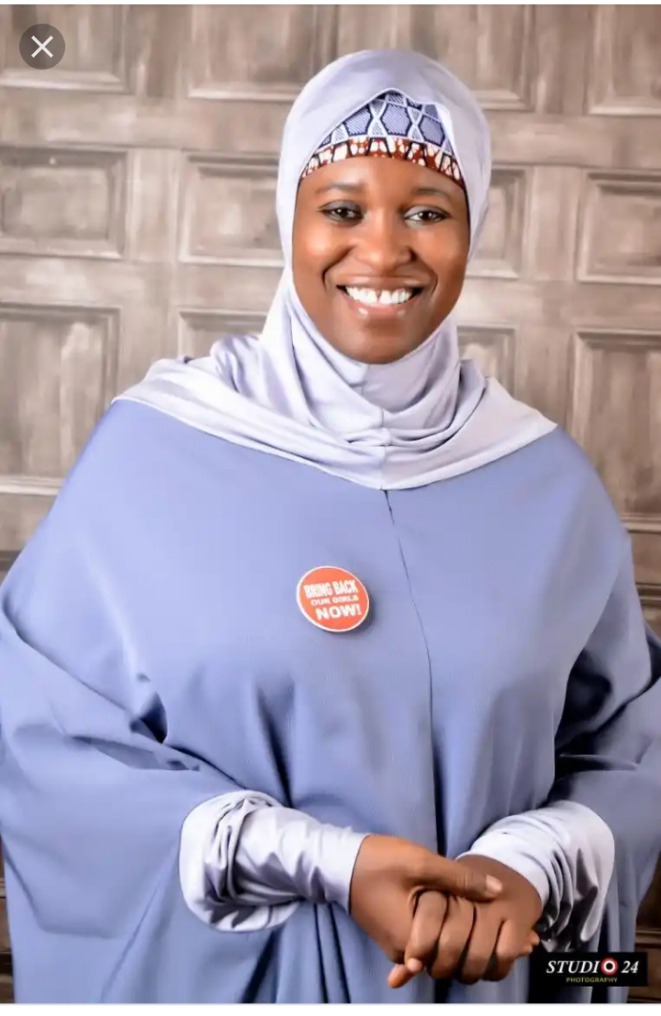 What are your suggestions based on what Yesufu said?
Drop your comments below.
Please like, share, comment and follow me for more interesting articles. Thanks.
Source: Twitter
Content created and supplied by: miniharry (via Opera News )