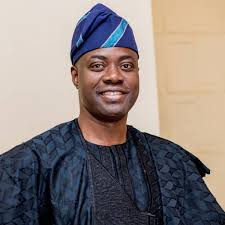 Governor of oyo state ,Governor Seyi Makinde has advised in a congress held at Ibadan, saying that 2023 Presidential election shouldn't be the bone of contention right now among anyone. As some persons are already canvassing for presidency to come to the West in 2023. According to him, what should be paramount for now is how to tackle the criminal challenges in the country.
During his speech at the all yoruba congress held on wednesday, he also stated how everything he has been doing ever since he assumed office has been one that will benefit the state without trying to achieve any selfish interest or purpose. He declared that God was the one who brought him into office and not through the influence of any body. And in this regard ,he is still working towards satisfying the same God that put him in office .
He still maintained that the welfare of the people right now surpasses any other agenda on who takes up the seat of presidency come 2023.
Content created and supplied by: RosyB (via Opera News )