The management of Akanu Ibiam Federal Polytechnic, Unwana which is located in Unwana community, Ebonyi State, Nigeria. The polytechnic was founded in 1981 and is owned by the federal government has decided to conduct her 2020/2021 SUG election online as a preventive majors to help control the spread of the deadly disease (coronavirus).

According to the Management the system will help to upgrade the school in ICT since our world is becoming digital and help students cast their votes without fear at the comfort of their homes, lodges, lecture halls, and even outside the polytechnic community.
Below are the Simple guidelines to get accredited and to vote for 2020/2021 SUG elections:
1. Go to www.ivoteu.org/login and login with matric number (registration number) & default password which is sugelection2021. The matric number format is YYYY-PGM-XXXXX-DEPT_CODE where YYYY = year of admission, PGM = Programme type (ND, HND or PT-ND), XXXXX = matric number, and DEPT_CODE = Department Code. Example: 2019-ND-39257-CS or 2019-HND-12345-EE or 2019-PT-ND-4124-MKT.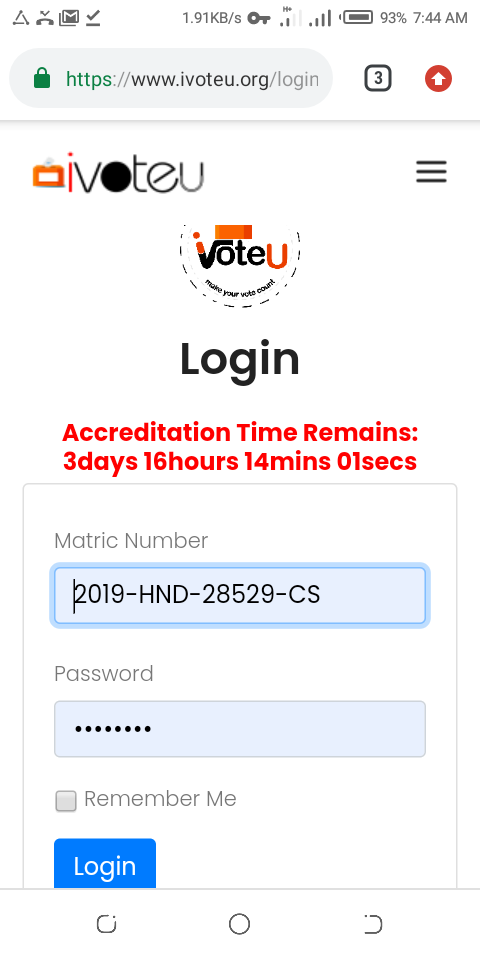 2. Upon successfully submission of correct matric number and the default password, a one-time password (OTP) will be sent to phone number. Check phone number for the OTP. Note: if the OTP is sent more than once, use the most recent one to complete the login process. The OTP lasts for 10 minutes only.
3. After submitting OTP to ivoteu platform for verification and authentication. If OTP is verified successfully, then login process is complete. After successful login, the student will be required to change the default password before proceeding with updating his/her profile. Upon successful changing of the default password, student should update profile details such as department, email address, phone number and profile picture. N/B: this will complete the accreditation process. It is STRONGLY RECOMMENDED to change the default password to avoid identity theft. The system may automatically logout a logged in user after changing the default password.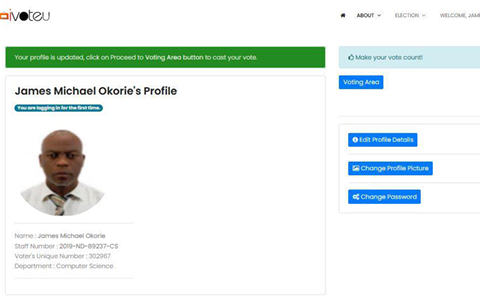 4. On the voting day, student should login and click on Vote Area button from the dashboard to cast vote by selecting candidates of his/her choice and clicking on the Vote button. Upon successful casting of vote, student will be redirected to the election result page as well as being notified of voting via SMS. See figure 6, 7 and 8.
5. Aspirants may upload a portable document format (PDF) version of their manifesto to iVoteU platform for the public to download. The Upload Manifesto button will only be available for aspirants who have been assigned to a position and have updated their profile also. See figure 9, 10 and 11.
To download an Aspirants manifesto, go to https://www.ivoteu.org/election/aspirants and PDF icon should appear on the right-hand side of any Aspirant who has uploaded a manifesto. Click on the PDF icon to download the manifesto.
Content created and supplied by: EmmanuelMbui (via Opera News )