Gradually, a lot of people in Nigeria are beginning to pick offense at the current behavior or activities of the Oyo self-acclaimed activist (Sunday Igboho).
At the beginning of the whole scenario, some of those who are condemning him today were in full support of his tout behavior in the south-western part of the country. However, as it is taking a twist turn, a lot of Yoruba people did not want to be associated with him anymore.
It is on record that, Sunday Igboho gave eviction notice to other Nigerians to vacate Oyo and Ogun states. We should equally remember that, he has since implemented the illegal orders in part of these states. Let no one forget also that, he set houses of these Nigerians ablaze in the process of chasing them away from that part of the country.
These bad actions conducted or carried out by Sunday in the past few days may not even matter to some of us anymore. However, just as it says that, absolute powers corrupt good intentions, Sunday has crossed the tin line. For insulting the highest traditional throne in the South-Western part of the country, even the ancestors should be departing his camp right away.
Talking about decamping from Sunday Igboho's camp, a Twitter user vindicated me some hours ago on Twitter. According to him in the tweet, Those pushing Sunday will soon push him to the expressway.
Mr. Lakan Adigun states in the tweet that, Sooner than later, the 'Juju' which Sunday is depending on will disappoint him. Lakan equally said that, Sunday will soon realize that, no one is on his side anymore. See the tweet below: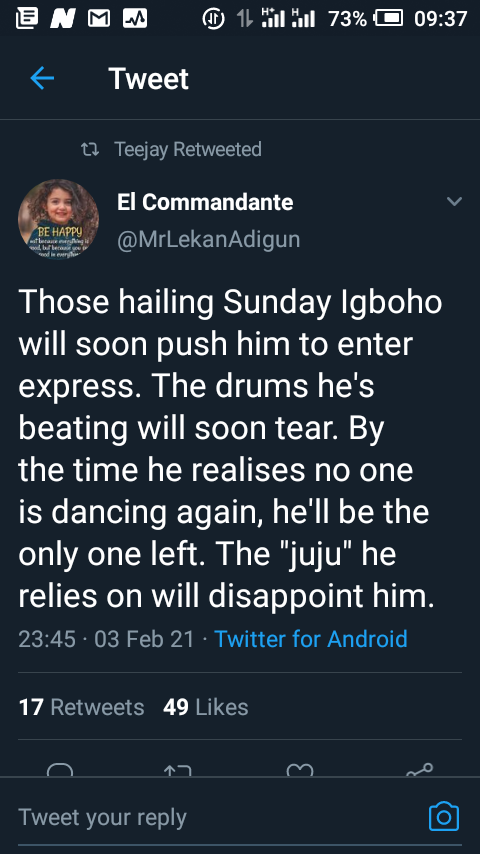 Recall that, Sunday Igboho has been spotted wearing bulletproof-like object around his chest whenever he goes out to attack his victims. A lot of people believed that, that thing which looks like bulletproof is actually a native means of protection against harm. This may be what Mr. Lakan is referring to as 'Juju'.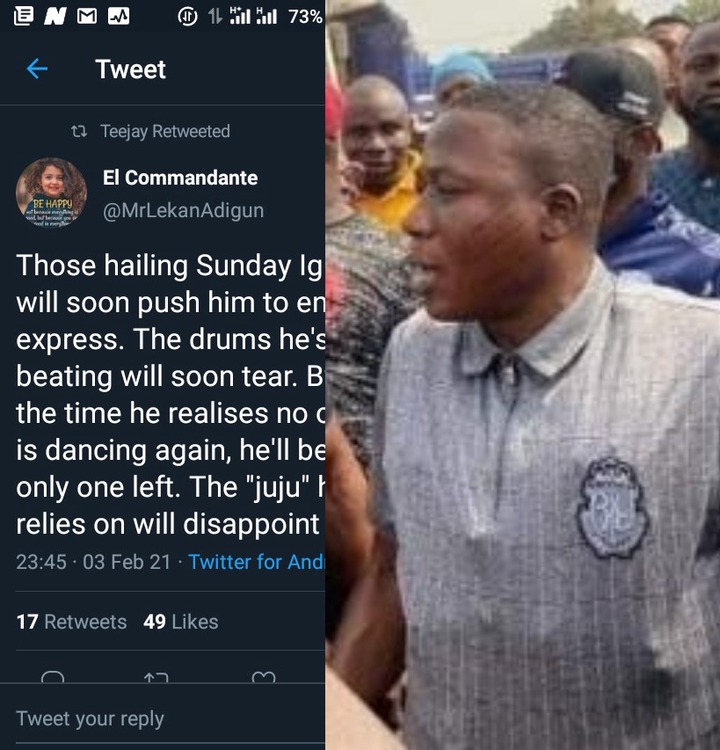 Although Sunday has since apologized to Ooni for insulting him, and other Yoruba leaders, do you think he has been forgiven?
Let's hear from you about this!
Content created and supplied by: DesOjum (via Opera News )