Edo 2020 : My Relationship With Tinubu - Obaseki
studio.opera.com
2020-08-01 06:40:25
Governor of Edo state and the governorship candidate of the People's Democratic Party, (PDP) Godwin Obaseki has cleared the air on his relationship with a national leader of the All Progressives Congress, (APC) Asiwaju Bola Tinubu, saying that he has a cordial relationship with the former governor of Lagos state.
Obaseki, in an interview on Friday night noted the great work that Bola Tinubu had done, adding that "he is our father and we owe so much to him."
Obaseki had in June during his tussle with the immediate past National Chairman of the All Progressives Congress (APC) Adams Oshiomhole met with Tinubu in the company of seven other Governors on the party's platform in order to seek solutions to the Edo APC crisis. But Tinubu was said to have rebuffed Obaseki, asking him to go and get ready for Direct primary mode of election.
An obviously miffed Obaseki, who was angling for indirect primary then, later dumped the APC for the People Democratic Party, following his disqualification by the screening committee of the party.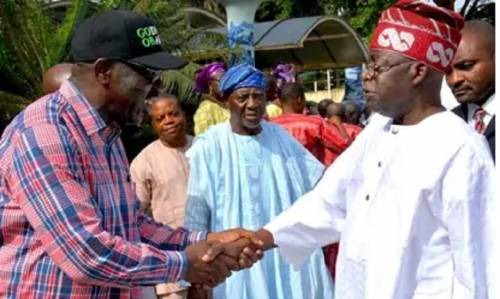 But while speaking in retrospect on Friday, Obaseki praised Tinubu for his leadership role in the country, stating that nothing has changed between them.
"He(Bola Tinubu) is our father. We owe so much to him. I believe when you have a father that has done so well and helped propagate a new system, you should really pull back and see what he has created naturally."
" So, I must tell you that my relationship with him is not different from what it had been, he is our leader and that is it.
On why he said 'Edo no be Lagos?', Obaseki said he only used the slogan in refeteece to the treatment of former governor of Lagos, Akinwumi Ambode.
"The reason for the slogan "Edo no be Lagos" was when the former national chairman of the All Progressives Congress Adams Oshiomole's boys started the nonsense in Abuja before the parry's primaries, they said they were going to give me the Ambode treatment ( more like denying me second term as was done Akinwunmi Ambode who was former governor of of Lagos). That happened in Lagos, not in Edo."
On the controversies that surrounded his certificate, Obaseki said it was laughable percent referred to his certificate issues despite the clarification by University of Ibadan.
" I think it is about the press really because someone who comes out in Nigeria and tells a very obvious lie and you are listening and saying okay. How can you even talk about my certificate when the university that issued it has come out itself to say that this person graduated this year and the person is saying he has issues with my certificate? So, what do you want me to do?"
Source: Opera News