Ebonyi Girls Rejected My Hand In Courtship On The Ground That I am Troublesome –Man Cries Out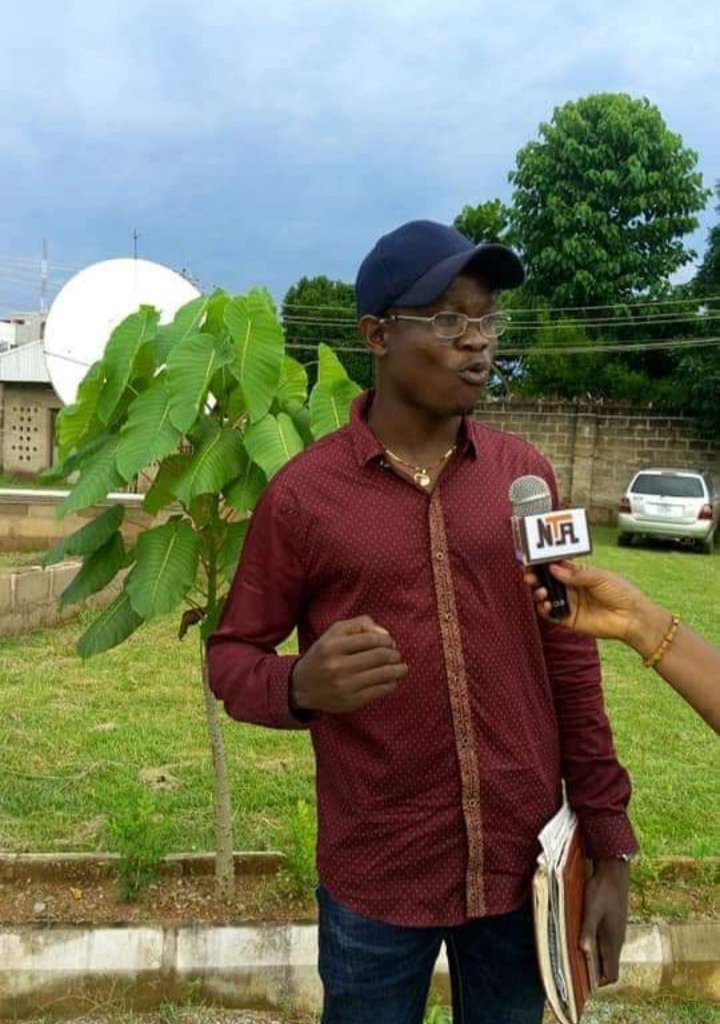 Marriage is a necessary even in the sense that, in as much as it is desired by the singles, it is still fraught with it's inherent challenges. To find a life partner is not as easy we think at times, even among the male folk whom we may think have the right of choice in marriage unlike their female counter part.
Nwoba Chika Nwoba was the immediate past publicity secretary of APC in Ebonyi State. He decamped from APC to PDP party in Ebonyi State upon defection of Governor David Umahi Nweze of Ebonyi State. The governor Umahi defected from PDP party to APC for obvious reasons known to him.
Chika Nwoba is known for levelling his calumny against the Ebonyi State Government and some politicians in the state. He is a fiery Facebook columnist.
It will be recalled that the Chika Nwoba was bereaved of his mother recently. The mother is yet to be buried. However the preparation to inter her in their country home in Ikwo LGA of Ebonyi State is on top gear.
As that was going, the Chika Nwoba has taken a bold step of getting married to his heartthrob who is from Ikwerre in Rivers State. He just did his marital introduction recently where he was given list to fulfil for the girl to become his lawful wife.
Chika Nwoba has taken to his Facebook page to share his ugly experiences he had with Ebonyi girls while he was searching for a wife among Ebonyi girls.
According to him, three girls rejected him on the ground that he is troublesome. The girls feared that they may not be safe in his hands. It may not unconnected with the way and manner Chika Nwoba attacks the Government of Ebonyi State and other top politicians in the state.
In his words, " Three Ebonyi girls rejected my hand in courtship on the ground that I am troublesome. That they are not safe in my arms. I asked: have you ever heard that I stole anyone's belonging, being a cultist, slapped the cheeks of anyone since I was born or being found indulging in acts that go against the extant laws of the land and human respect?"
According to him the girls didn't answer his questions. I therefore advised that the would- be -husbands should come to Ebonyi and pick wives. He maintained that he is marrying an Ikwerre girl because nature has made it so. He seriously wanted in Ebonyi State specifically Ezza woman but it didn't work.
He said Ebonyi girls are good for marriage notwithstanding his rejection by them. It should be noted that Chika Nwoba is from Ebonyi State as well. 
It is a sheer patriotism for Ebonyi State for him to still have good impression against the Ebonyi girls after all. I must commend him for that. He doesn't castigate them for being rejected. But I think the girls feared that he may be taking what he has been doing in Facebook to his family. 
Secondly it is a maturity for him to understand the way he understands it that it nature that didn't allow him to marry Ebonyi girl. Rejection doesn't mean you are not good. It simply means you are not meant to be together as husband and wife.
See the screenshot of his post.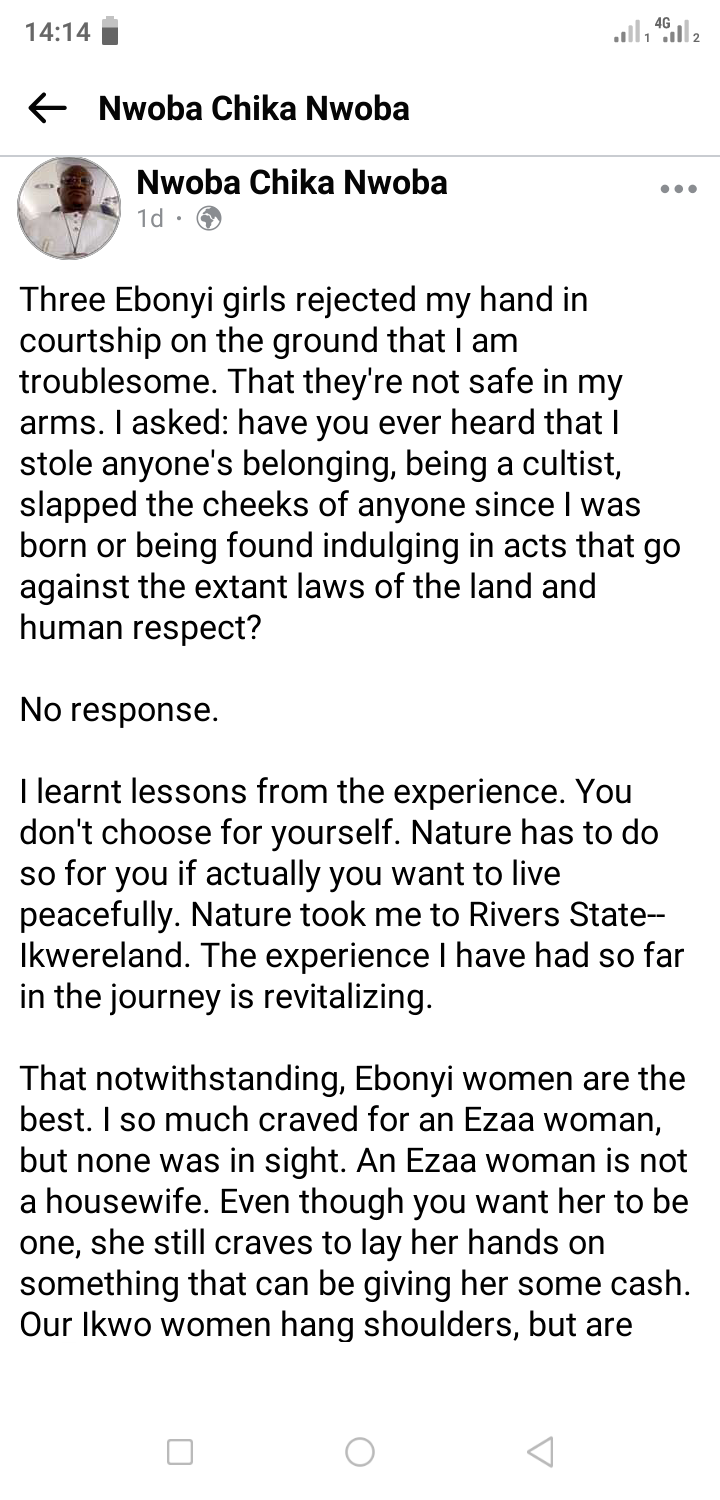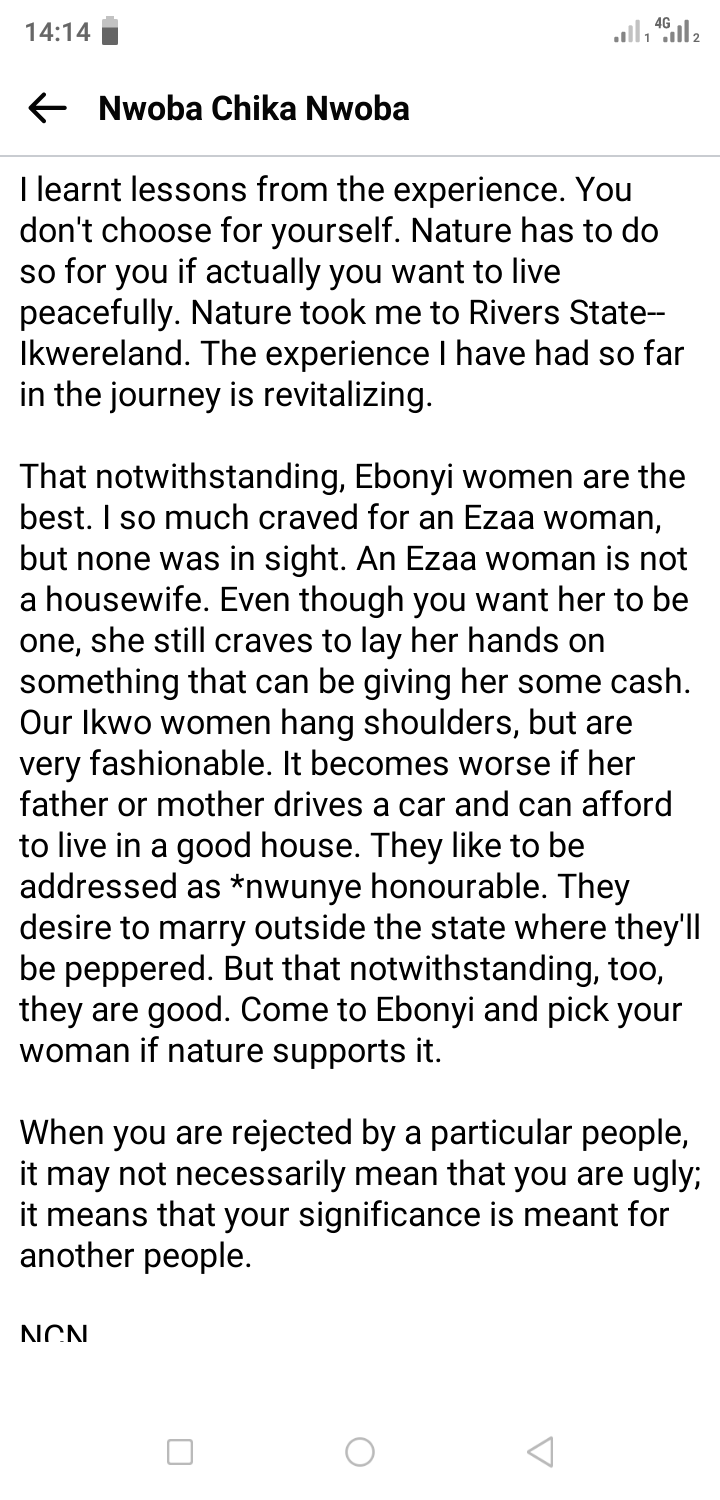 Content created and supplied by: Alo994 (via Opera News )