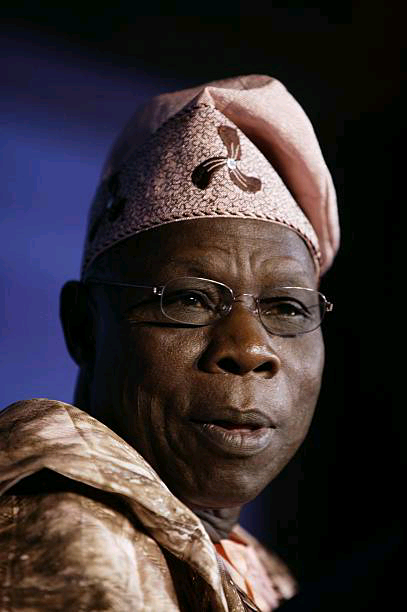 Chief Matthew Okikiola Aremu Obasanjo, popularly known as OBJ is a person who needs no introduction as far as Nigeria or Nigerian political scene is concerned. There is no doubt he is a man that has many sides and angles to him. He is a person that his relevance in Nigerian politics will not wane soon.
He was born in Ibogun Olagun village to farming family of the Owu branch of the Yoruba in March,1937. Obasanjo was largely educated in Abeokuta. He later joined the Army, where he specialised in engineering, he spent time assigned in Congo, Britain, and India rising to the rank of Major. In the latter part of his military career, that was the 1960s, he played a senior role combating the Biafran separatists during the Nigerian Civil War, accepting their surrender in 1970.
In 1975, a military coup established a junta with Obasanjo as its ruling trivalent. After the trivalent leader, Murtala Mohammed was assassinated, the following year the Supreme Military Council appointed Obasanjo as head of State. Committed to restoring democracy he oversaw the 1979 election, after which he handed over to the newly elected civilian president Shehu Shagari. Obasanjo then retired to Ota Ogun, where he became a farmer , published four books and took part in international initiatives to end various African conflicts.
Sani Abacha seized power in a military coup, in 1993. Obasanjo openly criticized Abacha's administration, because of that he was arrested and convicted of being part of a planned coup, despite the fact that he vehemently claimed his innocence. He became a Christian in prison which subsequently influenced his world view strongly. He was released following Abacha's death in 1998.
Obasanjo became the PDP candidate for the 1999 presidential election, which he comfortably won. As president he depoliticized the military and both expanded the police and mobilised the army to combat widespread religious, ethnic secessionist violence. Obasanjo withdrew the Nigeria's military from Sierra Leone and privatised various public enterprises to limit the country's spiraling debt. He was re-elected in the 2003 election. In his second tenure, he tried but failed to amend the Constitution to abolish the presidential term limits. In retirement he earned a PhD in theology from the National Open University of Nigeria.
The history of Nigeria can never be written without making reference to this man of timbre and Calibre who has been part of shaping the history of modern Nigeria.
Content created and supplied by: Sheegay-74 (via Opera News )