Bill Clinton faith Christian should know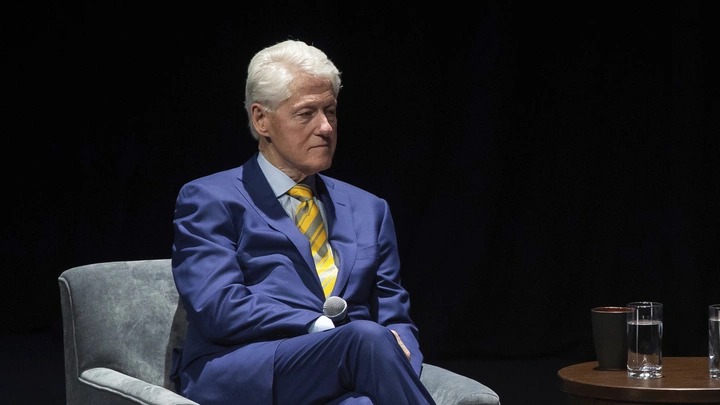 Cassidy, Bill's early years were dominated by two strong women, who often competed for his attention. His mother, a vivacious and fun-loving free spirit, was often away from home taking nursing classes in New Orleans.
It wasduring those periods that his grandmother, a temperamental and strong-willed disciplinarian, tried to shape her grandson's character—and taught him to be a very early reader. Bill later remembered loving both women during that time of his life but feeling torn between them as a young mediator of their arguments.
In 1950, Bill's mother married Roger Clinton, a car dealer and abusive alcoholic. The family moved to Hot Springs, Arkansas, a bustling resort town an hour away. (She later divorced Roger Clinton when Bill was fifteen, only to remarry him quickly thereafter.) Again, Clinton had to intervene between two adults engaged in violent arguments. As a teenager, Bill excelled in school and showed a passion for politics. He played saxophone in a high school band and especially loved the gospel music of his Baptist faith. The fun of gambling dens and mineral spas competed for Bill's attention with Baptist churches and politics.
But while his mother went to the racetracks on Sunday, Bill attended church, principally to hear the music he loved. In this small community, Bill was widely recognized as a young man of rare talent and ambition.
An Education for Leadership
Hot Springs High School, although a segregated all-white school, stood heads above most public schools in Arkansas. School Principal Johnnie Mae Mackey nother strong woman in Clinton's life—recruited staff committed to producing leaders who thought of personal success in terms of public service.
Clinton became her brightest protégé. It was under her mentoring that Clinton was sent to Washington, D.C., as one of two Arkansas delegates to Boy's Nation, an imitation political convention sponsored by the American Legion. While there, the seventeen-year-old Clinton was captured in a historic photograph shaking hands with his political idol, President John F. Kennedy, in the White House Rose Garden. That July 1963 handshake later symbolized the continuity between the Kennedy 1960s and the Clinton 1990s. Ever since he was child, Clinton's mother had told him that he would some day be President of the United States.
The Kennedy handshake left Clinton
determined to fulfill her prediction. (Virginia Clinton lived to see her son become President, dying in 1994 of cancer.) Upon graduation from high school in 1964, Clinton left Little Rock to attend Georgetown University in Washington, D.C. An international affairs major, he managed to cover his expenses through scholarships and by working part-time jobs. At this Catholic-sponsored, well-heeled institution, the student body clearly looked upon Clinton as an outsider from backwoods Arkansas. Although a clique of students running the newspaper discouraged Clinton's efforts to contribute to the school, his energy, dashing good looks, and personal charm pushed him to the top in student government.
He won the presidency of his freshman and sophomore classes. In his junior year, Clinton ran for president of the student council, but lost in a stunning defeat. In attempting to please everybody, Clinton had miscalculated. He looked too political to his peers, and they elected his lesser-known opponent.
Rhodes Scholar and Vietnam Draftee
Beginning in his junior year, Clinton worked as a clerk for the U.S. Senate Foreign Relations Committee. At that time, the powerful committee was headed by Senator J. William Fulbright of Arkansas, a leading critic of U.S. involvement in the Vietnam War. The experience greatly shaped Clinton's perspective as he came to believe, as did Fulbright, that the United States had no moral or strategic reason for being in Vietnam. Just prior to his graduation from Georgetown, he won a prized Rhodes scholarship to study at Oxford University in England for two years. However, he faced being drafted for the Vietnam War due to a change in federal policy that eliminated almost all college deferments. His local draft board in Arkansas, however, allowed him to sail for England. While in England, Clinton received his draft notice. He then returned to Arkansas, and with the help of Fulbright's office and that of Governor Winthrop Rockefeller, managed to persuade the admissions staff of the Reserve Officers' Training Corp (ROTC) program at the University of Arkansas Law School to accept him the next fall. Instead he returned to Oxford, although the evidence is unclear as to whether this was done with the approval of his ROTC contacts.
Back in England, Clinton evidently remained conflicted about his decision to avoid the draft, torn between his moral convictions that the war was wrong and his sense of kinship with former classmates who were serving and dying in Vietnam. In the fall of 1969, he chose to re-subject himself to the draft—doing so, however, at a time when Nixon administration policy seemed to suggest that future call-ups of combat troops would significantly decline. In any event, Clinton's luck held when his birth date in the lottery drew the high number of 311, distant enough to ensure that he would never be called. Clinton then wrote a letter to the director of the Arkansas ROTC program thanking him for "saving" him from the draft, explaining that he still loved his country while nevertheless despising the war.
In England, Clinton participated in numerous antiwar demonstrations, and both his antiwar activities and his ROTC letter resurfaced years later during his bid for the presidency in 1992. Although Clinton remained in the Rhodes Scholar program, making many contacts with students who would later become part of his administration, his Oxford coursework never added up to a degree.
Content created and supplied by: Dailybibleverse (via Opera News )