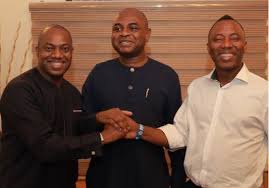 Over the years in Nigeria and some other countries of the world, it has become extremely difficult for intellectuals and really good people to make it into the mainstream politics. When I say intellectuals I am referring to people who are sound enough to know the 'root cause' problems of the country and they also have short, medium and long term solutions. When I say good people I am referring to those who may not knowing it but will bring on board all the right people and will ensure the national treasury does not become the exclusive reserve of a few gluttonous and discombobulated capitalists and elites.
Why is it that only those who will steal or get to power and not do the right thing are the ones who are getting to the most sensitive positions? Why is it so difficult for intellectuals and good people who will fix this nation to get into strategic positions? A few of these people we are talking about have made it to positions of authority before but still didn't make significant impact. When they are there, the society makes excuses for them and say things like, 'oh he has good intentions but is surrounded by bad people.'
I think there are a few problems that have nothing to do with the state of the nation but the unbalanced perspective of the intellectuals. One of the reasons good people don't make it into politics is also the problem with good people. I will come to that shortly. Nigeria and several other nations have their problems. I understand there can be political apathy in the nation. There can be ballot box snatching and it may be easy for some corrupt government officials to buy over the needed votes. The voting process and the officials of the government agency conducting the election may be compromised but those are not the hindrances to getting the intellectuals into power.
Let me use some case studies in Nigeria but please note that I don't want this piece to be restricted to Nigeria in any way. My point will be valid using a system that I understand to a great extent. I shall also make brief references to instances in the United States.
Chief Obafemi Awolowo was an intellectual and a good person at the same time. His works in the South West speak for him till date even though he passed on thirty years ago. He built the 25 storey building called Cocoa house. He built the first television station in Africa then known as WNTV and now part of the NTA network of stations. He initiated free education as a major campaign promise and indeed sent several people to school at no cost. In fat, government of the then western region which comprises about 7 states today gave allowances to beneficiaries of its free education. He wanted to be president of Nigeria after so much work at the regional level but he never became the president. Some people even refer to him as the best president Nigeria never had.
After Chief Obafemi Awolowo, we have had several other people who gave the presidency a shot. The famous human right activist, Chief Gani Fawehinmi wanted to be president. Many Nigerians know that this legal luminary would have done well as President of the Federal Republic of Nigeria. He started the National Conscience Party for this purpose. The party is still existing but with nearly insignificant impact.
I remember Professor Pat Utomi also gave the Presidency a shot. Professor Utomi's resume can be overwhelming among intellectuals and in the academic space. He has some serious solutions for Nigeria especially with balancing trade payment. One of his strongest propositions was for Nigeria to strike a deal with car manufacturing companies. We have rubber in abundance in Nigeria. He feels we should agree to be the sole manufacturer of tyres for some automobile manufacturers and with that, we will jack up our export and reduce dependence on proceeds from oil. Brilliant idea! He Also contested via the platform of one of the not too famous parties and didn't win the election.
From the much younger generation, we have had Mr. Nuhu Ribadu. After an arguably remarkable performance as the Chairman of Economic and Financial Crimes Commission, one would have thought that a nation interested in fighting corruption will root for him to win the presidential election on the platform of Action Congress of Nigeria. The party which has merged with others to become All Progressives Congress had some good standing, though seen as a regional party at the time and dominant in the South West. His running mate, Mr. Fola Adeola is co-founder of one of the new generation banks. He has built strong institutions even with a government agency. Their combination would have fought corruption and built strong institutions. Nigeria needs that. Sadly, they also lost the election.
Finally on the intellectuals and good people, we have President Muhamaddu Buhari who contested three elections on the platform of different parties before finally emerging as President in the 2015 elections on the platform of All Progressives Congress, the strongest opposition party at the time. After his victory, immediately wrote a piece on doggedness. He won not because he was dogged though he would not have won if he didn't remain dogged.
In all the previous elections President Buhari contested, he was making all the mistakes of the intellectuals and good people. He was, like many others, playing paper politics. What again do I mean when I refer to paper politics?
With paper politics, you have all the good ideas well articulated. You know clearly what you want to do, where it will be done and where. With paper politics you have a good team and an excellent execution strategy if given the chance to lead the nation. The problem with this is the fact that with paper politics, your presentations don't resonate with the public. The majority don't want to hear beautiful ideas. The society wants instant gratification and hope that continues after the election. That's where I think Dr. Kayode Fayemi missed it and lost his reelection bid in Ekiti state to Mr. Ayodele Fayose, a former governor of the state and highly controversial character. Fayose won through what is called stomach infrastructure and money bags. He went out sharing foods. People were hungry so they voted for him. We as good people and intellectuals can continue to tell people not to mortgage their future or sell votes. While we are busy dissuading people from what they are used to, the street politicians are getting things done.
I honestly don't like a lot of the things that happen during elections. Many of those things should stop and I am not asking our intellectuals to go and do that. However, we losing elections. Street fighters are winning and running the country down. They are looting treasury while we are speaking grammer and writing books. We get on stage and deliver speeches that don't deliver votes. We convince prospective voters permanently glued to their TVs without a Permanent Voters Card (PVC) to deliver counts that count as against pledged votes.
Our intellectuals and good people leave out some people they should engage when contesting elections. Those are the people that determine the election results. Sadly, its not the elites, intellectuals or well travelled folks of the country that determine the election results. Its the folks as the garage, mechanics at the auto workshops, spare part dealers, market women and many others who are told what to do that often determine election results. The large population in these category is uneducated folks and a lot of hungry people. In most countries as it is in Nigeria, voting patterns are predetermined. You want to win an election, there's what to do to swipe the voting pattern in your favour.
The good people and intellectuals ignore the voting patterns and that's one of the reasons they lose elections without putting up a good fight. For example in Nigeria, to win an election,  you must remember we have six geo political zones. The zones are divided as follows with the states under them:
·        Benue
·        Kogi
·        Kwara
·        Nasarawa
·        Niger
·        Plateau
§ North East:
·        Adamawa
·        Bauchi
·        Borno
·        Gombe
·        Taraba
·        Yobe
§ North West:
·        Jigawa
·        Kaduna
·        Kano
·        Katsina
·        Kebbi
·        Sokoto
·        Zamfara
§ South East:
·        Abia
·        Anambra
·        Ebonyi
·        Enugu
·        Imo
§ South South:
·        Bayelsa
·        Rivers
·        Delta
·        Edo
§ South West:
·        Ekiti
·        Lagos
·        Ogun
·        Ondo
·        Osun
·        Oyo
 To win an election Nigeria for example, you will be displaying a good knowledge of the voting patterns if you focus on winning the entire northern states and geo political zones with at least another zone in the south. In the 1999 general elections, Chief Olusegun Obasanjo won the election by collaborating with the north and sweeping the South West. In 2011, President Buhari lost the election by focusing primarily on his goodwill in the north though he had a running mate from South West. President Jonathan won the same election by covering South West, South South and South East.
Fast forward to 2015 when President Jonathan was voted out and President Buhari voted in. President Buhari won most northern states and covered the South West. So winning an election is predictable when you see the regions you have reliably covered. This is same even in the United States. Some States are referred to as Red States and some as Blue states.
Another voting pattern is that the folks from South West are predominantly intellectuals. They have the highest number of educated folks. They follow reasons when voting and you need to be able to convince them. It's a lot of work to convince these set of people. As for the northern voters, speaking their language is important. Winning over their religious leaders and other influential leaders count. Once someone they respect speaks for you, there are strong chances of becoming popular and sweeping votes.
While there are many more underground work being done during the campaigns, the intellectuals and good people focus on surface popularity. Our other guys do the dirty jobs. They hold long and endless meetings with various interest groups. They travel extensively and even get into the creeks.
What did President Buhari do differently that got him the needed votes? What can intellectuals learn from his victory?
1.      Platform – Many intellectuals lose because they don't have a strong platform. If you have to win a major and strategic election, you need a great platform to win. Starting your own platform is good but not many of us will be pathfinders. Some pathfinders have done the much needed work with building strong platforms and I suggest intellectuals be humble enough to glean or leverage on that platform. Buhari kept trying until he left his platforms and merged with All Progressives Congress (APC).
2.      Alliances – Alliance is one of the greatest mistakes of good people and intellectuals. That's a strong reason elections are lost. On the surface, it looks like you just need to canvass for vote and you'll win elections. You need strategic alliances. The alliance of Buhari with Tinubu is something he'll never forget. Professor Yemi Osinbajo, our current Vice President is an intellectual. He is a professor of law and was attorney general of Lagos State. We know he is a good person who transformed the judiciary in Lagos State. However, he did not become the Vice President without a strong alliance with Bola Ahmed Tinubu, the former governor of Lagos State.
3.      Funding – Funding is what so many intellectuals and good people complain about. If you work and walk your way up on established platforms, funding becomes easier compared to having to run your campaign yourself with little support from friends and family.
4.      Popularity – The reason popularity is pivotal to winning is not because of you but because of the platform and voting system. When people go to the polls, they don't see names on the ballot papers. It's the names of the popular parties they start looking for. Since people will look for the icons of popular parties and yours may not be popular, you slim your chances of winning.
5.      Marketing mix – Now that's from communication and I am a student of communication. With marketing mix, the Buhari/Osinbajo ticket got it right in 2015. They did an excellent job in my opinion. While Buhari was busy meeting with strong opinion leaders, Osinbajo was busy with town hall meetings. Social Media was agog and the street was being combed daily. With their strategy, they connected the old and young. The educated and uneducated were engaged. Opinion leaders were connected and youths did a lot of grassroots work. To win an election you have to communicate in different ways and reach out to everyone. You can't speak to only the people you think you easily connect with and hope to win.
 To win an election, there are systems you can't change no matter how good you are. When you have won the election, you may be able to change several things through policies and legislations. Intellectuals and good people who have now shifted to what I call internet or social media politics need to wake up. You don't win elections with Facebook, Twitter and Instagram only. Elections are won on the streets. Let's do the paper work to get things right and also hit the streets to win the people. There's a system out there that is established and arguably unbeatable. You don't have to beat them by starting another political party. You can leverage their platforms to beat them. Let's stop disturbing ourselves by thinking we are smarter than these street guys. They may not look smart but often prove to be smarter with their results. That's how they outsmart us while we're still wondering what hit us like bomb.
Plans on paper look good but we have to wake up, roll sleeves and get things done. You want to change this nation or any other nation of the world, stop dreaming and speaking grammar alone. Get out and get things done.
Content created and supplied by: FolaDanielSpeaks (via Opera News )
Opera News is a free to use platform and the views and opinions expressed herein are solely those of the author and do not represent, reflect or express the views of Opera News. Any/all written content and images displayed are provided by the blogger/author, appear herein as submitted by the blogger/author and are unedited by Opera News. Opera News does not consent to nor does it condone the posting of any content that violates the rights (including the copyrights) of any third party, nor content that may malign, inter alia, any religion, ethnic group, organization, gender, company, or individual. Opera News furthermore does not condone the use of our platform for the purposes encouraging/endorsing hate speech, violation of human rights and/or utterances of a defamatory nature. If the content contained herein violates any of your rights, including those of copyright, and/or violates any the above mentioned factors, you are requested to immediately notify us using via the following email address operanews-external(at)opera.com and/or report the article using the available reporting functionality built into our Platform See More