See the things Gov Ortom Said That are coming to pass
Governor Samuel Ortom of Benue State is clearly ahead of President Muhammadu Buhari and his governor colleagues concerning the security of lives and property which is the primary objective of government.
He has been correct on his decisions, letters, comments on national issues. It is had to point at one wrong decision he has made concerning national issue particularly on security. One is nearly tempted to describe him as a prophet, that would not be far from the truth.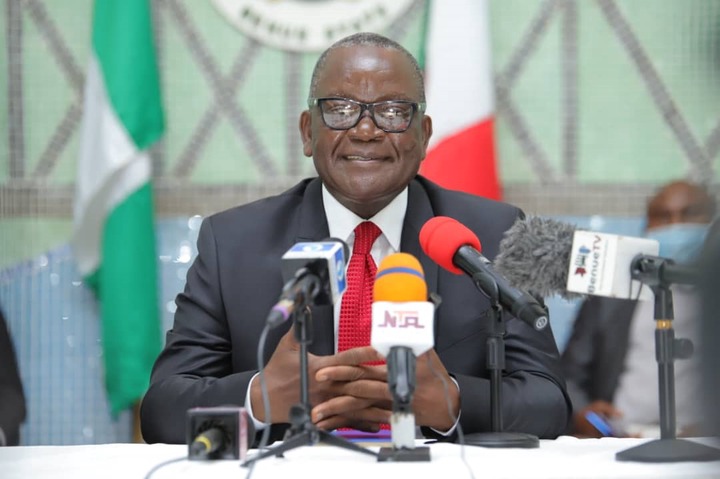 This is why. Governor Ortom began the call for ban on open grazing five years ago, but no one listened to him. He said open grazing had to be banned and all cattle be ranched as the only solution to herdsmen attacks on farmers. He was consistent with his call. He told the president, the President ignored him. The North saw him as one who wanted to distort their tradition. Some of his colleagues ignored him too.
Why they refused to listen to him, he told them that if they thought herdsmen attacks were peculiar to Benue State, they thought wrongly for it would soon reach every other state if nothing was done to arrest the situation. Nothing has been done and today no state has been spared by herdsmen attacks.
Again, those who did not believe banning of open grazing was possible are now calling for the ban.
Governor Ortom rose against the Water Resources Bill saying it was against the Land Use Act and the bill is no more.
The Benue State Governor seeing the failing state of the country where killings of innocent Nigerians became daily headlines, he called for gun licensing. This too, many criticized him but today he has got more supporters for private gun licensing than those who oppose him.
A few days ago, the Governor called on President Muhammadu Buhari to declare state of emergency on security. Instead of the presidency to listen to him they attacked him even with pseudo groups. But today, the senate has called on the President to declare state of emergency on security considering the fact that Nigerians are no longer safe.
The Senate made the call for state of emergency on security following the kidnapping of school children at the Government Science School Kagara, Niger State.
On the call for the state of emergency on security too Governor Ortom has proven he is visionary and sees far ahead of his peers.
Governor Ortom also recently urged the Federal Government not to dismiss the warning from Word Bank on the increasing number of destitute in the country.
That warning too has been dismissed but everyday, Nigeria gets closer to the prediction. More people are becoming jobless and hopeless in the country. Governor Ortom told the Federal Government that the only way out of the quagmire is to develop the productive sector and create jobs for the people.
Content created and supplied by: ThePressman (via Opera News )