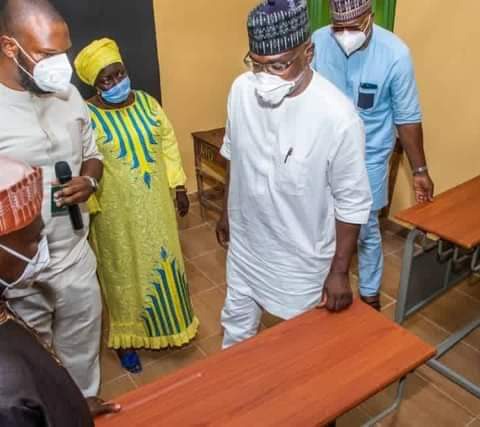 The attention of Concerned Youths Stakeholders of APC in Kwara State has been called to claims by one of the false alarmists and an aide to Governor AbdulRahman AbdulRazaq, Obasanjo Alashi alias SOJ, where he claimed our revered and peace loving Caretaker Chairman, Hon. Bashir Omolaja Bolarinwa (BOB) and Hon. Saheed Popoola should be held responsible, should anything happen to him.
In their usual assault on the sensibility of Kwarans, SOJ went further to deny mobilizing thugs to the venue of the botched APC stakeholders meeting for membership registration and revalidation, claiming he never moved near Banquet Hall on the said day. Even when pictorial evidences visibly showing SOJ leading his agents of destruction in the Banquet Hall premises abound.
SOJ went further to call on 'Brotherhood Worldwide' to come fo his rescue. Again, flagrantly flaunting his affinity with men of the UNDERWORLD, as the phrase 'Brotherhood Worldwide' is generally known to be synonymous with Cultism. Security Agents should note this inciting call and henceforth, tame SOJ and his 'Brotherhood Worldwide'', to prevent further breakdown of law in the State, as witnessed last week, at the Governor's ancestral home - Idigba.
The same SOJ who is a known thug of many decades, also made claims of some thugs being lodged at a hotel in Basin, we urge the security agencies to pick him up, so that he can lead them to the usual place as he put it, failure to do so should result in appropriate punishments for a miscreant who is trying so hard to cause unrest and mislead the public, for motives yet unclear.
We wish to reiterate that members of the All Progressives Congress in Kwara state are lawful, peaceful and will remain uncompromising, even in the face of naked use of state forces and resources to coerce our members into joining the sectional "AA" faction of the Governor. No amount of aggressive wolf howling will deviate our members from the paths of justice, fairness and equity.
For the records, the interviews granted by Hon. Bolarinwa and Hon. Saheed Popoola, where they both revealed Governor AbdulRazaq's aide, Obasanjo Alashi (SOJ) mobilized thugs who harassed BOB and his supporters to Banquet Hall, venue of the APC stakeholders meeting are available online for all to analyze. This is substantiated by available pictorial evidences.
Hon. Bolarinwa and Hon. Popoola only said the truth to the best of their knowledge, SOJ may need to show Kwarans his identical twins spotted in series of pictures taken at the event or simply submit himself to the security agents for immediate action against his barbaric and disgraceful disruption of the APC stakeholders meeting.
The denial of SOJ, despite available evidences that exposed his presence at the event reflects the level of hoax and inveracity our public officials are enmeshed in.
We are also aware His Excellency, the leader of our party, Governor AbdulRazaq threatened suspension of some party members for allegedly attempting to frustrate the party registration, even when Mr. Governor is not the party Chairman. The utterance speaks to reasons why our dear Governor has been hell bent to hijack the party structure by hook or crook. So that he can dictate who becomes and ceases to become a member in APC?
While the totalitarian approach of our Governor will not work, we urge His Excellency to allow change and sanity in the party begin with him, before he points accusing finger to others. His Excellency should subject his aides, particularly SOJ and Iya L'Amule to punishment for their aberrant behavior at the stakeholders meeting and also hand them over to the police for the law to take its course. That is how to be sincere, firm and just.
It is hypocritical of any leader to accommodate and even motivate errants, while attempting to use State forces to silent the righteous. We are aware of attempt to arrest some of our member for demanding justice within our party. We refuse to be intimidated by such undemocratic behaviors by a supposed progressive government, we remain resolute in our struggle to ensure there is fair play for all of us in the APC, regardless of creed or intraparty political leaning.
In conclusion, we urge all relevant security agencies to maintain neutrality, even as thugs and miscreants who are perpetrators of state sponsored violence have severally boasted of having the security agencies at bay, we urge them to carry out their duties as enshrined in the constitution of the Federal Republic.
Content created and supplied by: maliki08188 (via Opera News )