The Inspector-General of Police (IGP), Muhammed Adamu has been called back to his duty by President Mujammadu Buhari.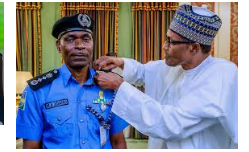 Muhammed Adamu whose tenure as Nigerian Inspector General of Police has ended was expected to bow out of service as IGP has received extra three months to serve as Nigerian Police boss.
The Minister of Police Affairs, Maigari Dingyadi disclosed that the President decided to extend Muhammed Adamu"s tenure as IGP because proper selection has not been done for the person who will take over as a new IGP.
The Minister also said that the President decided to extend Adamu's tenure for extra 3 months because he needs time to select who will succeed him.
Nigerians who are against the President's decision says that his action is against the law of the Federal Republic of Nigeria.
They said that the Police Act 2020, stipulated in Section 7 (6) fixes a single term of 4 years without the option of extension of tenure for the holder of the office of Inspector General of Police (IGP).
The Police Act also stated that "A person appointed to head the office of the IGP shall hold the position for four years only.
Reading Section 18 (18) of the Police Act signed by the President on September 15, 2020, says, "Every Police Officer shall on recruitment or appointment serve in the Police force for 35 years or until he attains the age of 60 years whichever is easier".
Content created and supplied by: Stormy (via Opera News )