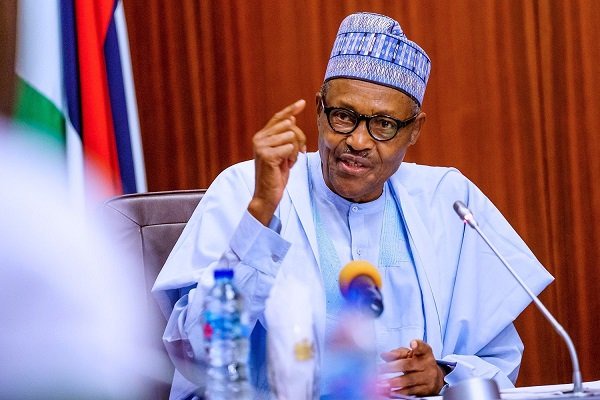 President Muhammadu Buhari has reaffirmed the resolve of his administration to realise its plan to lift 100m Nigerians out of poverty, stating that it was conceived out of deliberate intents.
The President made the reaffirmation on Tuesday during a meeting with the Presidential Economic Advisory Council (PEAC) at the State House in Abuja.
Speaking at the meeting, which was attended by the Vice President Yemi Osinbajo, Buhari agreed with the Council that the country required a poverty reduction strategy that will usher in a "rapid, sustained, sustainable and inclusive economic growth".
In a short speech after the presentation of the report on national poverty reduction strategy developed by the PEAC, Buhari requested the PEAC to present the document to the Federal Executive Council (FEC) on Wednesday as part of the consultation process.
He also agreed with the Council the ambitious program of lifting 100 million Nigerians out of poverty is a challenging one but one that can be achieved.
The President wondered what became of the nation in the past, "with all the resources available to it" that no such coordinated, holistic agenda on poverty reduction was ever contemplated.
Mixed Reactions On Twitter
Mr Integrity... No Struggle No Success
The number one thing Nigerian want from Mr President is Adequate Security all over the country.
If people can go to bed and sleep with there two naked eyes world will thank you and praise you either
With excavator or forklift???
Victor D [email protected]
A safe society is better than a developed society with no security Mr President. What the people need now is to be able to go to bed and sleep with their eyes close,they are not asking for jobs,they are only asking for that society where they can go to their farms without fear.
Temitope [email protected]
Fuel price is about to increase or something bad is being planned for Nigerians. This is usually the sign.
Precious [email protected]
re implementing policies that re destroying Jobs (Suspension on Activation of new Sims) re u want to lift 100m from Poverty, how?
Mr Integrity... No Struggle No Success
we don't need too much talking we need actions than words. The Federal government knew what to do but definitely they wouldn't do anything it's only talking talking we see abeg Baba do the needful for the populace
Mike Awoleye (Ph.D)@OMAwoleye
Where's the blueprint, I have been hearing this same story for 5yrs now, and nothing has changed
PINKOIN WEALTH ( P.W ) Cloud with rain
How many time FG will lift Nigerian from poverty ?
They will soon lift us to heaven.
It is super story season 4. This episode never ends.
Cjay [email protected]
He should kindly tell us how many hundreds he has lifted out of poverty in almost six years
20/10/2020Broken [email protected]
Oga at this point we don't want you to lift us. We just want you to allow us rest.
NigeriansFlag of [email protected]
Its has turn to national anthem bayii.
They meant to say sink down lower than they were
Sam Arena [email protected]
Iro yin ti poju..... Mr buhari and Lai Mohammed.
How many graduates have you employed without nepotism??? All is not transparent.
Give me a job as a graduate
Croesus [email protected]
What time? In the next 1& half year baba have? Nigerians has seen the failure of APC as party
Orrr..... The lifter up of our Baba stop lifting us ooo. Leave us for where you meet us in 2015 abeg. The more you lift us the deeper we fall into laughing Your lifting don tire us mbok Person gesturing not ok.
Mr man you have been lifting only bandits and terrorists
Idowu Adebayo [email protected]
And kill them before the lifting? Just let us be. We no dey follow you go anywhere. Your matter tire us
Anyarogbu [email protected]
I feel so ashamed that this ABSOLUTE FOOL is the president of Nigeria. Chai how did we get here? I wonder what presidents of other countries think of Nigeria whenever they converse with Buhari. They must think Nigerians are foolish and Nigeria is lost. What a shame
Onyedikachukwu [email protected]
An idiot that can not give the #ZooNigeria ordinary electricity want to lift same people out of poverty.
Content created and supplied by: Femisport (via Opera News )