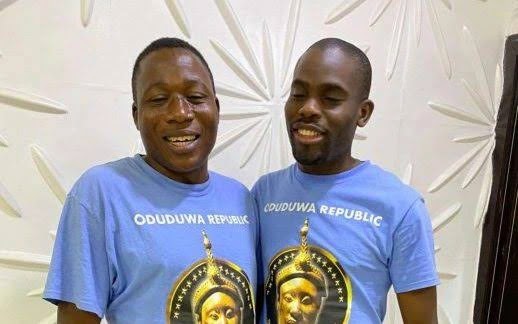 In response to what Igboho said on Sunday that any Yoruba traditional ruler not supporting the Republic of Oduduwa will take a video recording and mark himself or herself as an enemy, Akanbi said this at a rally organized on Saturday in Nigeria.
Akanbi reiterated his point by issuing a press release via his press secretary, Alli Ibraheem, saying, "those on the forefront of Nigeria's break-up should stop such a movement."
Igboho's Spokesman Responses in Disguised Without Naming
Olayomi Koiki, the spokesperson of Ighoho and radio presenter Sunday, told traditional Yoruba extraction rulers and politicians who are opposed to Oduduwa's agitation that they will go into exile.
"The UK is just 67 million people and they are booming and we are struggling more than 67 million.
"And somebody in his palace tells us not to start the war, it's started in Nigeria," said Igboho's spokesman.
He further said that there would be no withdrawal for the people of Yoruba in pushing for a sovereign republic.
Koiki said this Saturday in a viral video.
He said that the Yoruba leaders supported the agitation, adding that these would be spared as he repudiated the impoverishment of the Yoruba people by many monarchs and political leaders.
The media personality said in the video in Yoruba that those who warned about war should know that Nigeria was at war with the Fulani militia to attack Samuel Ortom, the governor of the Benue state.
"We'll chase them away, apart from those who talked audibly well, but who did not. Mark my face. Mark my face. Olayomi Koiki is my name. The younger generation has sent us into slavery.
"If you say there is no war in Nigeria, the Benue State Governor has almost been killed, and you say there's no war? You didn't talk when the people of Yoruba were refugees in the Republic of Benin.
When Sunday Igboho begins to talk for a whole race of people who applaud themselves as the educated in the world, you know that somewhere there is a problem.
Comment and follow us below and let's discuss this issue.
Content created and supplied by: iwonpopular (via Opera News )