From Kehinde Adewole
The recently inuagurated Vice-Chancellor of the Federal University Oye-Ekiti ( FUOYE), Prof. Sunday Abayomi Fasina, was on Wednesday promised a stuanch and total support by the host community, Oye-Ekiti when he paid a courtesy visit to the monarch of the town, Oloye of Oye-Ekiti, Oba Micheal Oluwole Ademolaju , at his palace located at the centre of the town.
This was just as a new Deputy Vice-Chancellor (DVC), Administration, Prof. Sola Omotola, was elected by the institution's Senate earlier in the day. Other important appointments were also announced and Commitees were also officially set up by the VC during the Senate meeting.
Prof. Fasina who was accompanied to the palace of the Oloye, by his Management team, was received by the Oloye-in -Council and the monarch himself, who gave the University Management team a very warm reception.
Explaining the reason behind his team's courtesy visit to the monarch and his chiefs, Prof. Fasina who first, alongside his entourage, greeted the monarch in the proper traditional way, said: "We are here first to pay homage to the Kabiyesi, the monarch of Oye-Ekiti. Our father. We are also here to assure you that FUOYE is for this town.  
" We appreciate you for your support and as we have discussed earlier, we will soon site a College of Medicine here in this town. And as we all know, a College of Medicine will attract huge development and ensure rapid provision of all other social amenities in this town. There will be huge medical tourism and Oye-Ekiti shall be very popular, in the same way places such as Ibadan and Ile-Ife became popular.
"We will like to seek for more of your support. We are here to also seek the support of the Kabiyesi as we want to collaborate with this town and whatever you ask us to do, we will do. We want to leave a lasting legacy in this town. We will be putting our best to ensure we get the support of Oye-Ekiti in all ramifications," he said. 
While appreciating the Oloye for his earlier support in ending the hitherto dispute the town was having with some suspected land grabbers in the town, Registrar of the institution, Mr. Olatubosun Odusanya recalled that the Oloye and his chiefs had jointly dragged the suspected land grabbers to court in favour of FUOYE.
His words: "Kabiyesi sir, we appreciate you so much for your strong support for our institution. We recall that yourself and the chiefs in Council, had dragged those who wanted to grab FUOYE's landed property from the school and the ruling was given in our favour all thanks to you and your chiefs. We are very grateful for this"  
The Oloye of Oye-Ekiti assured the VC and his Management team of the strong and total support of the community for the Fasina-led administration to record desired success. He admired the new VC, Prof. Fasina for being a man of 'few words and more action'. 
Likening the VC's proactive disposition to that of former Lagos State governor, now late Alhaji Lateef Kayode Jakande, Oba Ademolaju said he loved men who are proactive and as such he has fallen in love with Prof. Fasina, especially for the fact that he has strongly promised to build a College of Medicine in Oye-Ekiti in the next few months.
His words:" Politicians can talk for hours, but no action. It is a pity so many of you don't ever know late Lateef Jakande. ln our days as followers of late Chief Obafemi Awolowo, they call Jakande, action governor. And that is why l admire the personality of Prof. Fasina, the new VC. He is a man of action. We don't need rhetorics. We want action.
 "I welcome you all to this community once again, and l am inviting you to come and build here and have your homes here. In fact, we want a situation where all the FUOYE principal officers will be living here. We know why you aren't living here yet. First of all is security, there is no security here but we are working on that. 
 " Please help us to talk to your students, we are helping them to keep safe here, let them cooperate with us. We also have housing challenge. We need about 500 housing units, we are working towards this also.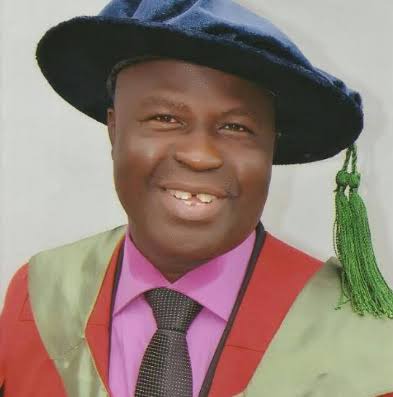 •Prof. Fasina
"An academic needs to be careful, you are not just made but baked. There is no hospital here to the standard you are submitting yourself to. We are starting our own hospital here which will be able to compete with any standard hospital in the country. We do not also have good roads. We urge you to collaborate with us on this. 
"We are encouraging our own children to bring in teachers who can work from primary to secondary and we are also working on getting other social amenities such as water and others. If there are all these social amenities here you would not waste your time going to Ado-Ekiti.
"We are ready to work with any administration that emerges in FUOYE. Wherever you have challenges we will assist to surmount them. We have decided to work with the Government of the day. We will cooperate fully with the new VC to build the College of Medicine for FUOYE. We are giving you a wide expanse of land for the College of Medicine. We are doing this so that no one will disturb you on the piece of land, " the monarch assured.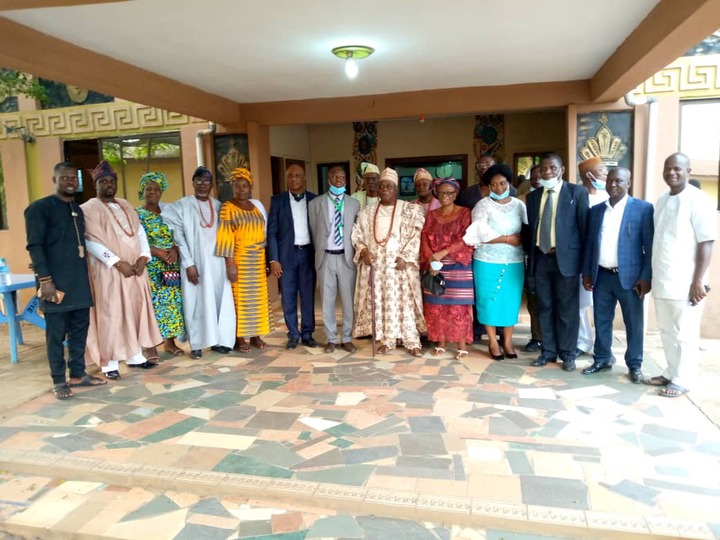 •Prof. Fasina, FUOYE VC and Oloye of Oye-Ekiti flanked by Management team and Oloye-in-Council after the meeting
The Kabiyesi urged the Management to fence off the land already given to the University and advised his Management team to perish all grievances that might have occurred during the events that led to the election of Prof. Fasina as VC and cooperate with him in order to take FUOYE to greater heights. 
While the leadership of the 
Oye Progressive Union and Oye Youths Association were also part of the Oloye's team that gave warm reception to Prof. Fasina and his entourage, other members of the FUOYE Management team that paid the Courtesy call included the newly elected Deputy Vice-Chancellor, Administration, Prof. Sola Omotola, Registrar, Mr. Olatubosun, Bursar, Mrs. Bolatito Roseline Akande, Deputy Registrar, VC's office, Mr. Mufutau Ibrahim, School Librarian, Dr. Busayo, Director of Procurement Unit, Chief Security officer, Mr. Paul Ogidi and another Deputy Registrar, VC's office, Mr. Muyiwa, as well as other principal officers.
Content created and supplied by: LiveTimesNG (via Opera News )