One of the pathways to a glorious life in Christ Jesus is the demonstration of an unbiased spirit of faith. According to the biblical definition, Faith simply means "the substance of thing hoped for, the evidence of a thing not seen" (Hebrews 11:1). There's nothing that will change until you decide and make up your mind to do the extraordinary.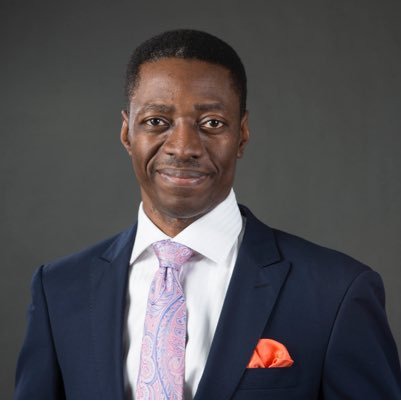 Pastor Sam Adeyemi, a Nigerian pastor with a high level of financial influence, a personal development strategist and a financial guru shared a testimony of a woman who decided to take action after she saw a post he uploaded. From the testimony, the time for application for a Job with that company has ended but she took a step of faith and behold she was not disappointed.
Pastor Sam in his post wrote, " Make that call, send that mail, put in that proposal or application, start that business, sell that product or service. You don't know what is on the other side of your action. There are miracles waiting. This week will bring you good news. Do it now".

Can you believe that few hours after he made the post, a woman took actions as he directed with faith and she came up with a testimony. No matter how dejected, rejected, frustrated, and disappointed you are, all you may need is a step of faith because there is always a light at the end of a tunnel.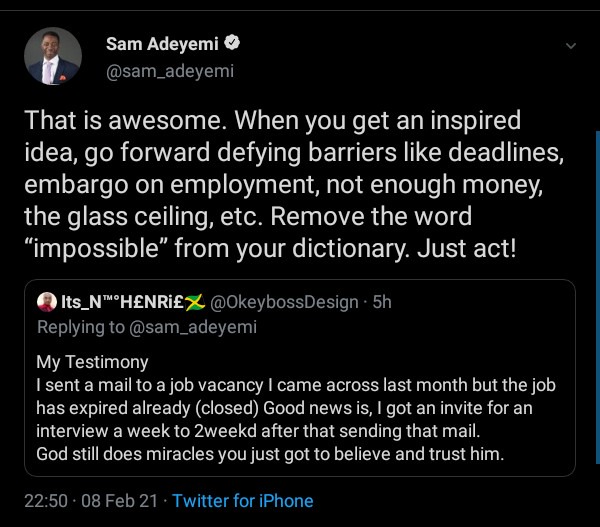 In response of the post, she write, "My testimony! I sent a mail to a job vacancy I came across last month but the job has expired already (closed). Good news is, I got an invite for an interview a week to Weekend after that sending of that mail. Hod still does miracles you just got to believe and trust him". What a testimony of the outcome of a rugged faith in action.
Pastor Adeyemi while reporting the testimony said, "That is awesome. When you get an inspired idea, go forward defying barriers like deadlines, embargo on employment, not enough money, glass ceiling, etc. Remove the word "impossible" from your dictionary. Just act".
That's the power of faith. You can stray acting today for your results. Since it worked for the woman it can as well work for you!
Content created and supplied by: Chikahub (via Opera News )