It's been three years now since Nigerian's Democracy Day moved from the previous May 29th to a more befitting June 12. Inarguably, we have a thriving democracy today in Nigeria because of June 12 and that mandate cost sweat, tears, blood, unlawful incarceration and many other things besides. This piece which tries to honour some of the heroes of Nigeria's ongoing democracy is by no means exhaustive in the choice of the said heroes. These are just twelve out of scores who fought to see democracy enthroned in our body politic and several paid the ultimate price!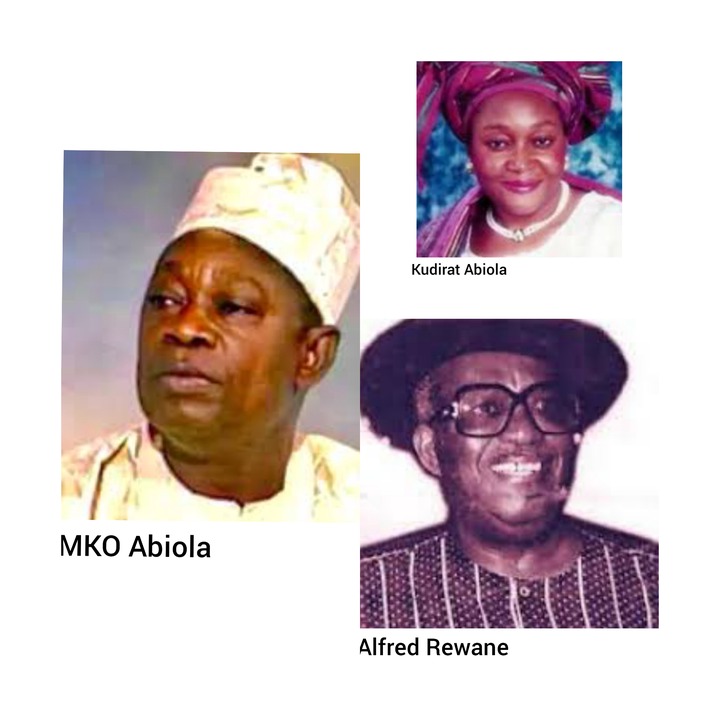 Mahatma Gandhi once said "Let us all be brave enough to die the death of a martyr, but let no one lust for martyrdom." Wise words. Certainly some have paid the supreme price for us to see the democracy that has now continued uninterrupted for 22 years. Martin Luther King Jr said "If a man has not discovered something that he will die for, he isn't fit to live." But Napoleon Bonaparte puts it differently when he said "It is the cause, not the death, that makes the martyr." Nigerians ought to be proud to say several people laid down their lives in the terrible tussle that led to our present democracy. And yes, it was a cause worth dying for.
First on the list of the martyrs certainly was Chief Moshood Kashimawo Olawale Abiola. Abiola was the first surviving child of his father. But he wasn't the first or even the tenth child born to his father. He was the 23rd child born to the Abiola family but 22 before him had died in infancy. Therefore no pageantry greeted his birth. On his apathetic naming ceremony, he was simply named "Kashimawo" which in Yoruba means "Let's wait and see!" His parents expected him to die but he lived. And what a life he led!
Marjorie Kelly said "The lesson of history is clear: democracy always wins in the end." Democracy always win. Very true. For MKO Abiola, the acclaimed winner of Nigeria's freest and fairest presidential election held in 1993, democracy did win after 6 years of bloody struggles. Sadly though, Abiola never lived to see that day. But it was the vision of such a day that made him hold on amidst serious intimidations.
"The road to democracy may be winding and is like a river taking many curves, but eventually the river will reach the ocean" says Chen Shui-bian, the retired Taiwanese politician who served as the fifth president of the People's Republic of China. This was true for MKO. Abiola was incarcerated by General Sani Abacha for daring to claim the mandate clearly given to him by 8.3 million Nigerians, a 58.36% percent of total votes cast. In fact he won 20 out of the then 31states in Nigeria.
Just like when he was born, those in power seemingly hadn't given him any chance of winning the election but MKO triumphed. Unfortunately, General Ibrahim Babangida cancelled the election for alleged irregularities eliciting widespread outcries all over Nigeria and beyond. Thus began the struggle of June 12, the day the said election held. Abiola would later die in prison 5 years after his arrest and imprisonment. Till this very day, there's a nagging suspicion of foul play in his mysterious death but nothing was proven. Abiola died just as he was about to be released from prison.
But Kashimawo was not the only casualty of the June 12 struggle. There were alleged government-hired assassins that targeted many who were championing the restoration of MKO's mandate. Kudirat Abiola, the wife of the business mogul was one of those that led the struggle. A very wise, eloquent and fearless crusader for democracy, Alhaja Kudirat must have suspected that death was imminent for her as she was in the process of jetting out of the country when suspected government-sponsored assassins gunned her down in cold blood on June 4th, 1996. Kudirat Abiola must have learned a thing or two from the courage of HID Awolowo who kept the flag flying when her husband Obafemi Awolowo was imprisoned. Kudirat continued the fight where her husband stopped till her sad rubout at the hands of alleged Abacha's henchmen.
However, Kudirat wasn't necessary the first activist murdered for championing the fight for democracy. Alfred Rewane had already paid the supreme price on October 6, 1995 when gunmen killed him in cold blood. Rewane was an Itsekiri man but he had been a close associate of Obafemi Awolowo. He was a major financier of Nigeria's foremost pro-democracy group in that era, namely National Coalition for Democracy (NADECO). Rewane was murdered inspite of the strong security at his residence in GRA Ikeja. The death of the 78 years old activist sent shockwaves around the nation and the outcry against the military climbed to a crescendo.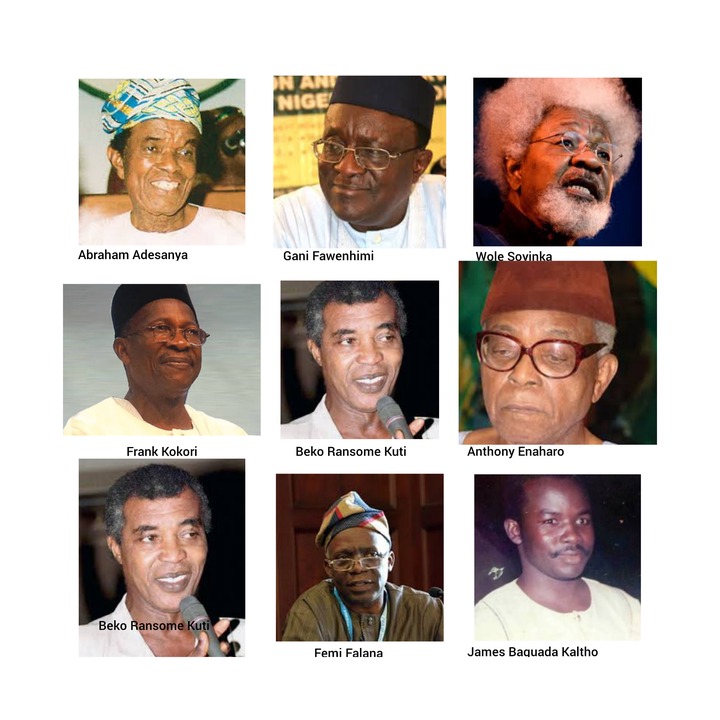 Even though Gani Fawehinmi was not martyred during his struggle against the military to reclaim Abiola's mandate, he was imprisoned several times. No one had more opprobrium with the military than Chief Gani Fawehinmi. He was jailed 6 times by General Yakubu Gowon, 3 times by General Olusegun Obasanjo, 17 times by General Ibrahim Badamosi Babangida and finally he was jailed 6 times by General Sani Abacha. Curiously during the 20 months dictatorship of Major General Muhammadu Buhari, Gani was never incarcerated.
Gani Fawehinmi was a bulldozer when he was fighting for human rights, democracy or against corruption. He swayed the crowds so much the military didn't know how to handle him. When General Ibrahim Badamosi Babangida was asked why he always arrested Gani, he replied humorously "What kind of question is that? Every Nigerian president arrests Gani and I see no reason why my case should be different" Gani championed the June 12 fight as a front-liner and many were the times he was teargassed. In fact he once fainted in Lagos after being teargassed in a June 12 rally.
Pa. Abraham Adesanya was the deputy leader of National Democratic Coalition (NADECO), a pro-democracy movement formed in 1994. Having worked closely with Obafemi Awolowo, Adesanya was an important voice in the Yoruba nation particularly in his latter days. Unlike Wole Soyinka and Anthony Enaharo who fled Nigeria in the wake of a clampdown on NADECO leaders, Abraham Adesanya refused to jet out. Sadly, an attempt was made to assassinate him on January 4th 1997 but mysteriously, he survived the attack without any injury. The report was that his car was rained with bullets but he mysteriously managed not to sustain even a scratch.
Professor Wole Soyinka was mostly in the diaspora during the pro-democracy struggles but he was a part of NADECO and used his appeal to a very large international audience to champion the course of democracy in Nigeria as well as speaking forcefully for restoration of the June 12 mandate.
Similarly, Anthony Enaharo joined Wole Soyinka in the diaspora as they kept the foreign media informed about the atrocities happening in Nigeria under the Abacha junta. Anthony Enaharo was also a member of NADECO.
Someone else fought for June 12 from within the country as opposed to the diaspora. That was James Bagauda Kaltho but he suddenly disappeared after writing an unsavoury article about the Abacha government. The young man simply disappeared into thin air late in 1996 and 25 years later, there is still no trace of him. Journalists were clearly endangered species during the Abacha regime and it is clear that James Bagauda Kaltho paid the supreme price for democracy.
Beko Ransome-Kuti also fought for June 12 and democracy but in the tradition of the Kuti family, Beko Ransome-Kuti began his activism against corruption, bad governance and the military dictators long before NADECO was formed. Major General Muhammadu Buhari had arrested Beko Ransome-Kuti as well as suspended his medical license but Babangida released the activist in 1985. He formed a pro-democracy group Campaign for Democracy and in the 1990s this group fought for June 12. Dr Beko was also jailed for daring to challenge Obasanjo's trial by Abacha. He only regained his 1998 after three days if incarceration. This happened after Abacha died.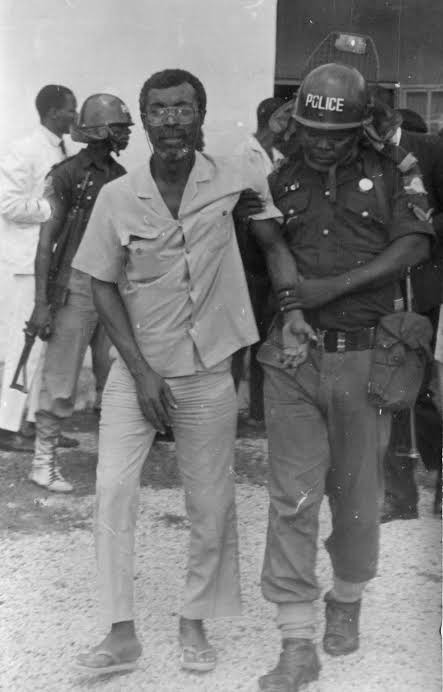 The story of the June 12 struggle cannot be fully told without a special mention of Frank Kokori who was the Secretary General of NUPENG and staged a nationwide strike of that union in the bid to restore the June 12 mandate. He was threatened, enticed and begged but Kokori refused to back down causing many to fear for his safety. His singular action of bravery joined by their sister union PENGASSAN literally crippled the Nigerian economy.
Finally Femi Falana who was a protege of Chief Gani Fawehinmi was also a popular voice that spoke in favour of democracy, human rights and the June 12 struggle.
Content created and supplied by: erictimelessbeauty (via Opera News )
Opera News is a free to use platform and the views and opinions expressed herein are solely those of the author and do not represent, reflect or express the views of Opera News. Any/all written content and images displayed are provided by the blogger/author, appear herein as submitted by the blogger/author and are unedited by Opera News. Opera News does not consent to nor does it condone the posting of any content that violates the rights (including the copyrights) of any third party, nor content that may malign, inter alia, any religion, ethnic group, organization, gender, company, or individual. Opera News furthermore does not condone the use of our platform for the purposes encouraging/endorsing hate speech, violation of human rights and/or utterances of a defamatory nature. If the content contained herein violates any of your rights, including those of copyright, and/or violates any the above mentioned factors, you are requested to immediately notify us using via the following email address operanews-external(at)opera.com and/or report the article using the available reporting functionality built into our Platform See More