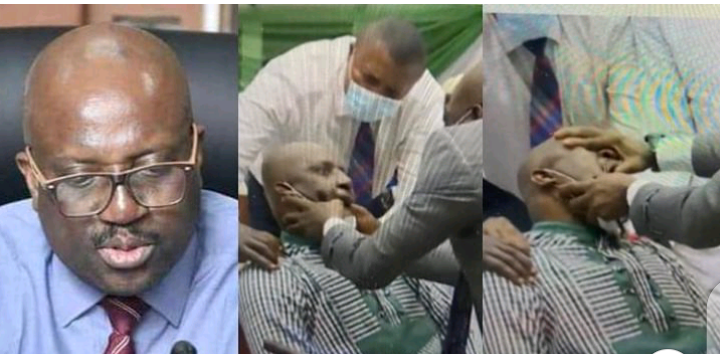 The acting Managing Director of the Niger Delta Development Commission, Prof Kemebradikumo Pondei, fainted on Monday during an investigative hearing at the National Assembly.
The committee had grilled him for about 45 minutes before he passed out.
Pondei has been rushed out of the Conference Room 231, venue of the investigative hearing on illegal spending and mismanagement of funds in the commission.
The Minister of Niger Delta Affairs, Godswill Akpabio, however, stayed behind. Members of the committee are still debating whether to suspend the hearing or not.
See more photos and watch the video below…
See comments and reactions
Onome Jennifer: HE WHO GOES TO EQUITY SHOULD GO WITH CLEAN HANDS. NA SO OUR ELDERS TALK AM.
Oroma Chukwu: He couldn't give account of Public Fund, see him talking about scholarships he gave when schools are closed. You never start to Faint. Rubbish!
Ben Lala: Nigeria na scam. MD wake-up and explain. All fake, u never faint now, na morning.
Next patient pls.
Franco Di Santo: He faked that, to evade the panels, what a nice strategy, faint ke even an asthmatic patient can't faint like that, so much drama in this country.
Kadi Benson: The tension was too much abeg, so many questions for just him. They are all guilty! No one is innocent, they should stop acting victim.
Nze Victor: After you faint finish you come back and answer how una take chop the money, u for just die, Please make they sell this country share us the money am tired.
Ike Princewil: He should be given a dirty slap immediately to reset his Brain from factory setting, please oga tell nigerians what we need to know, yeye man.
Chris Bill: They should pore him cold ❄ water 💦 or better still a hot slap to revive him, he can't embezzle public fund and faint when ask to account for it 🙆🙆.
Content created and supplied by: MegaMaster (via Opera News )