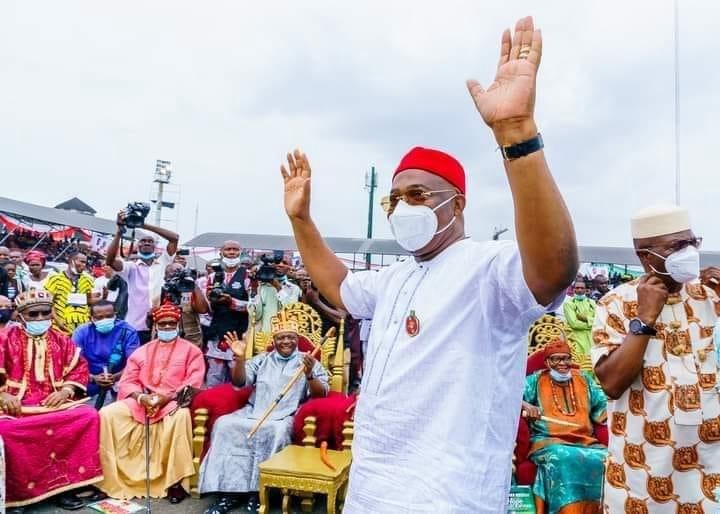 I think Gov. Hope Uzodimma is the most sincere Politician today in Imo.
He does mix up words with sophistication that you will be lost to know what he really mean at any point in time. 
This is my kind of a man - sincere, honest and always straight to the point.
One thing about Gov. Hope Uzodimma is that he doesn't know how to sugarcoat words to make them look sweet to the hearing of hypocrites but he says the things as they are, and well meaning people appreciate him for such honest attributes.
He said that infighting are parts of local political processes, at least, in our local politics and that's true.
Those raising issues on that are same people who sponsors hoodlums to hijack political processes in their favor. Sheer hypocrisy.
He also said that the south east are relegated in the scheme of things in recent times because we have been in the wrong side of National politics, and if you sincere to yourself, you will have no choice but to agree with him and see the need with him to align ourselves into the national politics to enjoy more dividends of the ruling party.
Then the issue of politics as a career?
Is politics a career? In answering this question, we will first of all define the term 'career"
Oxford Advanced Dictionary defines "Career" as the 'The general progression of your working or profession' and from this definition, one can safely say that politics is a career. 
We have seen people spend over 5 decades playing (working) active politics in the political arena.
A field that you spend such number of your lifetime on could not possibly be some kind of joke.
Like I argued elsewhere; a profession as politics which sees the day to day running and wellbeing of the people in the society is a serious business and making out a career in it should not be out of place.
Ambrose Nwaogwugwu.
February 04, 2021.
Content created and supplied by: Damian295 (via Opera News )