Monday November 23, the United Kingdom Parliament debated a petition seeking to impose sanctions on top Nigerian Government officials involved in the shooting incident that occurred during the Endsars protest in Lekki on October 20.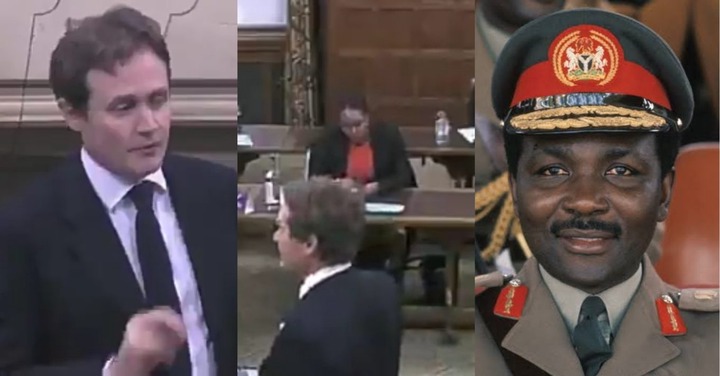 The debate was as a result of a petition started by Silas Ojo. The petition garnered more than 220,000 signatories, crossing the 100,000 mark needed for a petition to be debated by the members of Parliament.
However, the main highlight which is going viral is the moment a member of the parliament urged his government to place sanctions on Nigerians who flee to the UK with ill-gotten wealth. He also spoke about Nigeria's former military ruler, Yakubu Gowon's alleged looting of the Central Bank of Nigeria.
He said;
"What we are seeing in Nigeria today is part of that story. It is a tragedy we are all witnessing because we see things falling apart.
"The problem this time is not foreign pressure known as colonialism. The pressure instead is corruption and violence and attempts at control (of power).
"We need to call out the corruption, we need to use the powers that we have in this country to stop those who are profiting from the wealth of that great nation and hiding it here.
"Now some people will remember when general Gowon left Nigeria, he took half of the Central Bank, so it is said, and moved to London.
"We know today, even now in this great city of ours, there are sadly some people who have taken the wealth of Nigerian people and hidden their ill-gotten gains here.
"We know that our banks sadly have been used for that profit or that illegal transfer of asset and that means that the UK is in a unique position in being able to actually do something to really exert pressure on those who have robbed Nigerians."
Here are some reactions from Nigerians:
Anynomous - - mous Wow! Gowon that attends all Christian programmes across the globe including House On The Rock 'Experience'...such a huge shame! UK pls help us expose and fry them. Lai oya continue talking if they born you well.
Anonymous - - Gowons greed and insincerity was what plunged Nigeria into civil war. It was this same backward Gowon that said "the probleof Nigeria is not money but how to spend money" this was when Malayasia , China , Dubai and other nations were making grand development plans for their nation! The north are cursed people from birth!
Content created and supplied by: Freesaint (via Opera News )