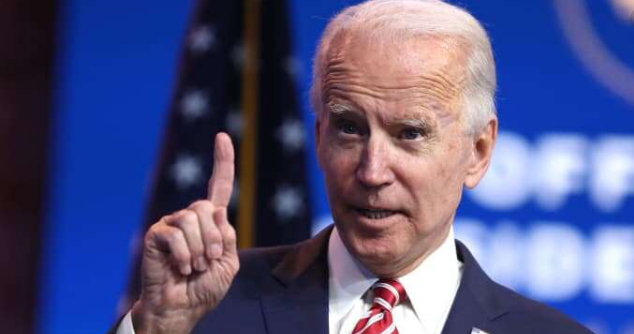 Joe Biden is intelligent enough to have seen this pandemic coming more than two months before Don Trump did, even without the advantage of the PDB (President's Daily Briefing) warning Don a dozen times about it before Don started taking it seriously (if you can call his "thoughts and prayers" response "taking it seriously") And it's easy to prove. Look at Joe's editorial in USA Today back in January where he predicted how Don would bungle his first national crisis; and then Don did just what Joe said he'd do, and wouldn't do.
In January, back when Don was telling his cult followers at rallies that the pandemic was a "Democrat hoax." And then thought barring visitors from China after it was already here and spreading would do anything; and then let 40,000 people arrive from China anyway. Meaning if Joe had been President instead of Trump, 30,000 to 60,000 Americans would still be alive today, and our economy wouldn't have cratered. Academically, Joe and Don both got BA degrees. Neither was what you'd call a scholar. Nevertheless Joe went on to achieve a Juris Doctorate and passed the bar to become a lawyer. Don went into his rich father's real estate/property management business, where he was later convicted of systematically refusing to rent to black people. Joe became a civil rights advocate. Today Joe isn't as sharp as he was while Don's deterioration, despite him being four years younger (and approximately 100 lbs. fatter), has alarmed the mental health community.
"A few stumbled words are not the same as the extreme danger that result from a list of signs that Donald Trump has shown," Bandy Lee, a psychiatrist on the faculty at the Yale School of Medicine, told Yahoo News, "and none of them apply to Joe Biden." Lee edited a collection of essays written by 27 mental health professionals titled "The Dangerous Case of Donald Trump," which detailed what the authors see as the risks posed by a leader who they regard as mentally and emotionally unfit for the most powerful office in the world.
And here's a critical fact about Joe's intelligence that no one else here has mentioned: when you get Joe Biden as President you get a team of experts advising him; scientists about science, doctors about medicine, epidemiologists about epidemics, statesmen about foreign affairs, military officers about military matters, and everyone he knows in the Senate and the House on both sides of the aisle.
Content created and supplied by: Tech_Savvy (via Opera News )