The Nigeria Union of Journalists (NUJ) has condemned the recent invasion of farms and attack on farmers in Akwa Ibom State.
The State Council of the Union has urged the Akwa Ibom State House of Assembly to reintroduce the Open Grazing Bill in order to regulate the activities of herders.
Akwa Ibom NUJ Chairman Amos Etuk (Photo: Akwaowo Akpan)
The regulation will prevent possible large-scale clashes between farmers and herdsmen, the NUJ stated on Friday.
The position of the Union was made known during its monthly congress held at Press Centre, Information Drive, Uyo, on February 19, 2021.
It was attended by members of Governor Udom Emmanuel's cabinet including the Commissioner for Agriculture Mrs Glory Edet, Commissioner for Information and Strategy Mr Ini Ememobong, as well as the Chief Press Secretary to the Governor Mr Ekerette Udo.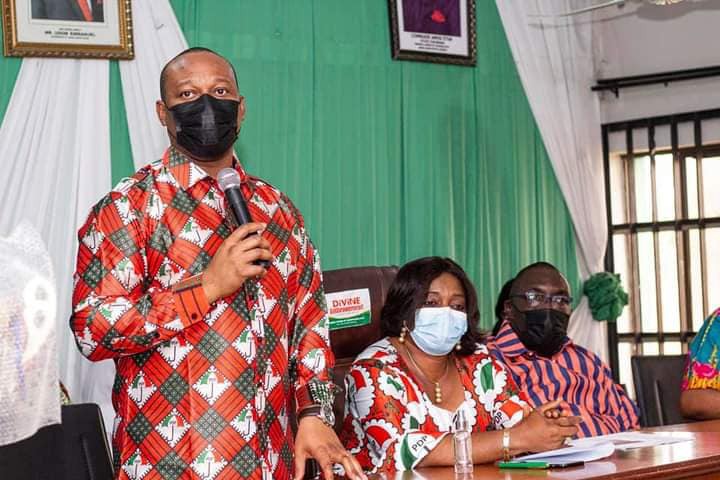 L-R: Mr Ememobong, Dr Edet and Mr Etuk.
A communique – signed by Chairman Amos Etuk and Secretary Dominic Akpan – issued at the congress called on the State Government to quickly intervene in the communal clash in Ika local government area to stop its escalation.
The NUJ sympathised with families in Ikot Udo, Ika, affected by the clash between Ika LGA and Ndoki community in Abia State.
Other issues were also noted at the congress including the increasing cases of jungle justice in the State.
While condemning mob justice, the NUJ lauded the State Police Command for taking steps to discourage the unlawful killing of suspects even as it called on the Police to be more prompt in their response to such emergencies.
The NUJ also called on security agencies in the State to look into renewed cases of child theft and redouble their efforts at securing the State.
As regards payment of entitlements, the Union praised the State Government for starting the process for payment of backlog of gratuities to retired primary school teachers and urged the Government to ensure thorough verification of the affected retirees.
On health, the NUJ urged the State Government to engage more medical personnel to attend to the healthcare needs of patients at the newly renovated and furnished Government General Hospitals across the state. Of note, the body said, was the case of General Hospital, Iquita Oron, where the dominant personnel are House Officers.
The State Government was also applauded by the Union for ensuring that contractors handling ongoing projects returned to sites.
The NUJ however urged the Commissioner for Works and Fire Service, Prof Eno Ibanga to keep up the current tempo of supervision of projects by his Ministry.
Content created and supplied by: Ibikunle246 (via Opera News )