Bokassa I, Central African Emperor
Jean-Bedel Bokassa was born in 1921, he was raised in the French-held African territory which is now the Central African Republic. When he was six, Bokassa's father was beaten to death by French colonial forces for the crime of organizing a labor strike. His mother committed suicide shortly thereafter. His other relatives were able to take him in and pay for his education at a local Catholic school. It was there that he acquired a first name, Jean-Bedel.
After stints in the seminary and culinary school, Bokassa joined the French Colonial Army in 1939. After the Vichy government was established, he defected to the Free French Forces and served in both African and European theatres. He was highly decorated for his extensive service throughout the war, earning the Legion d'honneur and Croix de Guerre. He continued to serve after the war and did not return to Central Africa until 1959, when he was stationed there. While he was serving in the French Indochina War, he married a Vietnamese woman and had a child, but soon abandoned them. He was also promoted to second lieutenant in 1956, lieutenant in 1958 and captain in 1961.
The Central African Republic became autonomous in 1958 and independent in 1960. Bokassa left the French Army with the rank of in 1962 and joined the newly formed Central African Army. Because of his military experience and reputation, combined with the fact that he was a cousin of the president, David Dacko, Bokassa was made commander-in-chief of the army, and at first he seemed like the right-hand man of the president, the two often appearing in public together, Bokassa in full uniform. But it soon became clear that Bokassa was coveting the presidency. As both men became more distant, they amassed personal armed factions, Bokassa rallying the army and Dacko contracting elite mercenaries for a personal bodyguard. Dacko tried to defund Bokassa's military, but to no avail. He also sent him to France for bastille day celebrations, only to deny Bokassa re-entry to the Central African Republic, but Bokassa was aided by none other than Charles de Gaulle who helped him return to his home country because of his military service.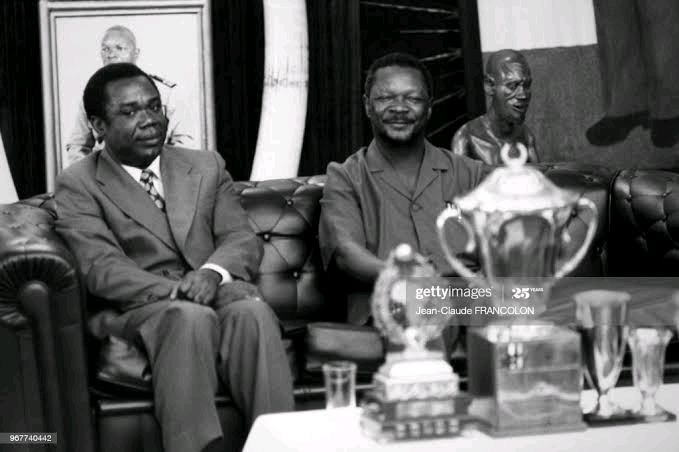 Bokassa and David Dacko. Photo Credit: Getty Images.
On December 31st 1965, Bokassa's forces surrounded Dacko and his bodyguards at a rural estate and forced him to resign at gunpoint. Bokassa addressed the Central African Republic by radio as the new leader.
Now, from here on out, Bokassa's life follows a playbook for dictators. He revoked the state constitution and dissolved the government, amassing his power and building his image. In 1972, he made himself president for life. But here are some highlights that show just how crazy he was:
To combat unemployment, he made it a crime for any person between 18 and 55 to not have a job, even if they were looking for work. He also made it illegal to panhandle.
Worried that people might have too much fun and not work hard enough, he established a "morality brigade", to monitor all pubs, bars and dance halls.
For the same reason, he banned playing folk drums during the day on weekdays.
He sold off the country's mineral wealth-diamonds and uranium- in exchange for hunting trips with the French President. He sought to outlaw polygamy, despite openly practicing it himself. He converted to Islam and changed his name to Salah Eddine Ahmed Bokassa in 1975 in an attempt to receive foreign aid from Libya. Ghaddafi saw through this, though, and he got nothing.
He made it mandatory for school children to purchase and wear a uniform with his face embroidered upon it. When children held a protest against this, he had them thrown in jail and personally beat some of them to death.
He personally murdered his right-hand man after a show trial where he accused him of conspiring to overthrow him.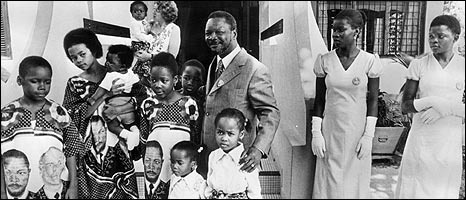 Bokassa with his wives and children, some wearing the controversial uniform.
He is most well-known, however, for declaring himself Bokassa I, Central African Emperor in 1976. Bokassa felt that the Central African Republic needed to stand out among other African nations and that by proclaiming an empire, they could gain the world's respect. To assuage fears from his cabinet, he also offered to become a constitutional monarch in the process, although in reality, he had no intention of giving up power and would rule as an absolute monarch.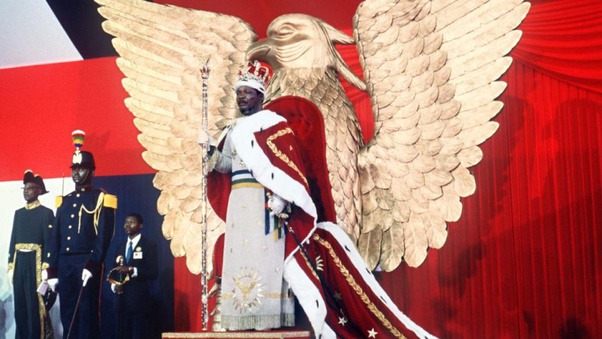 Emperor Bokassa I Coronation Ceremony. Photo Credit
He was coronated on December 4th 1977 in an elaborate ceremony modeled after Napoleon's 1804 coronation. His full title was: His Imperial Majesty, Bokassa I, Emperor of Central Africa by the will of the Central African people, united within the national political party, the Movement for the Social Evolution of Black Africa.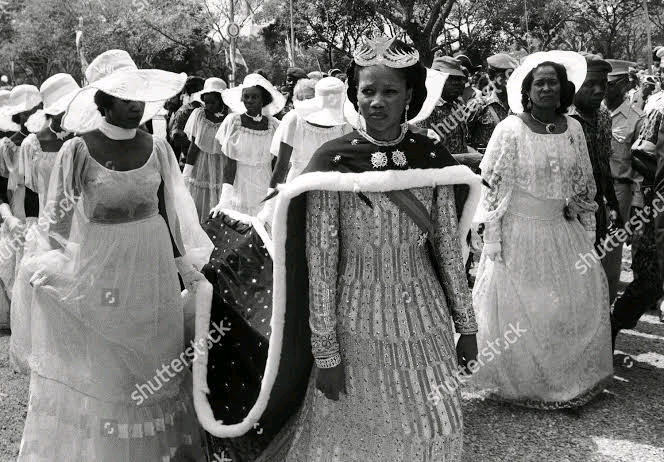 Empress Catherine at the Coronation Ceremony. Photo Credit: Shutterstock
In order to prepare for the coronation, Bokassa had to take care of a few matters. First, he renounced Islam and converted back to Catholicism so that he could use the Bangui Cathedral for the coronation. In the end, a stadium was chosen for the ceremony.
Second, Bokassa had to acquire the funds and having previously spent most of the country's finances and foreign aid, he requested more from France, who agreed after Bokassa threatened to abandon the Franc currency. France needed the Central African Republic's uranium for their nuclear power plants and atomic weapons program. France also wanted the Central African Republic to counter the growing strength of Libya, and so they offered the funding on the condition that they would ally with French-aligned Chad instead of Libya.
Third, Bokassa wanted dignitaries and heads of state from around the world to attend and set about formally inviting around 2,500 distinguished guests, including Emperor Showa of Japan and Shah Reza Pahlavi of Iran (neither of whom attended). He even invited Pope Paul VI, whom he hoped would formally coronate him, but he settled for the local archbishop after being informed that the pope was too old for the trip. Most states sent an ambassador, and some boycotted the ceremony altogether. In all, about 600 foreign guests decided to attend.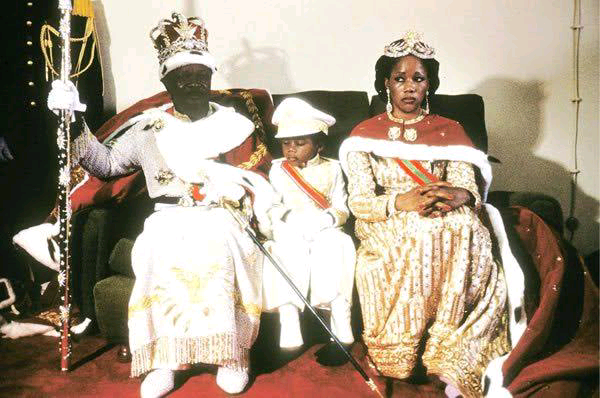 Emperor Bokassa with his wife Catherine and son. Photo Credit: Wikipedia.
Fourth, Bokassa wanted an Empress to rule by his side, but he had to make the hard choice of choosing which wife would receive this honor. Eventually it fell to a wife named Catherine. Now that Bokassa had secured funding, he went about spending it in the list extravagant ways he could. He purchased:
An 11' by 15' throne in the shape of an eagle, made of guided bronze, weighing two tons. Cost: $2.5 million.
A velvet, and ermine-lined gold coronation crown, encrusted with diamonds up to 80 carats. Cost: Greater than $2.5 million.
Crown Jewels, including a separate crown for Empress Catherine and 6 foot gold and inlaid scepter for Bokassa. Cost: ~ $5 million.
A velvet fur-lined, pearl inlaid coronation pall with 10 meter train designed by Pierre Cardin. Cost: $145k
Similar garb for the empress. Cost: $72k
40,000 bottles of Bokassa's favorite wine, Chateau Rothschild. Cost: $1 million.
24,000 bottles of Moët and Chandon.
10,000 piece silverware set with gold and porcelain accompanying china.
Two life size professional coronation portraits.
240 tons of food and drink, catered by airplane from Europe.
60 brand new black Mercedes to escort the most esteemed guests to the coronation. $300,000 additional shipping cost.
Housing and accommodations at hotels and villas for the invited guests.
Several hundred professionally tailored outfits for the citizens of the capital, who were to line the streets and cheer.
A citywide improvement project, deep cleaning of streets, repainting of all buildings and eviction of vagrants along parade route and new sculpture for the cathedral.
A black diamond ring with an inlaid diamond engraved in the shape of the African continent. Bokassa was apparently swindled by the diamond seller, who charged him half a million for the ring but later admitted it was only worth around 500 dollars.
A fully refurbished antique carriage and eight white horses.
"Several dozen horses" and period napoleonic military dress for the soldier escorts. Additional costs incurred for training of the horses.
Haute couture fashion for Empress's attendants.
Full tailored military uniform for the young crown prince.
Two full orchestras.
A newly composed Central African Imperial March.
A seven layer cake which released pigeons when cut open.
Entirely new fountains for the presidential palace.
Dozens of square feet in bulletproof glass to protect the VIP guests during the after-party.
A band for the after party comprised of waitresses from Vietnam (why?)
An imported pyrotechnics display
Gendarmerie for security (provided and comped by France)
Total cost: $22 million, $80 million inflation-adjusted.
And to top it off, Bokassa would later claim that he ordered prisoners to be killed, butchered and served to the guests for dinner.
Bokassa was widely ridiculed both domestically and abroad for the extravagant ceremony. He shrugged off the criticism, saying the other states were simply jealous that they were not empires. But hosting the coronation had a ripple effect. Other countries became very hesitant to give any foreign aid to the Central African Republic afterwards, and as a result, compounded with the deficit from the coronation and Bokassa's previous illustrious spending, the Central African economy dried up. A 1979 famine drew protests to the capital and Bokassa's killing of some of the protestors turned out to be the last straw for his regime. His old predecessor, David Dacko, came back from exile and ousted Bokassa, who fled to various African states before being granted asylum in France due to his many years in the French military. He lived comfortably, but began to stir up controversy in France after claiming that he and the French president d'Estaing had bedded some of the same women. His claim that he had given diamonds to d'Estaing in 1973 caused the president to lose his 1981 reelection bid. Gradually, Bokassa became more unwelcome in France and he returned to the Central African Republic in 1986.
Bokassa had tried in absentia by the reinstated Dacko regime, found guilty and sentenced to death. He was immediately arrested upon his 1986 return, and his convictions were upheld on all charges except cannibalism, which was never proved. His sentenced was later commuted to life in prison, and further reduced to 20 years, before he was released in a 1993 amnesty. By this time, Bokassa was exhibiting the signs of severe dementia and he died in 1996.
Despite all of this, he had some accomplishments. He established a nationally funded transportation system of buses, railway and ferries. He abolished the dowry system and set harsh pentaliries for practitioners of female genital mutilation. He expanded the role of women in the government, appointing many to his cabinet, including the country's first female prime minister. He also navigated international politics well, and presided over a stable- though very repressive- period of the Central African Republic's history. His legacy has been re-examined in recent years and he was posthumously pardoned by President Bozize in 2010. But there are just some things about this guy I can't really understand.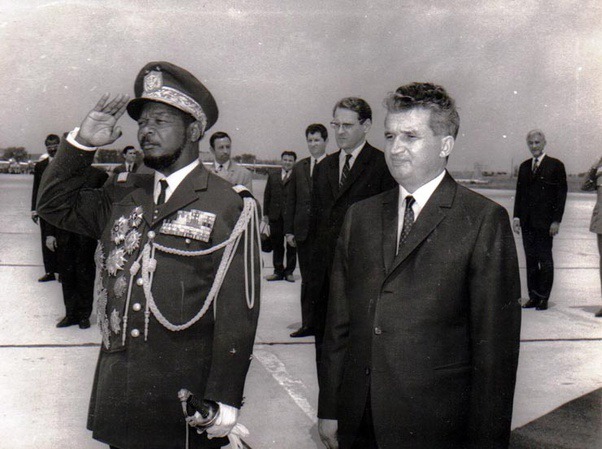 Bokassa with Romanian dictator Nicolae Ceausescu.
Central African Imperial Standard.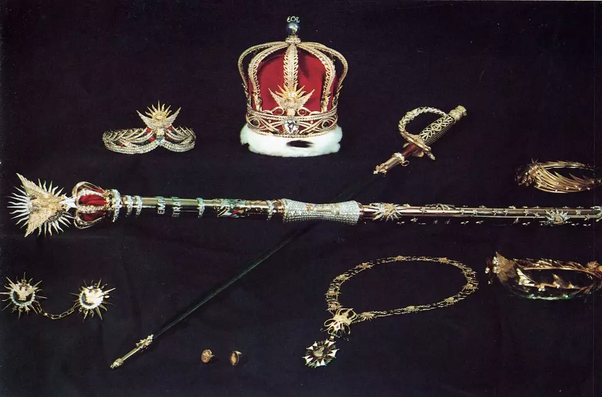 Central African Crown Jewels- all that remains of an empire.
Content created and supplied by: Emmy_Ohiolei (via Opera News )
Opera News is a free to use platform and the views and opinions expressed herein are solely those of the author and do not represent, reflect or express the views of Opera News. Any/all written content and images displayed are provided by the blogger/author, appear herein as submitted by the blogger/author and are unedited by Opera News. Opera News does not consent to nor does it condone the posting of any content that violates the rights (including the copyrights) of any third party, nor content that may malign, inter alia, any religion, ethnic group, organization, gender, company, or individual. Opera News furthermore does not condone the use of our platform for the purposes encouraging/endorsing hate speech, violation of human rights and/or utterances of a defamatory nature. If the content contained herein violates any of your rights, including those of copyright, and/or violates any the above mentioned factors, you are requested to immediately notify us using via the following email address operanews-external(at)opera.com and/or report the article using the available reporting functionality built into our Platform See More