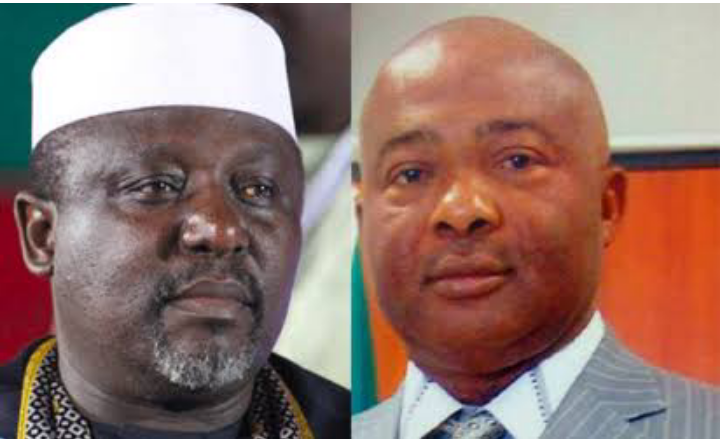 The political war and tension in Imo State between the incumbent Governor, Hope Uzodinma and his predecessor, Senator Rochas Okorocha is far from being over as the two political heavyweights are not ready to reconcile their differences any time soon.
Addressing his supporters yesterday, February 22, 2021 after his arrest on the order of Governor Hope Uzodinma, the immediate past Governor of Imo State made it known that Uzodinma is going the wrong direction, and that he may not end well. He described what happened yesterday (his arrest) as a display of criminality and thuggery in governance. Further, Rochas Okorocha accused the Governor of creating unnecessary tension in Imo State for no justifiable reason.
On what will happen to Governor Hope Uzodinma, the Senator said: "Governor Hope Uzodinma is going a very wrong direction, that he may not end up well with."
Okorocha during his speech, claimed that the State is very unsecure at the moment, that the security situation in the state is at its worst since 1999. He made mention of the situation in Orlu and Aguta, alleging that a lot of persons have been killed in those places, and including several houses burnt and destroyed. Further, he alleged that there are unprecedented killings in the State which he linked to the attitude of the Governor and his political thugs.
Wondering what the Governor tend to achieve with all these, Rochas Okorocha accused him of only trying to instill fears in people, so that he will be feared by everyone. He equally accused Governor Hope Uzodinma of being a failure as he has not built any reasonable infrastructure in the state since he came into power. Rather, he is busy chasing shadows of violence, demolishing vital infrastructural development built by his government to include many round-about, the one thousand bed hospital at Douglas, the Tunnel at Port Harcourt road, and others.
Senator Rochas Okorocha also mocked the Governor for not being able to pay workers in the state, including school teachers, yet he is busy fermenting violence and crisis throughout the State, to the extent that he has taken it personal on himself and his family, for no justifiable reason. He also revealed that Governor Hope Uzodinma has reported him (Rochas) to EFCC, ICPC and other related agencies on the ground that he stole the state money, which he used in acquiring private properties.
Conclusively, Rochas warned the Governor to be very cautious with his actions and display of political power, else he is likely to have a fatal crash. He equally urged his supporters to remain calm and watch what the law will do in this matter.
Watch the video here- https://m.facebook.com/story.php?story_fbid=4038521716182685&id=100000746892227?sfnsn=scwspmo&d=n&vh=i
Content created and supplied by: Nollymoviesplanet.com (via Opera News )