Eze Fabian Chiemerie has made Enugu state and entire South East zone proud. 
In the search for who would represent Enugu state in the National Academic Competition for all secondary schools in Nigeria that was held in Jos, Plateau state capital, Eze Fabian Chiemerie entered an academic competition at C.I.C Enugu and came first among the SS2 and SS3 students even though he was still in his SS1. Following this success, he was then selected to represent C.I.C in the Enugu state level among all Secondary Schools in Enugu state. He once again won and came first in Enugu state. 
Thereafter, he was then sent by Enugu state to represent the state among all secondary schools in the entire South East Zone of Nigeria. Once again, Chiemerie won it and came out first. 
The next and final level was to represent the entire South East to compete with other winners from the other regions in Nigeria comprising South West, South South , North Central, North East and North West. This final clash was held in Jos, Plateau state capital. The occasion was honoured by many including the Plateau state governor. 
Chiemrie, in his usual manner, maintained his position and finally came 1st and emerged as the overall best in Nigeria, 2020. 
It was celebration and joy all through in Jos especially among his entourage from Enugu state sent to honour the occasion. He was welcomed by the Plateau state Governor who was also present in the final competition. Eze Fabian is from Nsude in Enugu State. 
This child is an exceptional gift to the entire Igbos and he deserves their encouragement to full height. 
Congratulations Eze Fabian Chiemerie.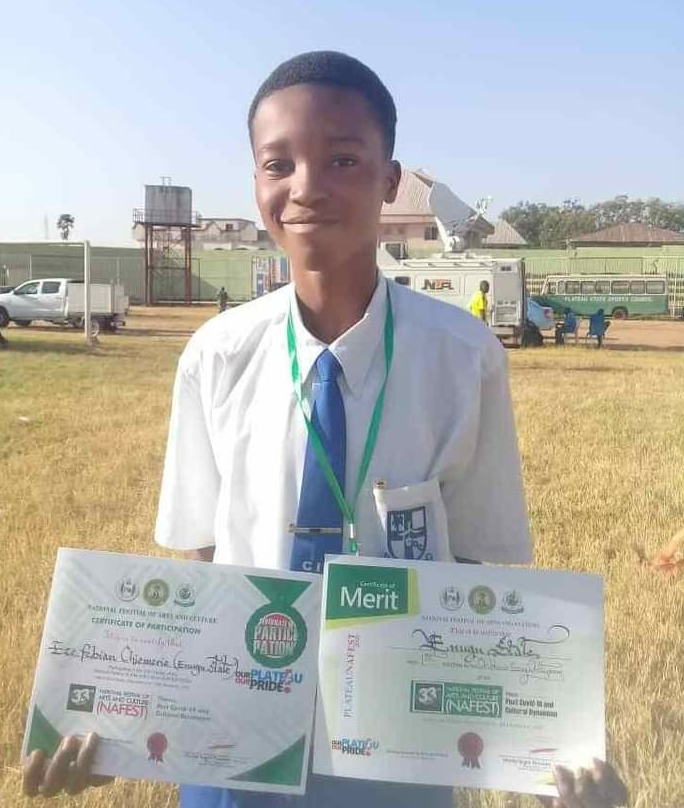 Content created and supplied by: Historymedg (via Opera News )