Some set of individuals on various social media has blamed Igbos for what happened in Lagos.
In a way, this has caused a lot of reactions on Twitter and other social media platforms.
With the #occupylekkitollgate and #defendlagos all trending, some has linked it with IPOB and Igbos likewise.
Aproko Doctor has responded to this through his Twitter account by stating his hate to what some individuals are saying.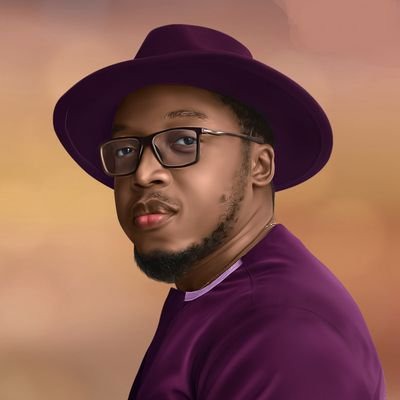 @aproko_doctor on Twitter stated "I hate this current narrative that Igbo people sponsored the carnage that happened in Lagos.
I hate it because it's emotional and a lot of people won't think logically and spring to action, we've seen it happen before.
If it's gaining ground here imagine what happens out there."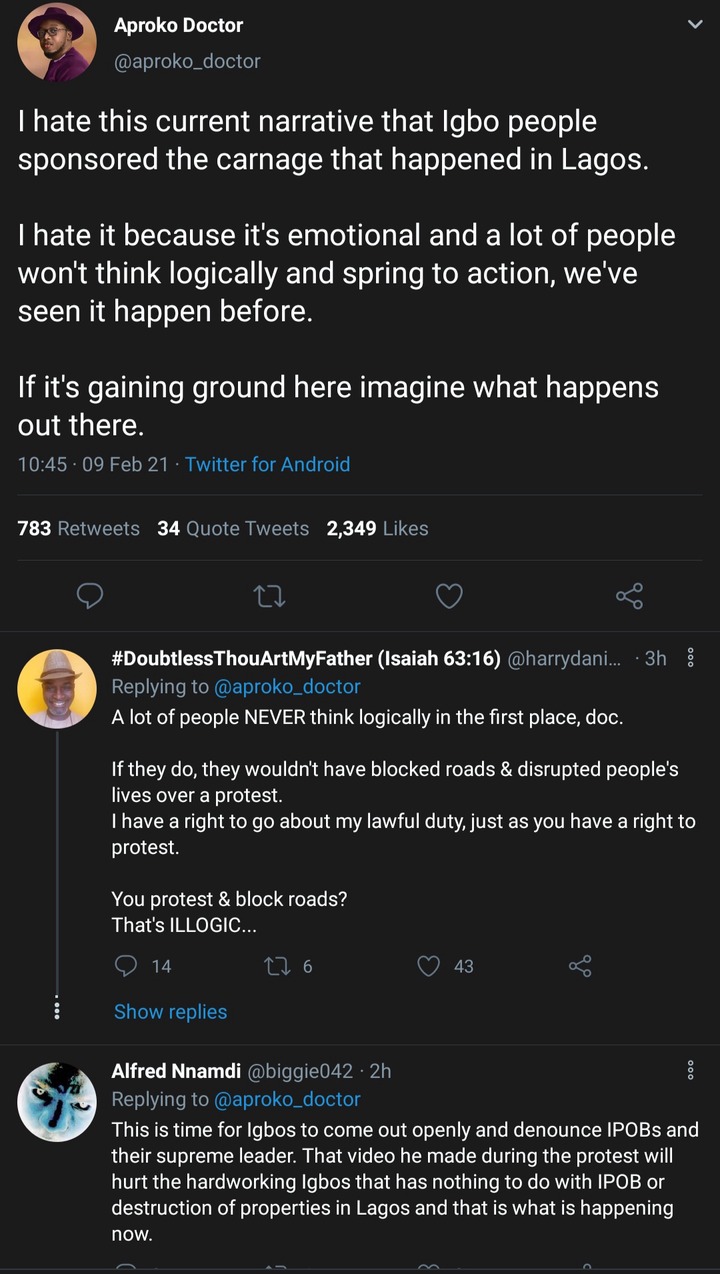 Trust Nigerians, they actually reacted to his post airing out their views in different ways.
@biggie042 on Twitter stated "This is time for Igbos to come out openly and denounce IPOBs and their supreme leader. That video he made during the protest will hurt the hardworking Igbos that has nothing to do with IPOB or destruction of properties in Lagos and that is what is happening now."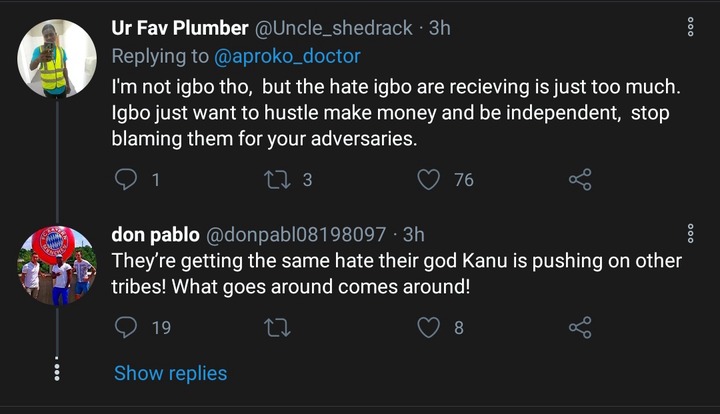 @Uncle_shedrack on Twitter stated "I'm not igbo though, but the hate igbo are receiving is just too much. Igbo just want to hustle make money and he independent, stop blaming them for your adversaries."
@donpabl08198097 on Twitter stated "They're getting the same hate their god Kanu is pushing on other tribes! What goes around comes around!"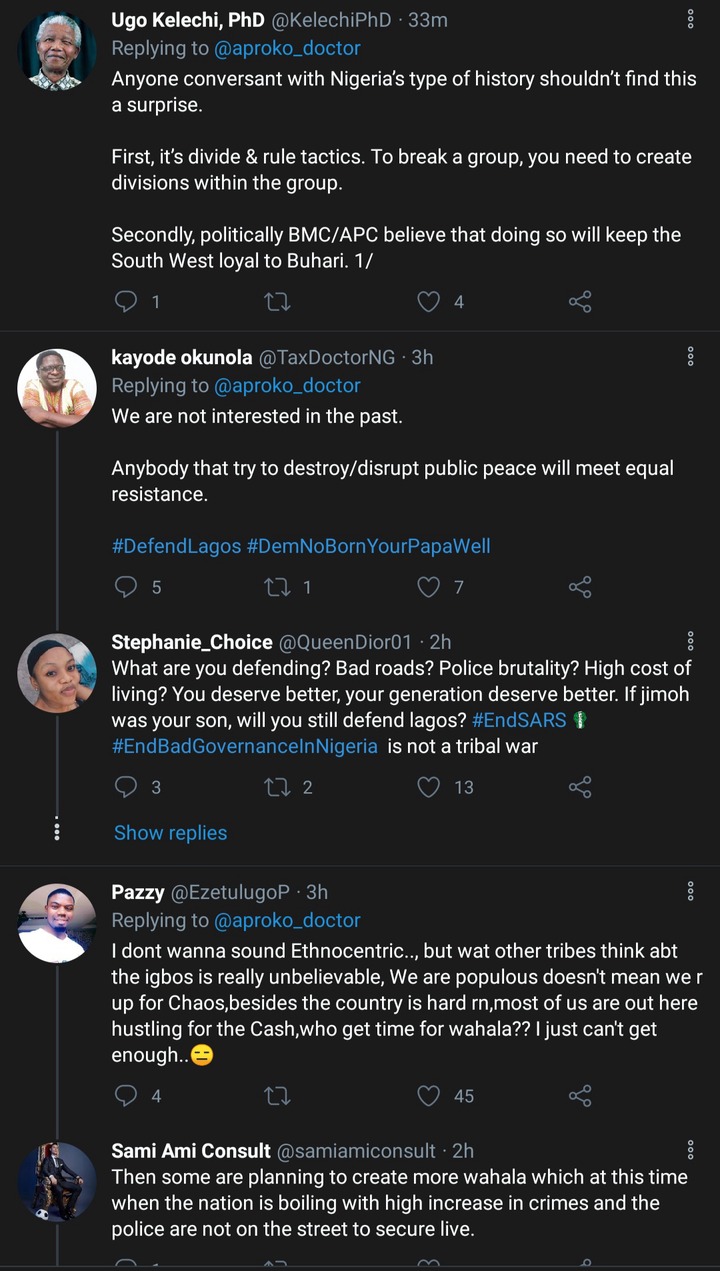 @KelechiPhD on Twitter stated "Anyone conversant with Nigeria's type of history shouldn't find this a surprise.
First, it's divide and rule tactics. To break a group, you need to create divisions within the group.
Secondly, politically BMC/APC believe that doing so will keep the South West loyal to Buhari."
@QueenDior01 on Twitter stated "What are you defending? Bad roads? Police brutality? High cost of living? You deserve better, your generation deserve better. If Jimoh was your son, will you still defend Lagos?"
@EzetulugoP on Twitter stated "I don't wanna sound Ethnocentric..., But what other tribes think about the Igbos is really unbelievable, we are populous doesn't mean we are up for chaos, besides the country is hard right now, most of us are out here hustling for the cash, who get time for wahala?? I just can't get enough."
@samiamiconsult on Twitter stated "Then some are planning to create more wahala which at this time when the nation is boiling with high increase in crimes and the police are not on the street to secure live."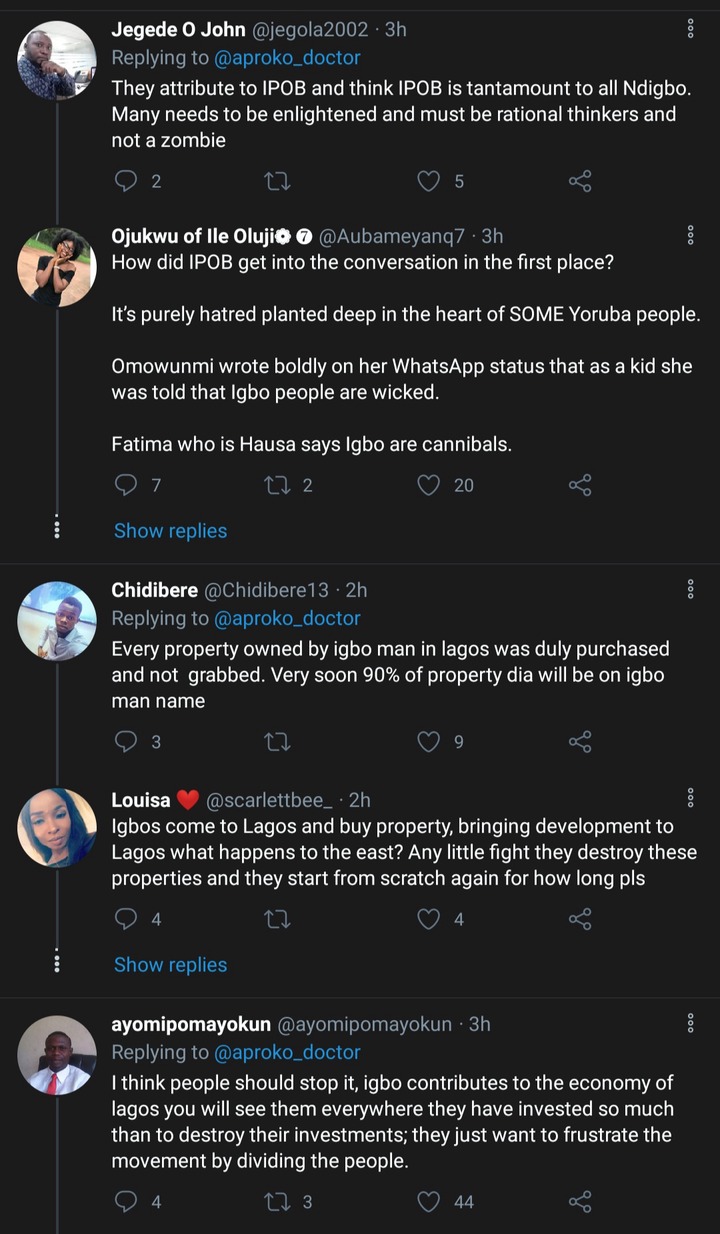 @jegola2002 on Twitter stated "They attribute to IPOB and think IPOB is tantamount to all Ndigbo. Many needs to be enlightened and must be rational thinkers and not a zombie."
@Chidibere13 on Twitter stated "Every property owner by Igbo man in Lagos was duly purchased and not grabbed. Very soon 90 percent of property there will be on Igbo man name."
@scarlettbee_ on Twitter stated "Igbos come to Lagos and buy property, bringing development to Lagos what happens to the east? Ant little fight they destroy these properties and they start from scratch again for how long please."
@ayomipomayokun on Twitter stated "I think people should stop it, Igbo contributes to the economy of Lagos you will see them everywhere they have invested so much than to destroy their investments; they just want to frustrate the movement by dividing the people."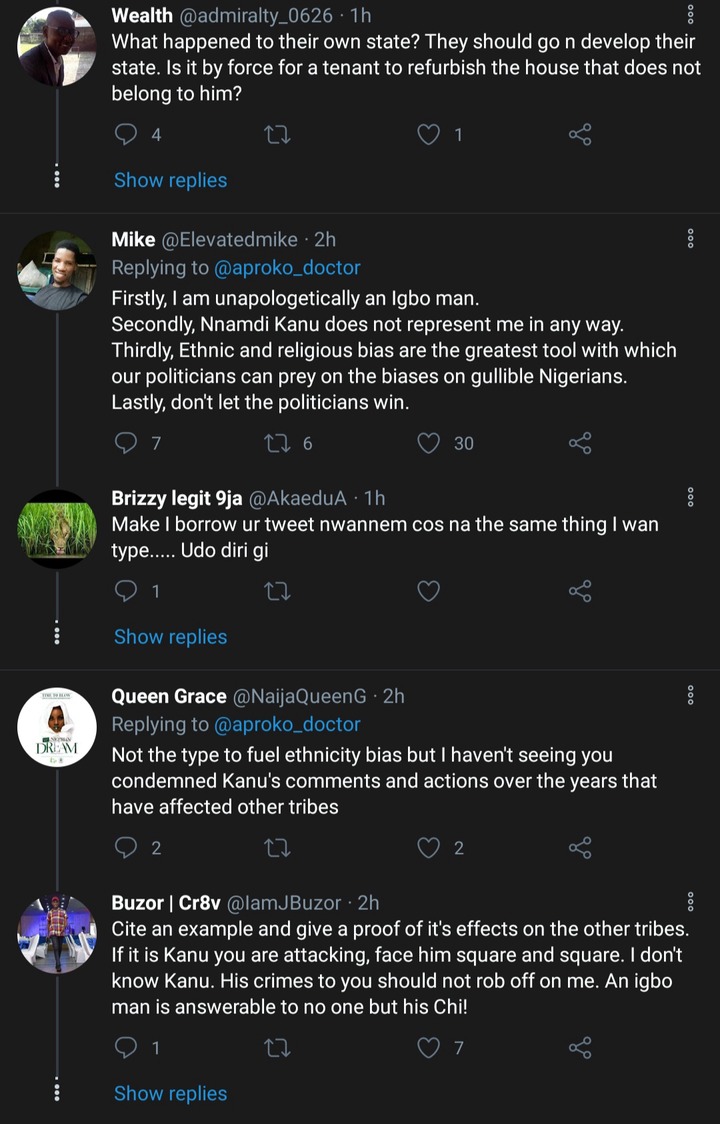 @admiralty_0626 on Twitter stated "What Happened to their own state? They should go and develop their state. Is it by force for a tenant to refurbish the house that does not belong to him?"
@Elevatedmike on Twitter stated "Firstly, I am unapologetically an Igbo man.
Secondly, Nnamdi Kanu does not represent me in any way.
Thirdly, ethnic and religious bias are the greatest tool with which out politicians can prey on the biases on gullible Nigerians.
Lastly, don't let the politicians win."
@NaijaQueenG on Twitter stated "Not the type to fuel ethnicity bias but I haven't seeing you condemned Kanu's comments and actions over the years that have affected other tribes."
@IamJBuzor on Twitter stated "Cite an example and give a proof of it's effects on the other tribes. If it is Kanu you are attacking, face him square and square. I don't know Kanu. His crimes to you should not Rob off on me. An Igbo man is answerable to no one but his chi!"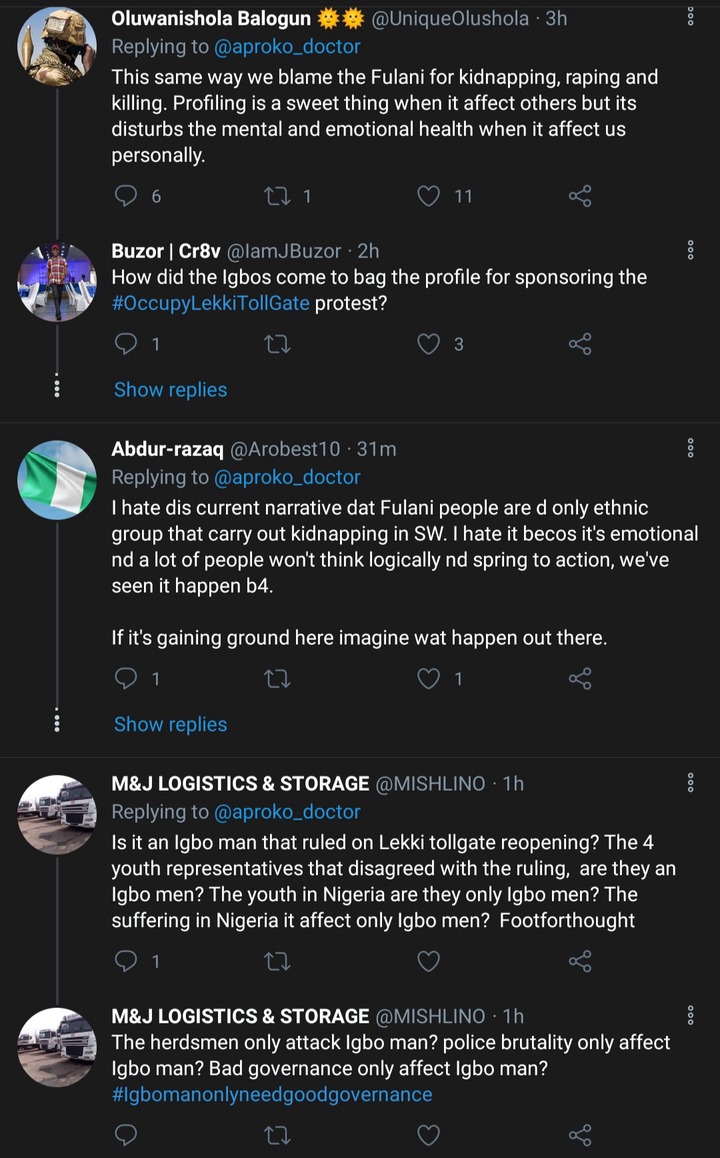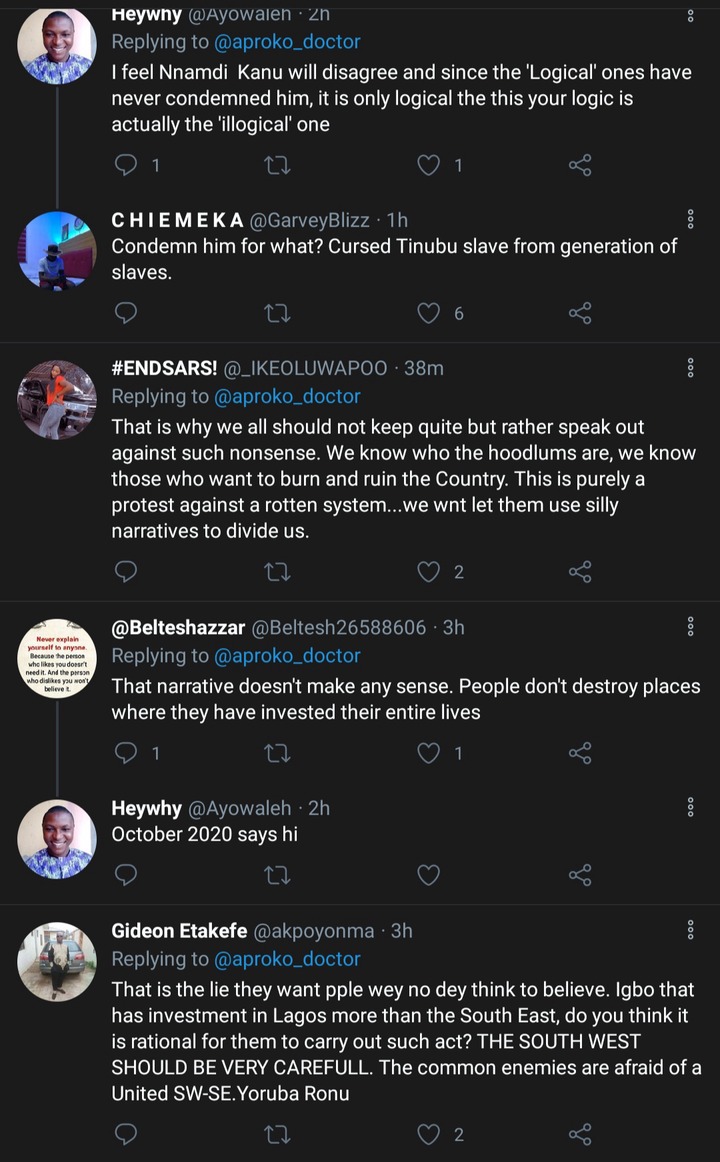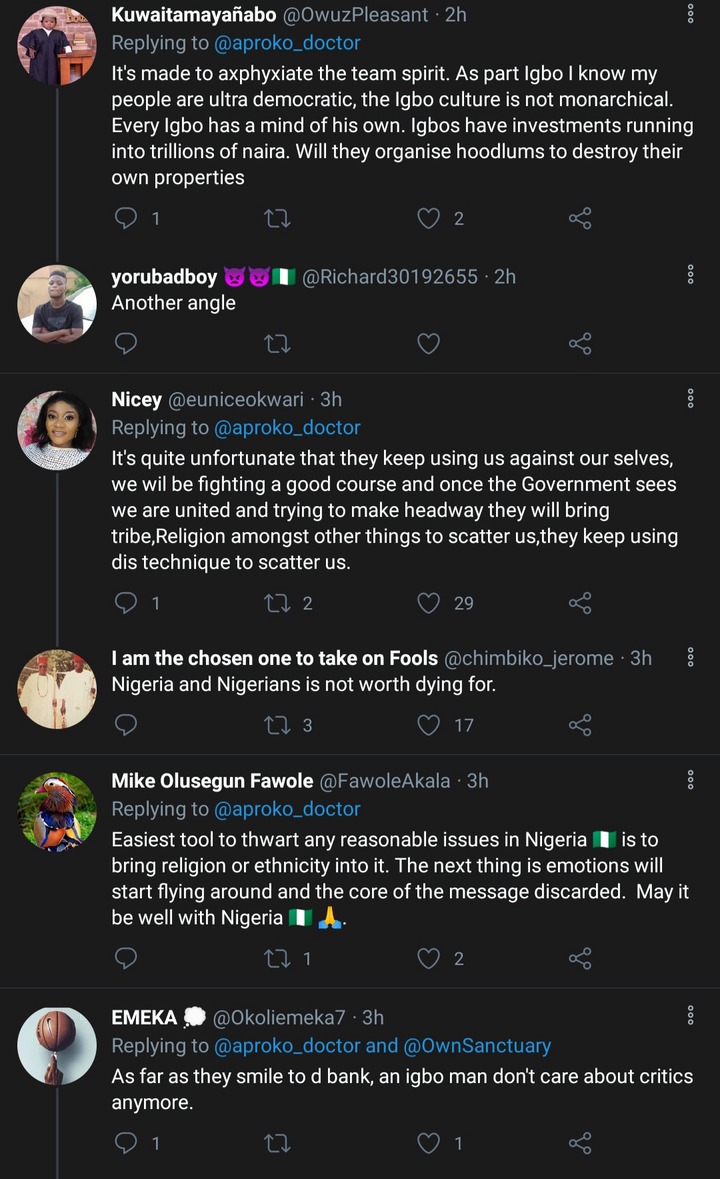 @OnwuzPleasant on Twitter stated "It's made to asphyxiate the team spirit. As part Igbo I know my people are ultra democratic, the Igbo culture is not monarchical. Every igbo has a mind of his own. Igbos have investments running into trillions of naira. Will they organise hoodlums to destroy their own properties."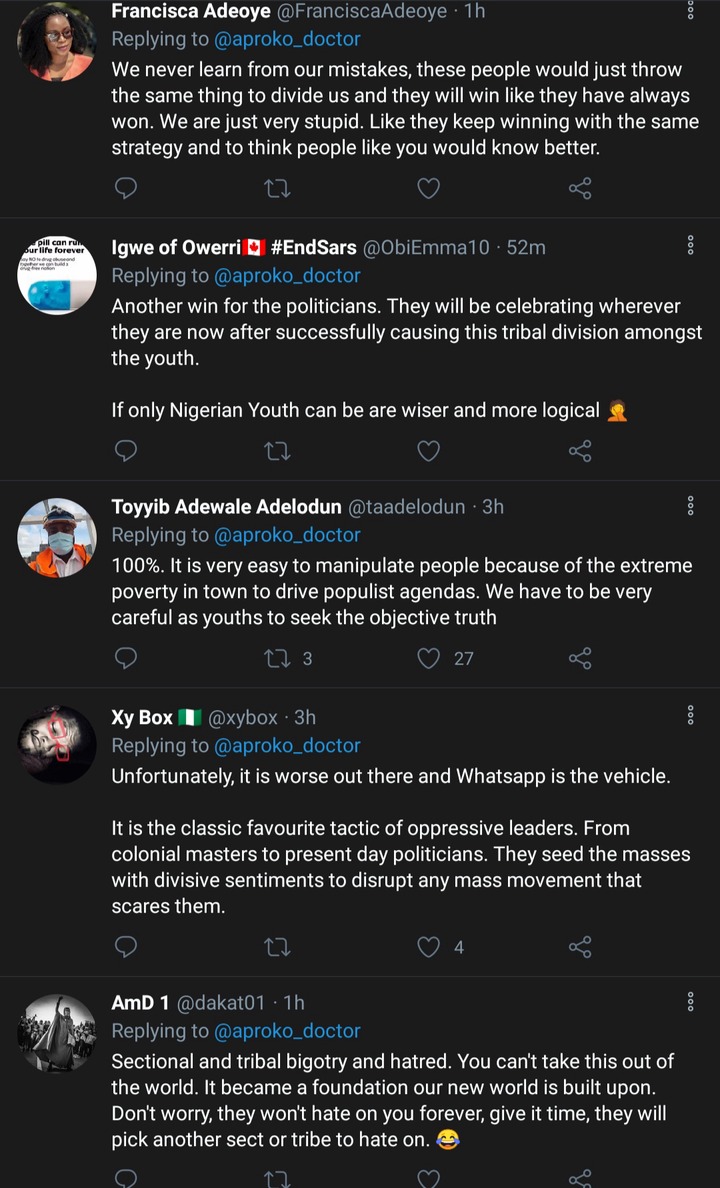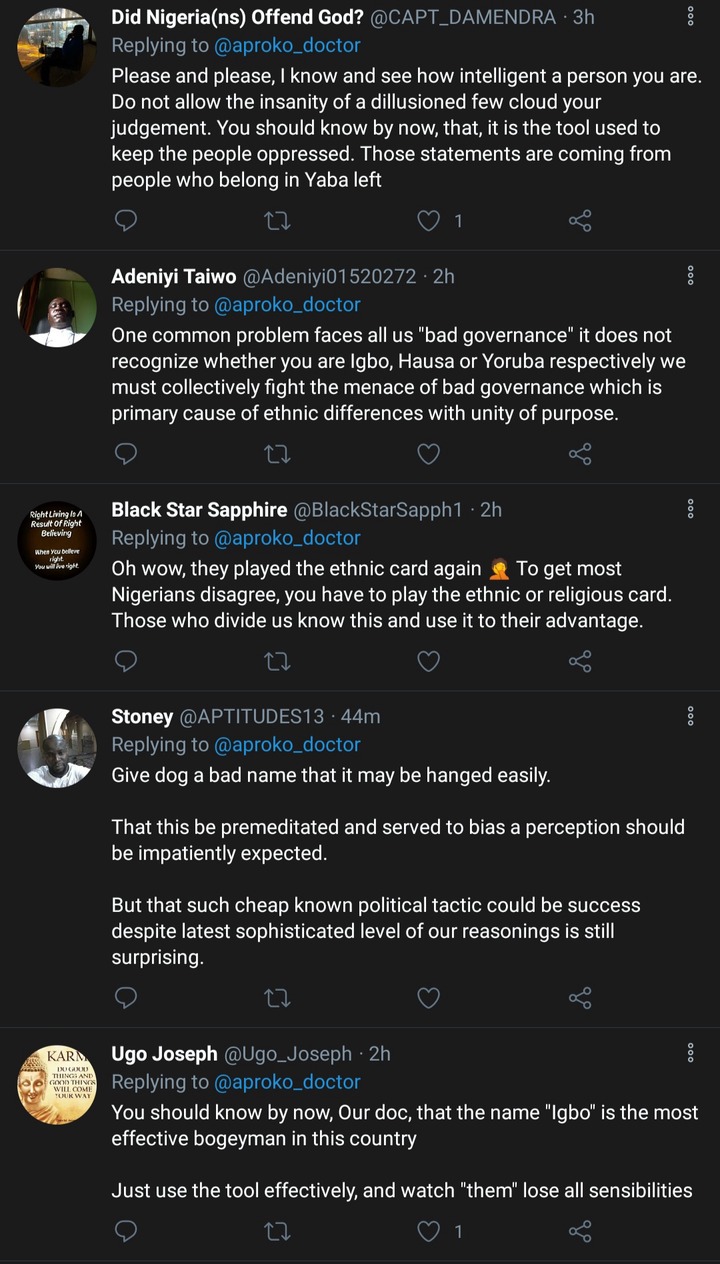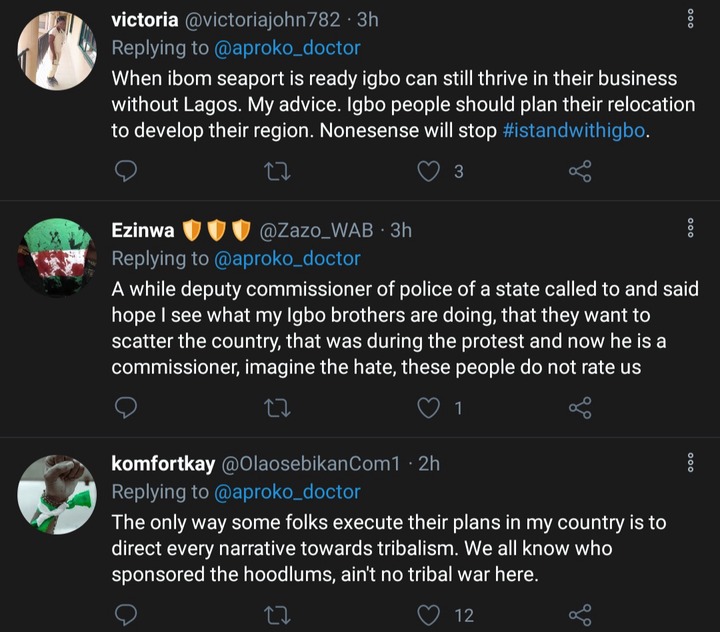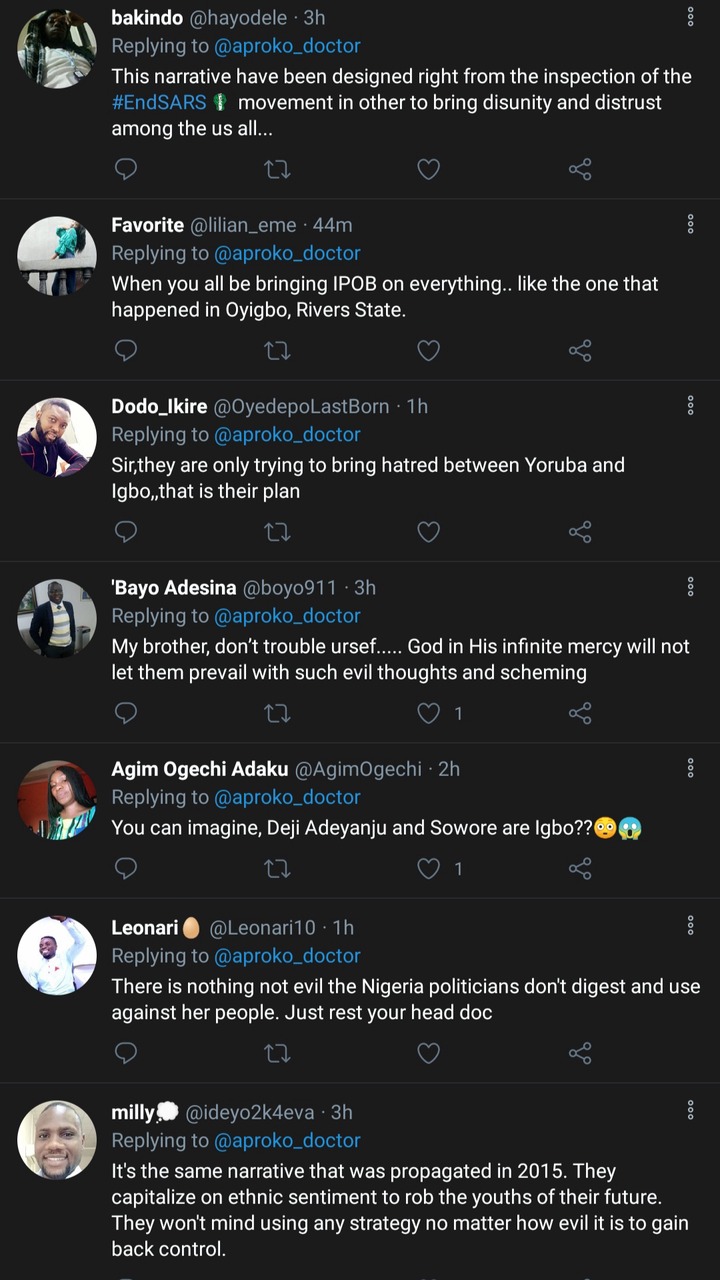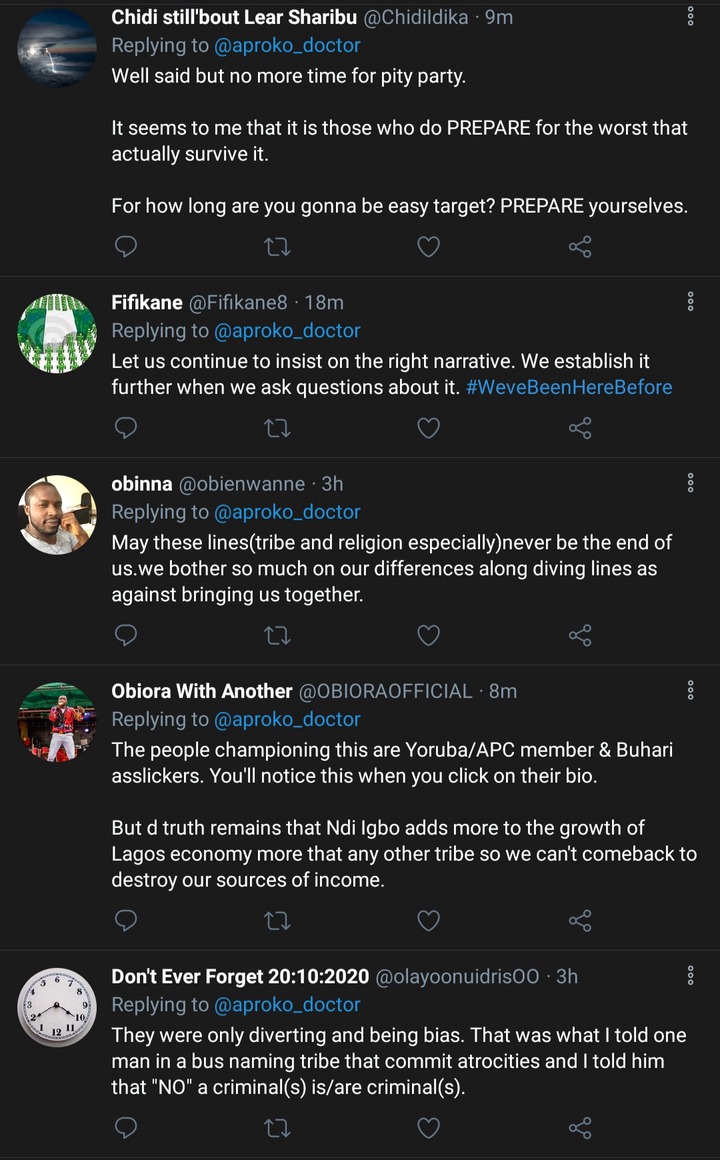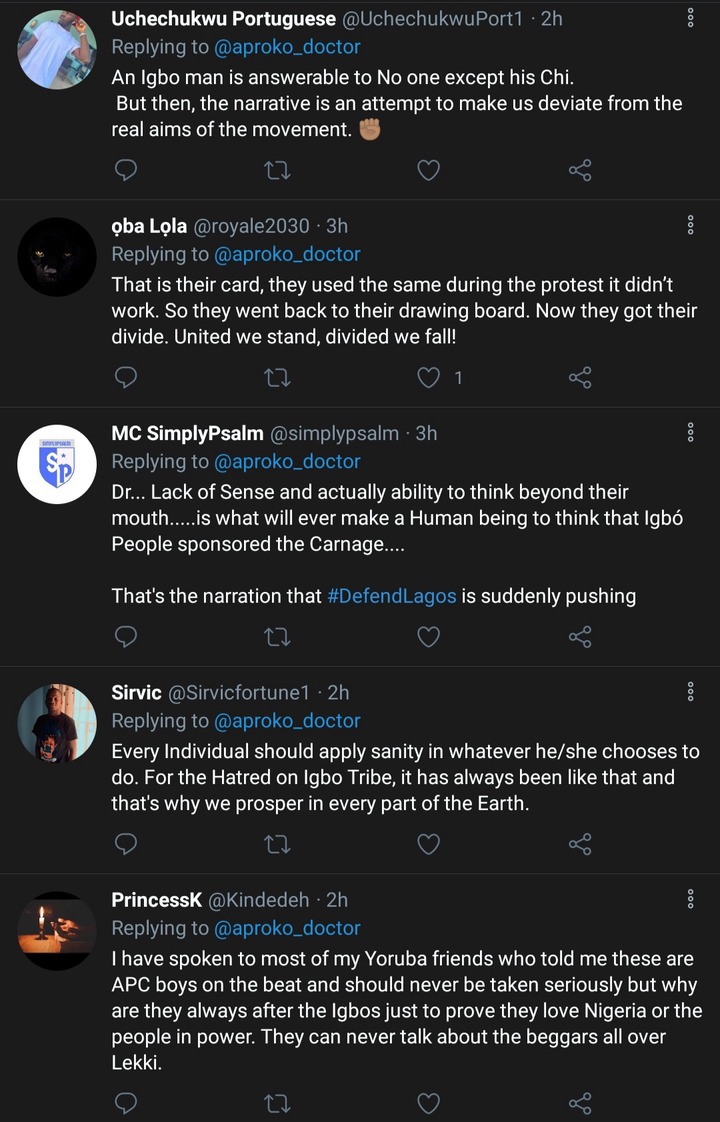 What do you think about Aproko Doctor's statement?
Content created and supplied by: Thejournalist (via Opera News )