Group Of Islamic Scholars Says Bandits Are Ready To Lay Down Their Arms, Calls On FG For Negotiation (See Reactions, Photos & Video)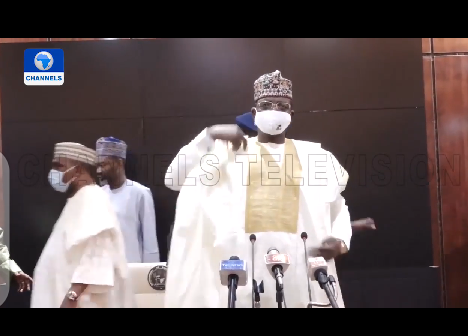 The country has been having issue militancy for quite some time now, because it has caused a lot of damages to Nigerians wealth, as at the time of the militant's group in Niger Delta who started their agitation concerning nation source wealth gotten from the crude oil.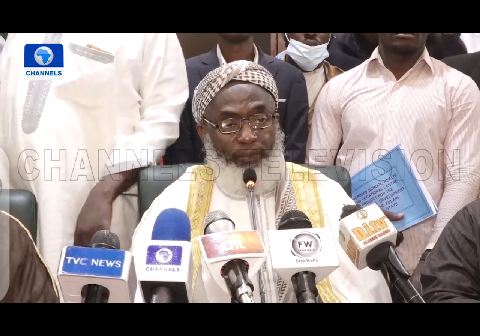 A group of Northern elders and Islamic scholars speaking in a security meeting anchored by channel television has said that the arm bandits are willing and ready to surrender their arm, but they appeal and call for negotiation with the federal government in this regard.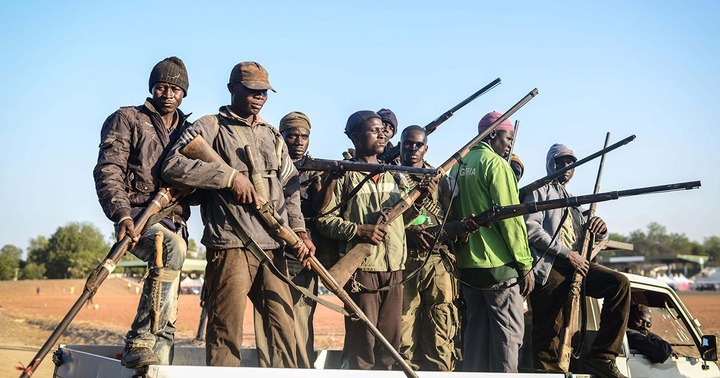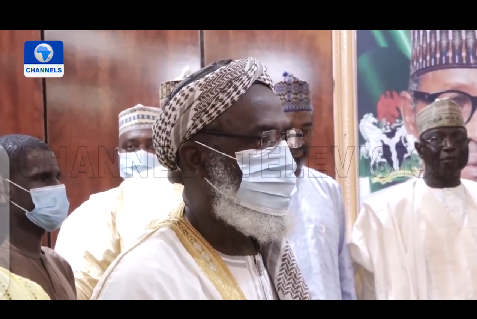 According to one of the spoke person, Sheikh one of the scholar said they visited the camp of these armed bandits and he recorded they were many, and since the security of the nation is paramount, it important they are granted amnesty them just like the Niger Delta militants whereby some of them are been sponsored abroad for skill acquisition.
See screenshot of people reactions below 👇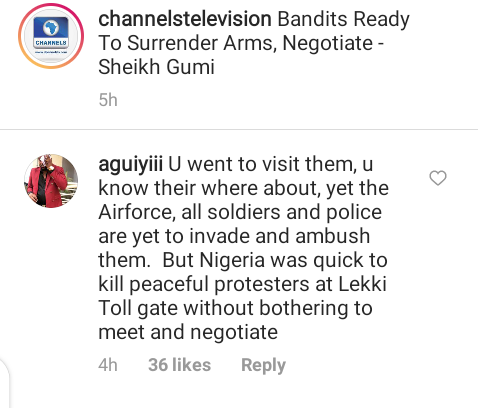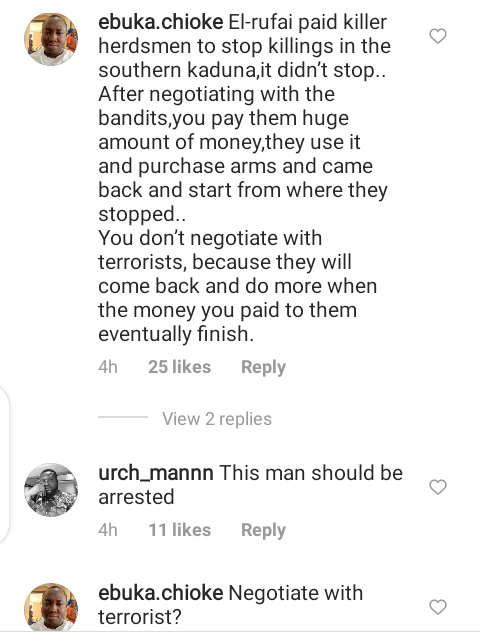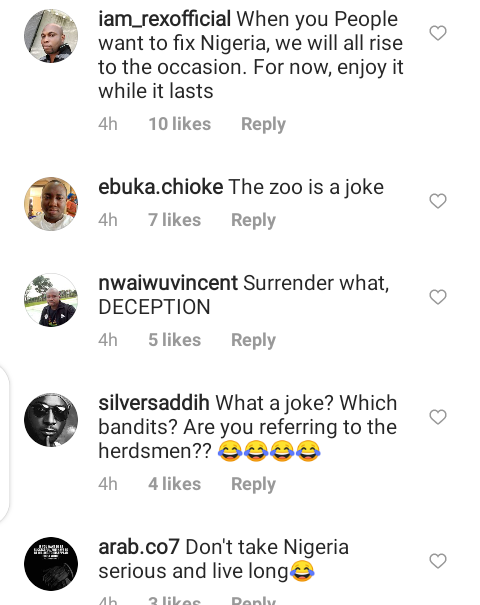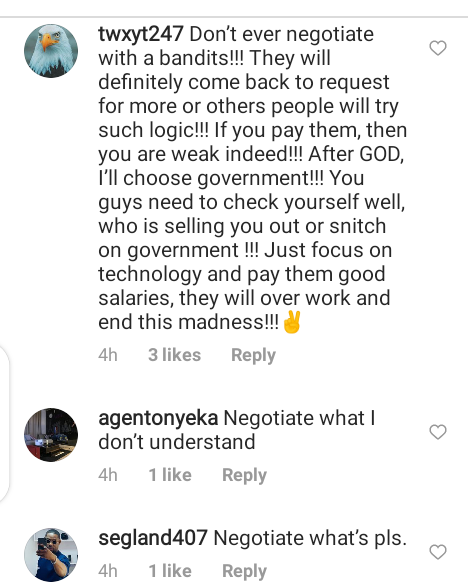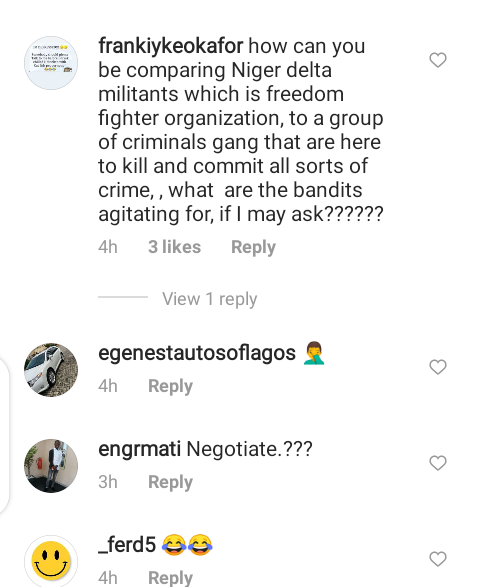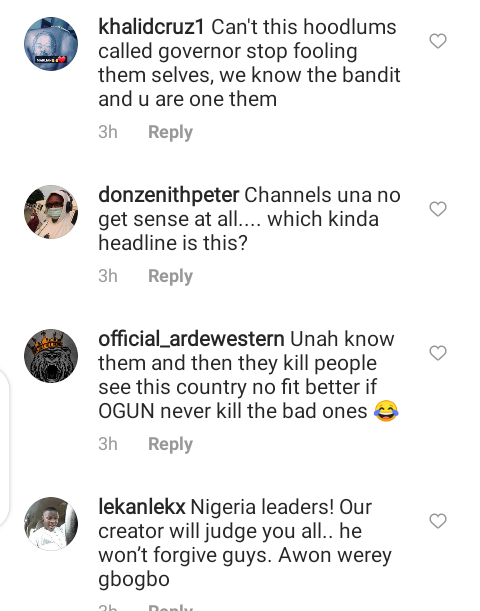 Recalling from back then, these Niger Delta freedom fighters believed they were been marginalized a big deal since the oil is drawn from the South-South part of Nigerians, however, they started troubling the creeks where oil wells are and the kidnapping of Foreign worker came to rise.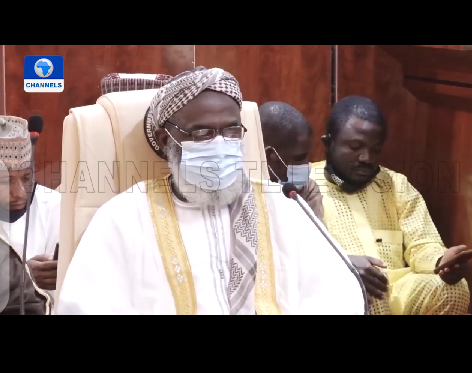 It was believed all the unrest created was to get the attention of the Federal of to listen to their plight, which over time they were granted amnesty as they surrender their arms, and the peace of the nation was restored.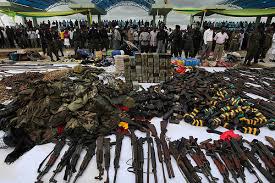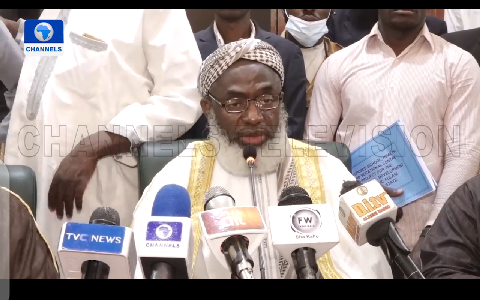 This is a call for amnesty for the northern armed bandits and pray and hope the federal government listens to their plight. What do you think dear readers? Do not think they deserve treated like the Niger agitators. We indeed wants peace and tranquility to reign in our land.
Please press and hold down the link to watch the video below 👇
https://www.instagram.com/tv/CK6XJEZoLLi/?igshid=57h9v6rhah9k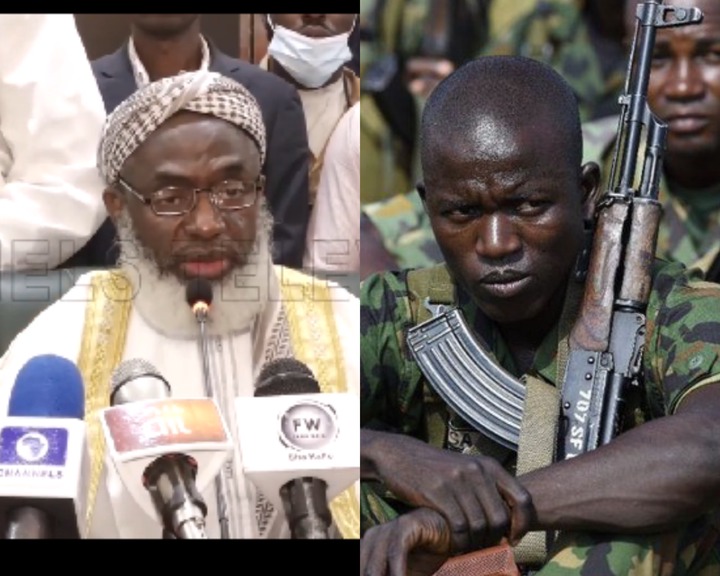 Please feel free to drop your comments below and kindly SHARE this article with others after reading and hit the LIKE and FOLLOW button for more updates
Photo Credit Instagram, Channel TV
Content created and supplied by: 1stladyblog (via Opera News )