In Nigeria roaming of cows around the street has been a regular thing since ages past, it has been the means for which herders feed their cattle. As it looks like a lasting solution for cattles to feed, it is however leading to problem between farmers and herders in the country. Recently, the country have been noisy for a while now due to the crisis between the Fulani herder and the Yoruba farmers in Oyo state. A Yoruba leader rose up to fight for the interest of his people after several misbehaviour of the Fulani herder that has been reported on the news which is becoming unbearable.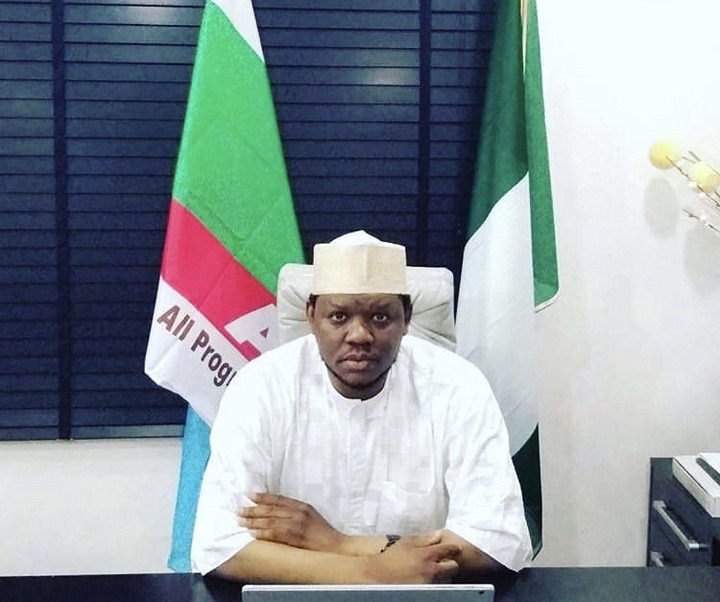 Adamu Garba II, and a Nigerian business man and a former presidential candidate, has spoken on the issue of the herder and farmers consistent clash.
He condemned the act of roaming a cow on the street at this present age. Advising that cows should be ranched on acquired land.
"I'm a Fulani man, but I can tell you that it doesn't make sense for cows to be roaming the streets in 2021.
"Cows should be ranched on a land acquired or rented by the ranchers.
"By law, land can only be used through rent or purchase.
"Govt should step forward & clear this out.
Adamu Garba despite been a Fulani man from Adamawa State urged that land can only be used through rent and purchase and not a consistent roaming of cow on streets. He identified that the problem is the lack of communication to Fulani herders that lands cannot be used without proper authorization.
Calling out government to solve the problem by letting the fulanis can only access ranching land by rent and also to appeal to rich Fulanis in the cities to assist their brother in villages to get land on which their cattle graze.
"Lack of proper communication to the herders in understanding the law of land use, by being the surrounding communities onboard isn't good enough. 
"It may well be a breeding ground for a circlical conflicts, a very ripe situation for civil war. 
"This must be avoided AT ALL COST.
Read his full statement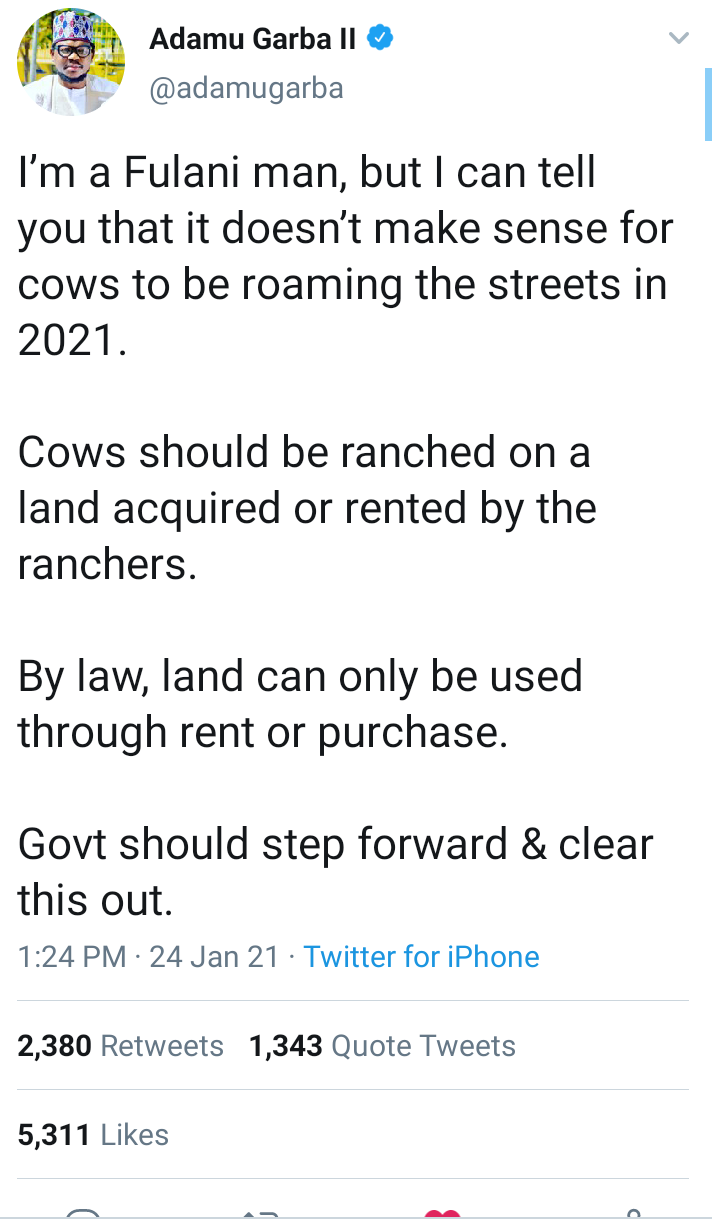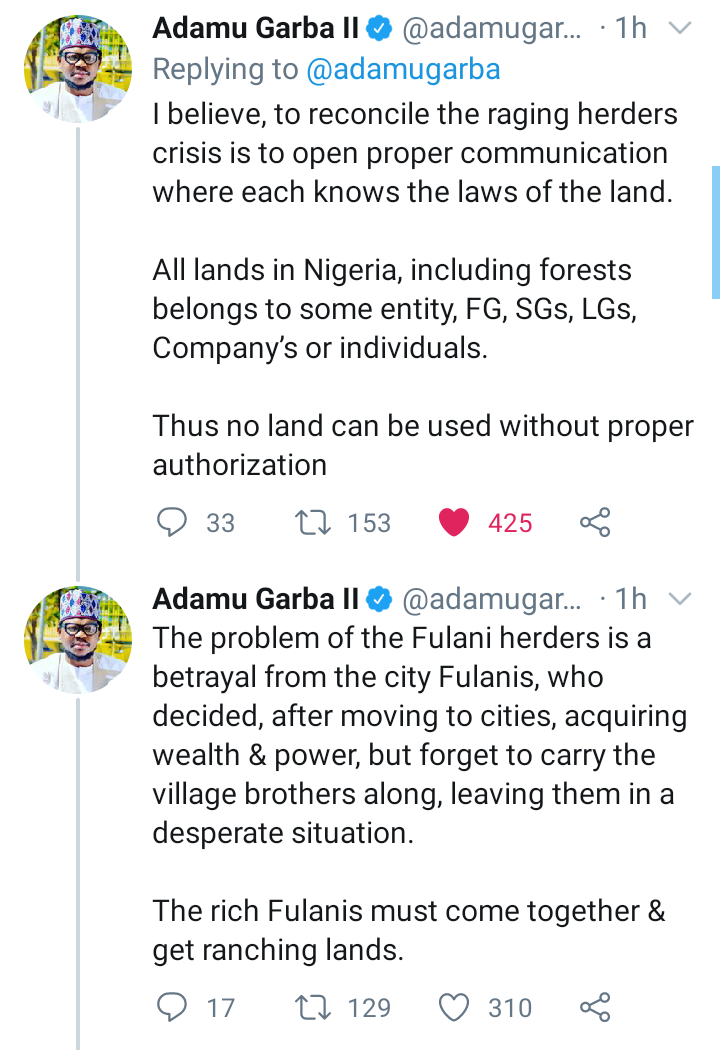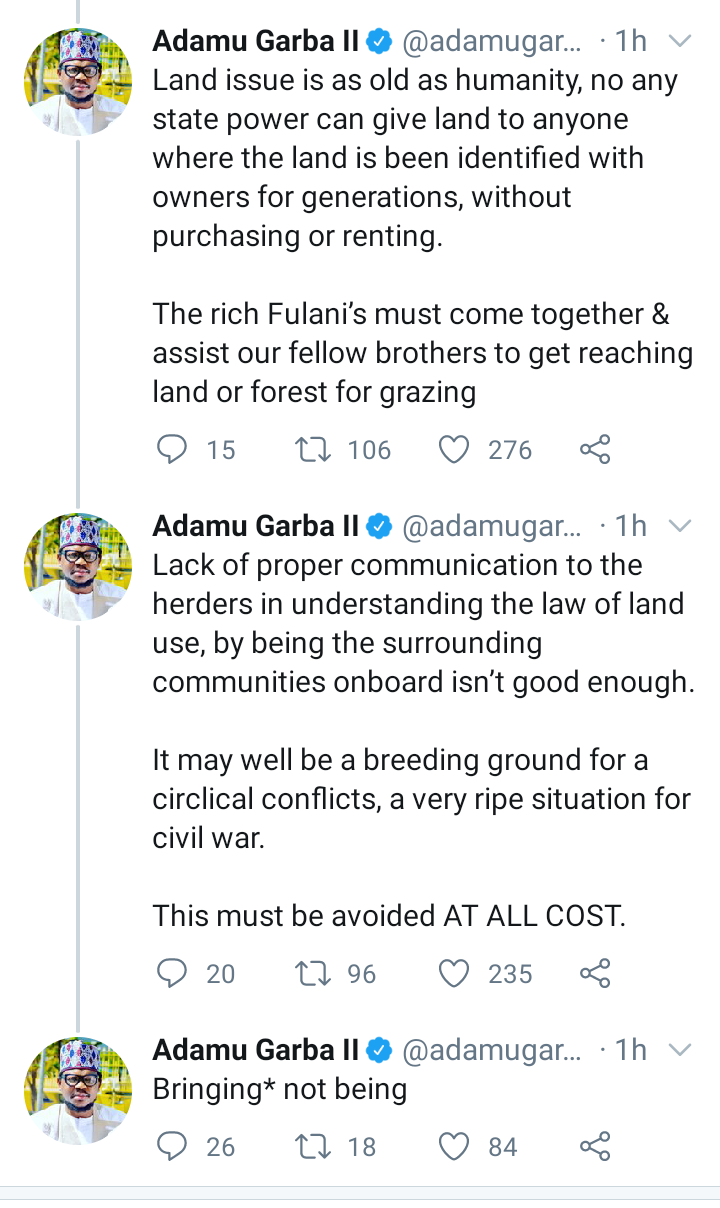 Adamu Garba II is a Nigerian entrepreneur and the pioneer founder of IPI Solutions Nigeria Limited. He was a Presidential candidate in the 2019 Election under the All Progressive Congress (APC) but he stepped down for Muhammad Buhari.
In my opinion, his statement is a good one! What do you think about it?
Content created and supplied by: 10waysto (via Opera News )