Believe In King The Creator Of kings
Believe is having firm faith, especially religious faith. To have faith, confidence, or trust.
Most religion in the world today have arrows all pointing in various directions to show infinite manifestations of God. Almost all the religions worldwide today believe in worshiping of ultimate oneness through infinite representations of gods and goddesses. These various deities become incarnate within idols, temples, gurus, rivers, animals, etc. Most of these deities where born extraordinary by their parents during their lifetime. Because of the Extraordinary power or gift Almighty God give these individuals, people started worshiping them during their lifetime and death as a gods and saviors. 
Types Of Believe In World Religions
1. Some religion believe certain animals are their god and savior. They direct their prayers to such animal and endup their prayers by calling the name of the animals.
2. Some religion believe certain individuals who live and became a deities during their lifetime are their gods and saviors. They direct their prayers to such deities and endup their prayers by calling the name of the deities. Some even belief that their god come in animal form, mermaid form and human flesh.
3. Some religion believe certain rock, tree and rivers are once human beings before they changed to their present forms. They live and became a deities during their lifetime, are their gods and saviors. They direct their prayers to such deities and endup their prayers by calling the name of these deities.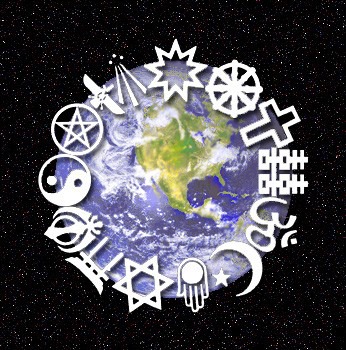 Islam And It Faith Of Believe
Miracle or magic is not a test of believe in Islam, because devil has promise to use tricks of miracles and magic to conquer the whole world. Except those that have strong faith in the last revelation (The Holy Qur'an) and the teaching of the last prophet Mohammed (SAW) will be save from the tricks of devil's.
The Holy Qur'an says : We had already, beforehand, taken the covenant of Adam, but he forgot: and We found on his part no firm resolve. When We said " O Adam! verily, this is an enemy to thee and thy wife: so let him not get you both out of the Garden, so that thou art landed in misery. There is therein (enough provision) for thee not go hungry nor to go naked, "Nor to suffer from thirst, nor from the sun's hear." But She whispered evil to him he said O Adam! shall I lead thee to the Tree of Eternity and to a kingdom that nerver decay?". In the result, they both ate of the tree, and so their nakedness appeared to them: they began to see together, for their covering, leaves from the Garden: thus did Adam disobey his Lord, and fell into error. But his Lord chose him (for His Grace): He turned to him and gave him guidance. He said: "Get ye down, both of you, ---all together, from the Garden, with enmity one to another: but if, as is sure, there comes to you guidance from Me, whosoever follows My guidance, will not Lose his way, nor fall into misery. But whosoever turns away from My Message, verily for him is a life narrowed down, and We shall raise him up blind on the Day of judgement. He will say: "O my Lord why hast thou raised me up blind, while I had sight (before)?" (Allah) will say: Thus didst thou, when Our Signs came unto thee, forgot them: so will thou, this day, be forgotten." (Qur'an 20: 115- 126)
Devil said: O my Lord! because Thou hast put me in the wrong, I will make (wrong) fair-seeming to them on the earth, and I will put them all in the wrong, ---- Except They chosen servants among them. (Qur'an 15:39-40)
Devil said: Then, by Thy power, I will lead them all astray. "Except Thy servants amongst them, sincere and purified (by Thy grace). (Qur'an 38:82-83)
Islam is the only religion in the entire world that worship only one Almighty God (Allah) directly. No status of deity or intermediary. Muslims worship only Allah... because only Allah is worthy of worship. 
 Believe In Allah
Allah is the name Muslims use for the supreme and unique God, who created and rules everything.
The heart of faith for all Muslims is obedience to Allah's will. Allah is eternal, omniscient, and omnipotent...Allah has always existed and will always exist. Allah knows everything that can be known. Allah can do anything that can be done. Allah has no shape or form... Allah can't be seen.
Allah is neither male nor female. Allah is just... Allah rewards and punishes fairly. But Allah is also merciful. A believer can approach Allah by praying, fasting and by reciting the Qur'an. Muslims worship only Allah... because only Allah is worthy of worship. 
The one and only God All Muslims believe that God is one alone:
There is only one God. God has no children, no parents, and no partners. God was not created by a being. There are no equal, superior, or lesser Gods.
Seven Major Beliefs In Islam
The following seven beliefs are those that are commonly held by Muslims, as laid out in the Quran and Hadith.
The Holy Qur'an says: "It is not righteous that ye turn your faces to the East or the West; but righteous is he who believeth in Allah and the Last Day and the angel and the Scripture and the prophets; and giveth his wealth, for love of Him, to Kinsfolk and to orphans and the needy and the wayfarer and to those who ask, and to set slaves free: and observeth proper worship and payeth the poor- due (Zakat). And those who keep their treaty when they make one, and the patient in tribulation and adversity and true of stress. Such are they who are sincere. Such are the God-fearing." Surah Al- Baqarah (verse 177)
1. Belief in the Oneness of God: Muslims believe that God is the creator of all things, and that God is all-powerful and all-knowing. God has no offspring, no race, no gender, no body, and is unaffected by the characteristics of human life. The Qur'an says: "O mankind, worship your Lord, who has created you, and those before you, so that you may fear Him. It is He who had made the earth your convenient habitation and the heavens a well-built structure; and cause water to fall down from the sky; thereby producing fruit for your sustenance: therefore do not set up peer for Allah when you have this knowledge" (Qur'an 2:21,22). The Holy Qur'an says: " Allah ! There is no god save Him, the Alive, the Eternal. Neither slumber nor sleep overtaketh him. Unto Him belongeth whatsoever is in the heavens and whatsoever is in the earth. Who is he that intercedes with Him except by His permission ? He knoweth that which is in front of them and that which is behind them, while they encompass nothing of His knowledge except what He will. His throne includeth the heavens and the earth, and He is never weary of preserving them. He is the sublime, the Almighty". ( Surah 2, verse 255). "
2. Belief in the Angels of God: Muslims believe in angels, unseen beings who worship God and carry out God's orders throughout the universe. The angel Gabriel brought the divine revelation to the prophets.
3. Belief in the Books of God: Muslims believe that God revealed holy books or scriptures to a number of God's messengers. These include the Quran (given to Muhammad), the Torah (given to Moses), the Injil or Gospel (given to Jesus), the Zabur or Psalms (given to David), and the Suhuf or Scrolls (given to Abraham). Muslims believe that these earlier scriptures in their original form were divinely revealed, but that only the Quran remains as it was first revealed to the prophet Muhammad.
4. Belief in the Prophets or Messengers of God: Muslims believe that God's guidance has been revealed to humankind through specially appointed messengers, or prophets, throughout history, beginning with the first man, Adam, who is considered the first prophet. Twenty-five of these prophets are mentioned by name in the Quran, including Noah, Abraham, Moses, and Jesus. Muslims believe that Muhammad is the last in this line of prophets, sent for all humankind with the message of Islam.
5. Belief in the Day of Judgment: Muslims believe that on the Day of Judgment, humans will be judged for their actions in this life; those who followed God's guidance will be rewarded with paradise; those who rejected God's guidance will be punished with hell.
6. Belief in the Divine Decree: This article of faith addresses the question of God's will. It can be expressed as the belief that everything is governed by divine decree, namely that whatever happens in one's life is preordained, and that believers should respond to the good or bad that befalls them with thankfulness or patience. This concept does not negate the concept of "free will;" since humans do not have prior knowledge of God's decree, they do have freedom of choice. There is no fatalism ( which exist in the lesser religion of the world) in Islam. There is no notion in Islam that a man is born a sinner. There is no doctrine of original sin in Islam so a child born into the world is innocent. It is when he grows up that his mind develops to understand what is right and what is wrong. He is given the intellect by God. It is at this point that he can pick and choose between good and evil.
    In Islam if a man commits theft for example, it is not because God has destined him to do so, He has done it on his own accord and free will and not predestination. But life and death are entirely in the hands of God. This is where predestination is thrown in Islam. This is pre- measurements of good and evil.
     In Islam, the belief in fatalism amounts to disbelief. The Qur'an say " Do not be disappointed of the mercy of God". In another passage of the Qur'an, it says "A man cannot acquire anything without an effort". Collectively speaking the Qur'an says "God does not change the destiny of any community unless they try to change their destiny".
The above does not mean that there is less emphasis on the faith and belief in the power of Omniscience and Omnipotence as well as the doctrine of Grace and mercy of God. Any person doing a bad thing is doing so according to his free- will.
7. Here After Or Life After Death : According to Islamic belief, the mundane existence is not the only existence. The Qur'an reminds : "Everybody is going to die except God". Again it says " When the appointed time comes it does not come a minute earlier or a minute later". The prophetic tradition says "This world is like an agricultural farm for the next world" i.e. whatever you are doing here, you will reap there. The belief in the life after death serves as a deterrent and prevents people from entertaining any sense of complacency or a feeling of impunity. The Qur'an further says " Oh mankind, fear your Lord and dread a day (of judgement) whereas no father shall atone for his son, and no son shall atone for his father at all. Verily the promise of Allah is true. Let not the life of the world beguile you and let not the great beguiler (devil) beguile in regard to Allah" (Surah 31 verse 33).
   In Islam, the death is not the end of life. Another kind of life will begin for a man after his death. On the Day of judgement, the good-doers will be rewarded and the evil-doer will be punished. The blessed, the God-fearing men and women, the humble and charitable, the forgiving, those who have suffered and were persecuted for the sake of Allah and His prophets, those who have strived in the way of Allah, will be asked to enter paradise. The paradise is the abode of peace in which there are abiding mansions. Those who will enter paradise will have no worries and problems and they will live there by flowing rivers, praising Allah, day and night, reclining on silken couches, enjoying heavenly food and drink. Above all they will be able to see the Beatific Vision.
     But those who are unbelieving, the covetous, the worshippers of deities and not One Allah, shall be cast into the Fire of Hell, to abide there in for ever, with no release from it's torments, fed with the bitterest fruits and boiling water.
Content created and supplied by: Baaslight (via Opera News )