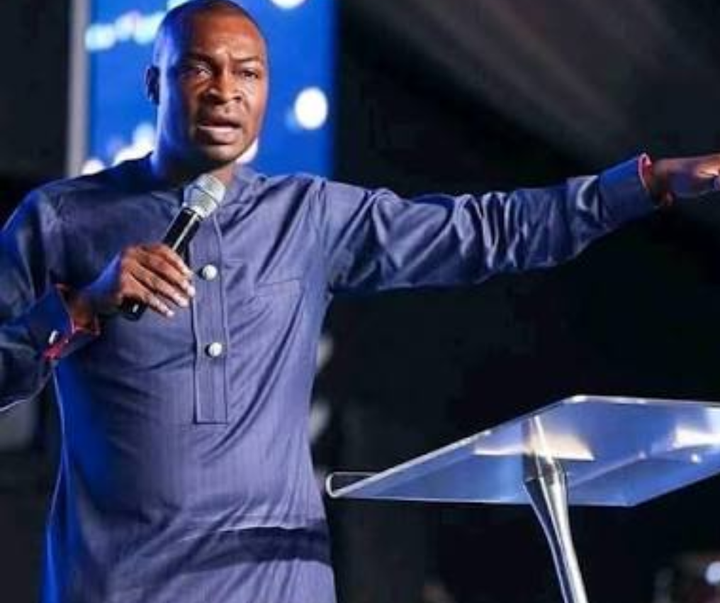 Apostle Joshua Selman Nimmack is a Nigerian Televangelist, and a revelational teacher of the Word of God. He is the founder of Eternity Network International (ENI), a ministry he started March 2011. He preached a message where he expound how prophecy works.
Prophecy is a weapon in the arsenals of God which is used to correct the past, create your today and predict or program a great future. Prophecy works like the fire of God. Prophecy is far different from prayer itself. Prayer means "let this thing happens", but Prophecy means "this is what should happen". Prophecy released into the atmosphere react faster by the Spirit of God to become a testimony. Now we are going to look at 3 Scriptural examples of where prophecy works like Fire. They are as follows:
1. The Works of Redemption: According to Revelation 19:10b, "For the testimony of Jesus Christ is the spirit of prophecy". This implies that Prophecy birthed the redemption of man from desolation and eternal damnation into a glorious eternal life. Prophecy is indeed powerful. Every believer has a prophetic destiny. Your prophetic destiny is what was written of you before coming into the world. According to Luke 24:44-46,"[44]Then He said to them, This is what I told you while I was still with you: everything which is written concerning Me in the Law of Moses and the Prophets and the Psalms must be fulfilled. [45]Then He [thoroughly] opened up their minds to understand the Scriptures, [46]And said to them, Thus it is written that the Christ (the Messiah) should suffer and on the third day rise from (among) the dead". This depicts that prophecy created the platform for the salvation of man. There is always something God created man to become in life which was birthed through prophecy. Every man on earth has a prophetic destiny which satan fears because it is grenade released by God to destroy the works of the devil. Even though our Lord Jesus Christ was born poor, yet the devil was still looking for ways to terminate His prophetic destiny of redeeming man. I decree by the Spirit of prophecy, your prophetic destiny will never be aborted, you shall manifest and fulfill it in the name of Jesus Christ. 
2. Creative works of God: According to Gen. 1:1-31,This implies that the works of creation was birthed by prophecy. Prophecy works together with the spirit of God to bring about a tangible evidence. According to Isaiah 42:9,"Behold, the former things have come to pass, and new things I now declare; before they spring forth I tell you of them". This means that whatever that has never happened in life before can be birthed by Prophecy. It has the capacity to turn the immaterial resources to material resources. I decree whatever that needs to be created in your life, by the Spirit of prophecy, it is happening right now in the name of Jesus.
3. Restorative works of God: According to Ezekiel 37:1,3-4,7-8,11,[1]THE HAND of the Lord was upon me, and He brought me out in the Spirit of the Lord and set me down in the midst of the valley; and it was full of bones. [3]And He said to me, Son of man, can these bones live? And I answered, O Lord God, You know![4]Again He said to me, Prophesy to these bones and say to them, O you dry bones, hear the word of the Lord. [7]So I prophesied as I was commanded; and as I prophesied, there was a [thundering] noise and behold, a shaking and trembling and a rattling, and the bones came together, bone to its bone. [8]And I looked and behold, there were sinews upon [the bones] and flesh came upon them and skin covered them over, but there was no breath or spirit in them. [11]Then He said to me, Son of man, these bones are the whole house of Israel. Behold, they say, Our bones are dried up and our hope is lost; we are completely cut off. This scripture implies how a whole nation that has perished was restored by the power of prophecy. Prophecy possesses a great potential to restore whatever that have been lost or dead. Prophecy is not for doom prediction but a divine guidiance receive from God to man in order to escape from dangers and traps of the enemy. Here this: By the spirit of prophecy, whatever that is lost or dead in your life, is Restored now in the name of Jesus.
How does Prophecy works?
1. By the Spirit of God: The gift of Prophecy is one the endowment of Holy Spirit a believer can possess. Apostle Paul advises us that we should covert the gifts of the Holy Spirit especially the gift of Prophecy because a believer can use it to determine a better future. According to a preacher words, "Prophets are territorial commanders". They are the major determinants of the happenings in a nation by the office of a Prophet. They are like the spiritual mayor of a city or nation. According to 2 Peter 1:21,"For no prophecy ever originated because some man willed it [to do so–it never came by human impulse], but men spoke from God who were borne along (moved and impelled) by the Holy Spirit". This implies that the Spirit of God and the Prophet must be in unison to function properly in that office.
2. By Love and Faith: According to Romans 12:6-7,9-10, "[6]Having gifts (faculties, talents, qualities) that differ according to the grace given us, let us use them: [He whose gift is] prophecy, [let him prophesy] according to the proportion of his faith; [7][He whose gift is] practical service, let him give himself to serving; he who teaches, to his teaching; [9][Let your] love be sincere (a real thing); hate what is evil [loathe all ungodliness, turn in horror from wickedness], but hold fast to that which is good. [10]Love one another with brotherly affection [as members of one family], giving precedence and showing honor to one another. This depicts that Love is the oil that makes Faith work easily when prophecy is released into the atmosphere. As the bible says, faith without works is dead, so prophecy without love and faith is lies (untrue statements).
3. By Warfare prayers: According to Timothy 1:18,"This charge and admonition I commit in trust to you, Timothy, my son, in accordance with prophetic intimations which I formerly received concerning you, so that inspired and aided by them you may wage the good warfare". This scripture reveals to us that every prophetic declarations is a pointer to win battles in life. Apostle Paul was advising Timothy, for him to fulfill his prophetic destiny, he needs to war it out through prayer because there are many adversaries that wants to abort it. According to Luke 2:28-29,34,36-37,"[28][Simeon] took Him up in his arms and praised and thanked God and said, [29]And now, Lord, You are releasing Your servant to depart (leave this world) in peace, according to Your word. [34]And Simeon blessed them and said to Mary His mother, Behold, this Child is appointed and destined for the fall and rising of many in Israel, and for a sign that is spoken against [36]And there was also a prophetess, Anna, the daughter of Phanuel, of the tribe of Asher. She was very old, having lived with her husband seven years from her maidenhood, [37]And as a widow even for eighty-four years. She did not go out from the temple enclosure, but was worshiping night and day with fasting and prayer". This scriptures depict the warfare prayers released by Simeon and Prophetess Anna concerning the works of Redemption of our Lord Jesus Christ otherwise the mission would have been aborted at the garden of Gethsemane.
Now receive this Prophetic declarations with strong faith in the name of Jesus Christ:
i. By the Spirit of Prophecy, your prophetic destiny is here by established, you shall fulfill your days in the beauty of God holiness and Power in the name of Jesus Christ.
ii. The grace to Love and walk in the faith of our Lord Jesus Christ is hereby released upon you, your prophetic destiny and declarations upon your life shall work like the fire of God in the name of Jesus Christ.
iii. By the Spirit of prophecy, enter into your divine rest in all areas of your life in the name of Jesus Christ.
Give thanks to God for testimonies awaits you today because your mouth has been filled with laughter in the name of Jesus christ.
I hope you were blessed by this message, please SHARE it with your loved ones and friends, comment. God bless you abundantly. Amen.
Content created and supplied by: Edesco009 (via Opera News )
Opera News is a free to use platform and the views and opinions expressed herein are solely those of the author and do not represent, reflect or express the views of Opera News. Any/all written content and images displayed are provided by the blogger/author, appear herein as submitted by the blogger/author and are unedited by Opera News. Opera News does not consent to nor does it condone the posting of any content that violates the rights (including the copyrights) of any third party, nor content that may malign, inter alia, any religion, ethnic group, organization, gender, company, or individual. Opera News furthermore does not condone the use of our platform for the purposes encouraging/endorsing hate speech, violation of human rights and/or utterances of a defamatory nature. If the content contained herein violates any of your rights, including those of copyright, and/or violates any the above mentioned factors, you are requested to immediately notify us using via the following email address operanews-external(at)opera.com and/or report the article using the available reporting functionality built into our Platform See More