Topic: How To Grow Your Faith In God;
Text: Romans 10:17
The Bible says in the book of Luke 18:8, "...when the Son of man cometh, shall he find faith on the earth?" This suggests that faith will be scarce in the last days in which we are. Many will prefer to believe their fellow-men than to believe in God. To avoid this tragedy, every Christian must grow in faith.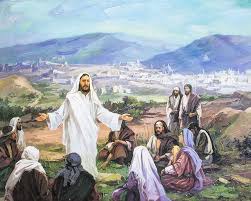 Faith according to the Bible in Hebrews 11:1 is the substance of things hoped for, the evidence of things not seen.
In other words, it is what brings the unseen to reality. For example, if God has said you will be successful in life, the success becomes reality if you believe in what God says about you. There is a need to know what God has said about you and believing in it. Thus brings faith to work!
It is by faith that you become what you are far from becoming. Faith is what keeps you alive and good when the economic situation is worst. There is a need for us to grow in faith.
Jesus once said, "If ye have faith as a grain of mustard seed, ye shall say unto this mountain, Remove hence to yonder place, and it shall remove, and nothing shall be impossible unto you." Matthew 17:20.
This means that, with faith, nothing shall be impossible to us.
Today, we shall look at how to grow in faith.
How do we grow in faith?
1) The Bible says, " So then faith cometh by hearing, and hearing by the word of God."
You can grow in faith by listening to the word of God. Listen to good messages on your phone, study the Bible and read good spiritual books. By doing so, you will know what God says about you and believe it so that you can become that which he says about you.
2) Again in 1 Corinthians 14:4, the Bible says, "He that speaketh in an unknown tongue edifieth himself. Speaking in tongues is praying in the spirit. Thus can miraculously revive your faith and skyrocket it. Pray in tongues as often as you can. I do this as much as I can.
In conclusion, Hebrew 11:6 says, "But without faith, it is impossible to please him: for he that cometh to God must believe that he is and that he is a rewarder of them that diligently seek him." Faith has become very important to beliefs. May God help us to remain strong in the name of Jesus.
Prayers
1) Father increase my faith tonight so that I can perform great things to the glory of Your name.
2) Help me to be faithful. keep me focused on you. Transform me and help me to seek to grow in faith daily in the name of Jesus Christ.
3) As I sleep tonight, visit me mightily. Visit my business, family, job and every area of my life in the name of Jesus Christ, I have prayed, amen.
Type your testimony, questions and prayer requests in the comments section below.
Content created and supplied by: Sciencehotgists (via Opera News )