Prayer is a way of being: being in the moment, being present, being open. It is a way of learning to be ourselves. ... Prayer is a way of relating: to God, to ourselves, to those around us. In opening our hearts and minds and souls to God we are challenged to grow, change, and to love.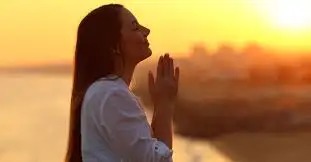 Without wasting time say these prayers.
It time to pray:
1. First of all, thank God for what he has been doing in the past times. His Provision, protection, sound health and guidance.
2. Every arrows and stones that is been sent towards me, by my Enemies. Let them be utterly destroyed without remedy in the Mighty Name of Jesus. Let them that look for my downfall and frustration be frustrated.
3. This week will favour you. There is a surprise package awaiting you. Nobody will look at your forehead and tell you NO this week. Unstoppable Testimonies is coming your way from now henceforth. Unmerited Blessings will locate you . 
If you believe that God has answered your prayers. Say a loud Amen wherever you are. And seal it with Amen in the comments section.
Quickly share it to loved ones.
Follow for more.
Content created and supplied by: Newsinfo.hub (via Opera News )