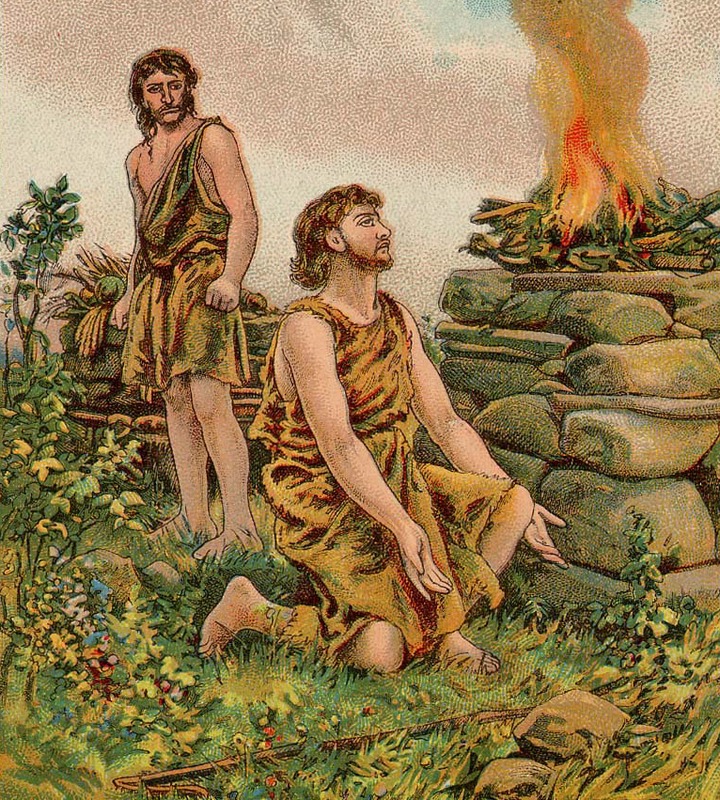 The Mystery of Cain.
Gen. 4:9-17 NIV
9 Then the Lord said to Cain, "Where is your brother Abel?"
"I don't know," he replied. "Am I my brother's keeper?"
10 The Lord said, "What have you done? Listen! Your brother's blood cries out to me from the ground. 11 Now you are under a curse and driven from the ground, which opened its mouth to receive your brother's blood from your hand. 12 When you work the ground, it will no longer yield its crops for you. You will be a restless wanderer on the earth."
13 Cain said to the Lord, "My punishment is more than I can bear. 14 Today you are driving me from the land, and I will be hidden from your presence; I will be a restless wanderer on the earth, and whoever finds me will kill me."
15 But the Lord said to him, "Not so; anyone who kills Cain will suffer vengeance seven times over." Then the Lord put a mark on Cain so that no one who found him would kill him. 16 So Cain went out from the Lord's presence and lived in the land of Nod, east of Eden.
17 Cain made love to his wife, and she became pregnant and gave birth to Enoch. Cain was then building a city, and he named it after his son Enoch.
.
.
.
The above bible passage is one that has sparked a lot of questions regarding the expansion of human race right after creation, and to date has either remained unanswered. Even Bible scholars have not been able to expressly explain the mystery behind this passage, and so, for the sake of avoiding explanation or feeling the guilt of questioning God's word, they would consistently urge that Christians focus their energies on weightier matters of the faith than trivial issues like the confusion raised by the above passage.
With this, I welcome you to today's episode of my weekly series; Tuesday Bible Study, where we pick topical issues from the Bible and analyse them from an open-minded perspective with a view to giving you more light on them.
In the above passage of the bible, the story is told of the first murder in human race, which is Cain killing his only sibling at the time because of envy. He was envious of his brother's sacrifice getting accepted by God while his was rejected (for no justifiable reason). Now, how he came about knowing that man could die when struck with a dangerous object is a story for another day.
Today I'd like us to look at two very serious points raised in the passage above, namely;
1. Who were the people Cain was afraid would kill him when they see him?
2. Who were the people in the East of Eden that Cain married from?
In verse 14 of the passage above, Cain specifically cried to God that the curse placed on him was too great and that while he wanders on the face of the earth, anyone who finds him will kill him.
Now let's pause for a minute.
If you a bible student you'd know that as at the time the curse was placed on Cain by God, there were only three people on the face of the earth, viz; Adam, Eve and Cain. And if these were the only three people on the earth at that time, who then was Cain afraid of? Who were the people that would see and and not recognize him and kill him? Was it his father? or his mother? or who?
This brings me to the second point of Cain's marriage.
Verse 16-17 talks about the journey of Cain from God's presence (as though to mean God's presence at the time was limited) and travelled to the east of Eden where he got himself a wife.
Wait a minute!
Who were the people in the East of Eden that Cain married from?
This question has remained the greatest mystery in what we now know as the Bible rivalled only by the virgin conception of Jesus Christ.
If the earth consisted only of Adam, his wife, and his son Cain at the time, how then did people suddenly appear in Nod somewhere in the east of where was called Eden with even a growing population that had maidens from which Cain could choose a wife?
How did he know he needed a wife to continue procreating? How did he know how men and women have sex? Where such matters discussed with his parents before leaving home?..
The answer to these questions casts a great shadow on the story of creation as relayed in the Bible. It therefore means that the story is either a lie or the narrator wasn't furnished with adequate information as at the time of compiling his story.
Now before you bring up that argument that Cain married his sibling, (an argument many a Christian peddle today), kindly refer to chapter 5 of the same Genesis and in verse 3 where tit was said that Adam begot Seth (the next child after Abel) at the age of 130, making it totally impossible for that argument to hold any water.
Indeed, the book of genesis and by extension the whole compilation called the Bible is full of questionable claims and narratives that many Christians would rather not talk about, leaving their interpretations only to the Holy spirit; till date, the Holy spirit has only succeeded in causing confusion amongst them by giving them conflicting interpretations to these claims and stories making them look like fools to curious minds like mine.
In closing, like Thomas Paine opined in his book Age of Reason, the Bible's compilers did a shoddy job writing it as it has created more room for doubts and skepticism than it has provided answers to man's questions, making it a book fit only for sheep who would rather just Trust and Obey without asking questions.
So before I go, I ask you again; Who did CAIN marry?
Good evening, earthlings.
Content created and supplied by: Dipsix (via Opera News )