cosmic energy, allowing you to focus on one major goal that you have and make it tangible. However, Mars and Uranus will collide on January 20, leading to an unexpected monkey wrench in your best laid plans relating to this endeavor. As long as you can roll with the punches you'll adjust accordingly. Don't be stubborn -- you will need to change course on this day!
Love planet Venus moves into cautious Capricorn on January 8, making matters of the heart serious business. If you're playing the game of love, then you're most likely playing for keeps this month. Additionally, Venus will embrace Pluto on January 28, leading to an intensification of desire. The stakes are high in love and you won't let go of a love connection very easily -- not after all the work you put into it!
A New Moon in Capricorn on January 13 is great for making career moves, while the Full Moon in Leo on January 28 encourages you to express your heartfelt emotions. Do you love someone? Say it.
The Sun will be in alignment with Saturn in Aquarius on January 23, helping to ground your sense of social consciousness so you can bring workable solutions into your community or a humanitarian endeavor you're a part of. Mercury turns retrograde in Aquarius on January 30, suggesting that this might need some tweaking next month, but you'll certainly be on top of it. A misunderstanding with a friend might also have you re-evaluating your social circle by the end of the month.
Aries Monthly Horoscope
Aries dates: March 21 - April 19
Your focus this month is definitely on career and finances. Mars, your ruling planet, finally leaves Aries on January 6 and moves into Taurus, filling your 2nd House of Earned Income with all the oomph necessary to generate cash flow. Between this and Venus moving into the top of your chart on January 8 AND the New Moon on January 13 in this same area, you're sure to see this month turn into a lucrative time filled with professional opportunities. This is the month to launch anything new connected to career because you will succeed! Pay attention to what transpires near the Venus-Pluto conjunction on January 28. It's big news for you professionally, and you'll be in your power.
When it comes to love, there might be an emotionally fulfilling experience near the Full Moon on January 28. This lunation lands right in your romance sector and could bring an unexpected curveball in matters of the heart. Be ready!
Key themes for Aries: money, earning power, financial boost, promotion, award, honor, business, authority, children, romantic fulfillment
Taurus Monthly Horoscope
Taurus dates: April 20 - May 20
You're starting 2021 in beast mode! Assertive Mars enters your sign for the first time in two years on January 6. The next several weeks will bring you extraordinary stamina, drive, and courage to crush your goals -- and anything standing in your way. If you're thinking about going back to school to get a license or advanced degree or are considering a project connected to publishing, advertising, broadcasting, or an international venture, there is every chance for it to succeed. A dazzling New Moon on January 13 combined with your ruling planet Venus moving into your 9th House of Mind Expansion on January 8 promises that spiritual and intellectual growth will be rewarded financially.
Major career decisions are on the horizon this month thanks to a stern conjunction between the Sun and Saturn at the top of your chart on January 23 along with Mercury turning retrograde in your career sector on Januaryn 30. You've got serious moves to make professionally, so take your time.
Your love life has moments of sizzle in January as well. With Mars in your sign, you're feeling much friskier than usual. Mars and Uranus collide in Taurus on January 20, giving you a passionate reward for an impulsive moment of courage.
Key themes for Taurus: career, professional transition, education, publishing, legal matters, spirituality, philosophy, sexy energy, bravery
Gemini Monthly Horoscope
Gemini dates: May 21 - June 20
You might walk into 2021 feeling weary and ready for a long winter's nap. The truth is, you've had so much happening in 2020 that you're tired and simply need a break. Thankfully, Mars moves into your hidden 12th house on January 6, making sure you prioritize that much needed self-care. Be kind to yourself, put your oxygen mask on first, and remember that your physical and emotional well-being are essential to nourish.
Fortunately, your financial life doesn't suffer while you're in this resting phase. In fact, it looks like you're going to be well taken care of. Venus moves into your 8th House of Finances while a New Moon lands in the same part of your chart on January 13. You might enjoy a monetary boost from a bonus, commission check, or gift from someone. If you're married, then your partner may share fantastic news about money that makes you very happy.
Your love life is going to be a bit quieter for most of this month. However, a Full Moon in your message sector on January 28 could signal news about matters of the heart. You might receive a phone call, text, letter, or have an in-person conversation with your partner or love interest that changes things. This isn't necessarily negative -- it's simply emotional.
Key themes for Gemini: respite, recuperation, healing, investments, inheritance, dividends, romantic conversation
Cancer Monthly Horoscope
Cancer dates: June 21 - July 22
Your love life is getting spotlight attention as 2021 starts -- and it all looks so promising! Venus enters your partnership sector on January 8, which is followed by a New Moon in the same area of your chart on January 13. If you're already in a relationship, then you and your sweetie are sure to be on extremely happy terms this month. The two of you are moving in a new direction that supports the love you share. If you're dating someone, this is all about making things exclusive or possibly even an engagement or marriage. Congrats!
In other news, finances are a heavy focus in January. You're in a realignment phase when it comes to the money you make, money you owe, and money you share with others. Financial insecurity buttons are sure to be pushed at the Full Moon in your earned income sector on January 28. In fact, a reality check about your debt is possible at the Sun-Saturn conjunction in your 8th House of Shared Resources on January 23, leading to the realization that you must revise your approach to finances. Mercury's retrograde in this same house (starting January 30) will help you achieve this.
Key themes for Cancer: marriage, relationship, romantic happiness, business partner, debt, taxes, creditors, financial loss
Leo Monthly Horoscope
Leo dates: July 23 - August 22
It's ON when it comes to your career as 2021 begins! Assertive Mars moves to the top of your chart on January 6, making you more likely than any other sign to truly crush your professional goals. It'll be a great month to reach for a promotion, launch a new business, or set yourself on a new career path. Just do it, because you can't fail!
A Full Moon in your sign on January 28 leaves you emotionally open and ready to express your true feelings to others. This will certainly bleed into your romantic world. In fact, don't be surprised if you find yourself choked up by how you feel for someone special by the end of the month. Do you love someone? Let him or her know. Has someone hurt you? Let him or her know. It's time to emote ... dramatically!
Relationships are up for some special consideration by the end of the month as Mercury turns retrograde in your partnership sector on January 30. You and your partner might go back to an ongoing conversation and finally reach a resolution -- or you might end up rethinking your relationship entirely.
Key themes for Leo: career, promotion, awards, competition, business, success, sentimentality, reconciliation, relationship renewal
Virgo Monthly Horoscope
Virgo dates: August 23 - September 22
The new year begins with you asserting your beliefs and convictions without hesitation! Mars enters your 9th House of Morality and Intellectual Expansion on January 6, giving you the courage to speak your truth ... no matter what the consequences might be. If you've been holding back on conveying your opinion on something that is really quite important to you, this will be a most welcome time. Finally, you will speak up and speak out!
Love planet Venus moves into your romance sector on January 8 followed by a New Moon in the same area of your chart on January 13. If single, these are the most glorious aspects to help support a new love connection with someone special. If you're already attached, then this might bring baby news. If you already have children, you can anticipate favorable new beginnings either for them or with your relationship to them. Either way, it's beautiful!
Mercury, your ruler, turns retrograde on January 30 in your work sector. It looks like you've got a few wrinkles to iron out with at least one major project. Take your time.
Key themes for Virgo: morals, philosophy, education, beliefs, legal matters, publishing, dating, love affair, children, sex
Libra Monthly Horoscope
Libra dates: September 23 - October 22
Finally, after what feels like forever, you'll start 2021 with a sense of peace, harmony, and stability in your domestic world. Venus, your ruling planet, enters your family sector on January 8, bringing positive cooperative energy to your home life. Adding to the goodness is a New Moon in your family sector on January 13. This could be when you decide it's time to relocate, or it might be about a major new beginning for you and your tribe. It looks like something worth celebrating!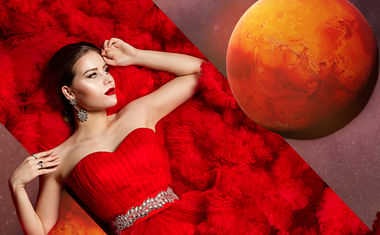 Reference image
Your love life has a serious, reflective tone to it this month. A Sun-Saturn conjunction in your romance sector on January 23 suggests you are carefully considering whether or not a current romantic situation meets your standards. You'll see this connection for what it is and not what you wish it could be. With Mercury turning retrograde on January 30 in the same area of your chart, it might be time to reassess if the person you're dating is right for you. Conversations with an ex might also become a mental distraction.
Key themes for Libra: home, family, real estate, relatives, home decorating, committed love, restricted love, confusing romance
Scorpio Monthly Horoscope
Scorpio dates: October 23 - November 21
Things are about to heat up in your love life! Starting a new year has you thinking about your current relationship routine and you're ready to change things up. Fortunately, your partner is on the same page and as Mars rushes into your partnership sector on January 6, you and your mate are ready to become lovers again in every sense of the word. Infusing passion and sexiness into your connection will be your greatest priority. It's also possible you'll pick arguments with your partner just to get a rise out of him or her, and this will somehow be a turn-on for the both of you. Hey, whatever works!
In other news, your career has glittering prospects near the Full Moon on January 28. You could receive an honor or other special award or be in the spotlight for a career achievement.
Domestic life gets a bit frustrating at month's end. Mercury turns retrograde in your home and family sector on January 30. You and a relative might get into a misunderstanding. Take it in stride.
Key themes for Scorpio: passion, sex, relationship conflict, promotion, career fulfillment, honor, family reunion, family mishap
Sagittarius Monthly Horoscope
Sagittarius dates: November 22 - December 21
You'll start 2021 off like a boss! Venus moves into your earned income sector on January 8, promising more money for you through your own efforts. You'll have a massive opportunity for more cash flow at the New Moon on January 13. This lunation lands in the same area of your chart that Venus will be in, so between the two of these energies it will be quite easy to maximize your money. Ask for a raise after the New Moon or raise your rates for a product or service you offer if self-employed. You're worth it!
Assertive Mars enters your work sector on January 6, giving you the stamina you need to beat deadlines and crush any competition you might have for a job offer or freelance assignment.
Your love life is finally calming down thanks to Mars leaving your romance sector on January 6. He has been here for an unusually long stretch of time, making you focus heavily on matters of the heart. Frankly, you'll be relieved to have a month that is free from romantic drama. It's about time!
Key themes for Sagittarius: money, talents, raise, new business, new job, hiring staff, office conflict, work competition
Capricorn Monthly Horoscope
Capricorn dates: December 22 - January 19
You're starting 2021 off in a magnificent position! Love planet Venus moves into your sign on January 8, making you the "fairest of them all" while also giving you plenty of romantic opportunities. As if that weren't enough, assertive Mars enters your true love sector on January 6, bringing plenty of feisty and passionate energy your way. Between an enhanced sex drive and all the gorgeous vibes Venus will help you radiate, there is a strong chance that your January has plenty of heated romantic moments with someone special in store.
Add to that a New Moon in your sign on January 13 and you'll really be ready for a fresh start in life. Your annual birthday lunation is your time to set intentions for whatever it is you want to achieve most over the next year, so go ahead and save those New Year's resolutions for mid-month.
Financial changes round out the month for you. A Full Moon on January 28 could bring a decision to take some money out of savings in order to pay for a big-ticket item or to whittle down debt. When Mercury turns retrograde on January 30 in your earned income sector, you'll be prompted to review your budget even more carefully.
Key themes for Capricorn: beauty, allure, magnetism, sex, creative spark, children, fertility, new goals
Aquarius Monthly Horoscope
Aquarius dates: January 20 - February 18
You mean serious business in 2021 when it comes to taking command of your life through radical personal responsibility. Saturn is now in your sign, making you feel the weight of your past choices and how they have shaped your current reality. With Jupiter also moving through your sign, you'll have the confidence necessary to make that growth spurt in personal development. Yes, this is all very philosophical, but you are in a powerful process of awakening to your truest self. The Sun and Saturn make an exact conjunction on January 23, helping you to define that new personal path and begin laying the groundwork towards achieving it.
Relationships are a major source of either personal growth or a setback, and it looks like the Full Moon on January 28 in your partnership sector will have you emotionally aware of where you and someone special stand when it comes to this delicate theme.
And then, just when you thought you had it all figured out, Mercury will turn retrograde in your sign on January 30, making you realize that putting this new paradigm shift into action is going to be a marathon and not a sprint.
Key themes for Aquarius: personal integrity, tests, karma, limitations, personal growth, radical responsibility, personal definition, relationship transition.
Pisces Monthly Horoscope
Pisces dates: February 19 - March 20
If you feel like you were hemorrhaging money for most of 2020, you're already going to like 2021. Mars finally leaves your money sector on January 6 and will no longer aggravate expenses for you. Instead, he'll help you become more assertive when it comes to speaking up for yourself and asking -- or declaring -- what you want and need. This is a good thing, as you are typically not one to ruffle anyone's feathers, which is sometimes at your own expense. If there is a conversation you've been too shy to have or if there is anything you wanted to advocate for, now you'll have all the mental muscle you need.
Your social life might also take a much more positive turn this month. Gentle Venus moves into your friendship sector on January 8, adding harmonious vibes to your interactions with friends. There might even be a romance blossoming between you and someone you resigned yourself to being in the "friend zone" with. A New Moon in the same part of your chart on January 13 could even bring a brand-new social opportunity your way. New friends, new love, and financial stability all while finding your voice. 2021 already looks great!
Key themes for Pisces: assertive communication, courageous conversation, friend zone, internet dating, social media, social networking, financial stability
Content created and supplied by: Seyiblog (via Opera News )
Opera News is a free to use platform and the views and opinions expressed herein are solely those of the author and do not represent, reflect or express the views of Opera News. Any/all written content and images displayed are provided by the blogger/author, appear herein as submitted by the blogger/author and are unedited by Opera News. Opera News does not consent to nor does it condone the posting of any content that violates the rights (including the copyrights) of any third party, nor content that may malign, inter alia, any religion, ethnic group, organization, gender, company, or individual. Opera News furthermore does not condone the use of our platform for the purposes encouraging/endorsing hate speech, violation of human rights and/or utterances of a defamatory nature. If the content contained herein violates any of your rights, including those of copyright, and/or violates any the above mentioned factors, you are requested to immediately notify us using via the following email address operanews-external(at)opera.com and/or report the article using the available reporting functionality built into our Platform See More