There are people that are spiritually proud.
Others are financially proud.
Appreciate Him for His grace that saw us through the month of September, we are now in the last Sunday of September. Give Him thanks again for His grace upon your life, for His protection, His provision, for the peace of Heaven that you enjoy, give Him thanks and praise, in Jesus precious name we have given thanks.
Every siege of misfortune shall be over today.
Whatever has been resisting anyone's access to favour shall be over finally today.
Everyone will be returning with a fresh baptism of divine favour. It will keep opening new chapters to your life in the name of Jesus Christ.
There is nothing mystical about the supernatural, it is simply a product of the Word you believe and obey to prove that you believe it.
Deuteronomy 28:1
Today, the grace to embrace the truth, receive, believe and obey the truth: receive it in the name of Jesus and so shall it be.
Father, thank You. We are all waiting to hear from You. Let no one return without an encounter in Jesus precious name.
Today is the last day in this series of teaching and may everyone's understanding come again alive today. Godliness is the most valuable of all spiritual virtues in the Kingdom, it holds the profit of the life which now is and the one which is to come. It adds value to life in the now and to life in the hereafter – 1 Timothy 4:8
The only one, the only spiritual virtue that impacts on life both in the now and in eternity. In fact, there is no access to eternity without it. No other spiritual virtue or work has the capacity to secure a place for anyone of us in Heaven.
Matthew 7:22-23
No anointing can secure a place for anybody in eternity. No callings can secure a place for anyone in Heaven. Church Gist. Every other great spiritual virtue: faith, vision, revelation, breakthroughs all end here. The only thing that follows us to that Place is godliness. The only access we have to that Place is godliness.
No one here shall be deceived.
Everyone shall make it here in grand style.
There are no new generation revelations. Now you see, things have changed, but the Word of God lives and abides forever – 1 Peter 1:23. Things will keep changing, that is God's constant, it lives and abides forever -Matthew 24:35.
Civilizations come and go but My Word remains eternal. That is God's constant for anyone to maximise the blessedness of redemption.
1 Timothy 4:8
EARTHLY COSTS OF UNGODLINESS
1. Ungodliness blocks access to supernatural breakthroughs because every breakthrough is triggered by revelation.
Proverbs 1:23 - It is for those who turn.
Isaiah 60:1-3
Every breakthrough is triggered by revelation and revelation demands godliness for hitch free flow.
1 Thessalonians 2:10, 2 Corinthians 12:7
You flow in revelation abundantly when the fear of God becomes your way of life because the secret of the Lord is with them that fear Him and He will show them His covenant – Psalm 25:14
It (ungodliness) blocks access to your breakthrough rights in redemption because we are redeemed as breakthrough entities, the light of the world, the salt of the earth, a city set on a hill that cannot be hidden – Matthew 5:13-14.
That is our package in redemption – John 14:12.
But it takes godliness to operate in that realm. You don't know what you are losing when you give in to a life of ungodliness, when it doesn't move you anymore, you just keep breaking down and breaking down, down and out. But when godly sorrow grips you when you miss it, He receives you back. Church Gist. When you explain it away, you stay there, no access to revelations.
-No one here will block the door against himself.
-No one here will become an enemy of himself.
Therefore exercise, don't wait for it, exercise yourself unto godliness – 1 Timothy 4:7.
Take responsibility, so it doesn't block you from your breakthrough inheritance in Christ.
2. It destroys destiny.
Let's just pick the subject of Pride. Pride goes before destruction and a haughty heart before a fall – Proverbs 16:18
You know the cost? Ask Nebuchadnezzar his adventure for 7 years in the wilderness.
Daniel 4:30, 33
He was in the zoo for 7 years, eating grass like the Ox.
Ask Herod what happened to him! He was eaten of worms because he gave not God the glory – Acts 12:23.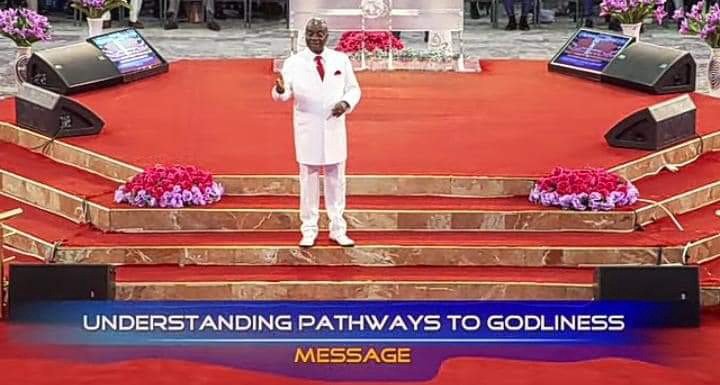 God hates pride – James 4:6
You can be spiritually proud, you can be financially proud, you don't have to be anything to be proud. There are many proud beggars. You give them something and they look down on you. He didn't have anything but there is pride inside him. I gave someone something one time like that and he said it was not enough. I said, "he should bring it." He gave it to me, I said, "thank you." God resists the proud. I don't owe you a thing, I just extended a heart of love to you and you rejected it. Anybody can reject it.
Jesus loves you and he says, "I don't want." He goes away, He doesn't hang around with you.
Pride is a destroyer, beware of it.
1 Corinthians 6:19
Any sin against your body makes God destroy that body. Sin destroys. Anybody can just ask Jesus, "save me Lord." The good news about sanctification is that you can have a U-turn at any point – John 6:37
But until you turn, it is not your turn. That is the good news about the Good news. Anybody can decide to turn today and then God will receive you as if you never did. Don't explain away what destroys, change your stand, line up with the Word of God and then things will keep changing for the better in your life.
-No Nebuchadnezzar will be here.
-No Herod will perish by pride in this place.
In the name of Jesus Christ.
3. It blocks access to eternity with Christ.
1 Corinthians 6:9-11
"…such were some of you" - It must become past tense. Now you are changed because you choose to change.
-No one here will miss his place in heaven.
The way out: Genuine Repentance.
Proverbs 28:13
Not just repentance now but timely repentance. Esau repented late and he found no place for repentance, it got late for him – Hebrews 12:17
-It won't get late for you and me.
Today as you hear His voice, harden not your heart. He wants to decorate your destiny; He wants to secure your place in eternity – Hebrews 3:7-8
1 John 1:8-9
The most wicked king that Israel was Ahab. Ahab turned at the prophetic trumpet from Elijah and God said, "I also turn, this evil will not happen in your day." The day Ahab turned was the day God turned and showed him favour – 1 Kings 21:29
Somebody is turning today from what you know turns God off from your life. Turn from it so you will not be alone to struggle for survival. Turn from it, don't explain it away, turn from it. Run for your life.
This trumpet is sounding because many are going to rescued from things that have been standing on their way over the years in the name of Jesus Christ.
We have losses here for ungodliness and we have that eternal regret loss in not being able to access our place in eternity. We shouldn't toil with it.
"Return unto Me and I will return unto you" – that is what God is saying. Anybody can choose to return – Malachi 3:7
-Why don't you choose to return today?
Psalm 5:12
Don't turn God's favour away from your life, you and I will forever need it. When you remove grace from your life, what remains is disgrace.
-No one here will suffer disgrace in the name of Jesus Christ.
Content created and supplied by: CrimeNewz (via Opera News )
Opera News is a free to use platform and the views and opinions expressed herein are solely those of the author and do not represent, reflect or express the views of Opera News. Any/all written content and images displayed are provided by the blogger/author, appear herein as submitted by the blogger/author and are unedited by Opera News. Opera News does not consent to nor does it condone the posting of any content that violates the rights (including the copyrights) of any third party, nor content that may malign, inter alia, any religion, ethnic group, organization, gender, company, or individual. Opera News furthermore does not condone the use of our platform for the purposes encouraging/endorsing hate speech, violation of human rights and/or utterances of a defamatory nature. If the content contained herein violates any of your rights, including those of copyright, and/or violates any the above mentioned factors, you are requested to immediately notify us using via the following email address operanews-external(at)opera.com and/or report the article using the available reporting functionality built into our Platform See More