8 HOURS IN HIS PRESENCE/HEALING AND DELIVERANCE SERVICE – TUESDAY, 19TH OCTOBER 2021
ANCHOR SCRIPTURE(S): GENESIS 1:1-8
MESSAGE TOPIC: A NEW BEGINNING
By: Dr Paul Enenche
MESSAGE OBJECTIVES:
1. Understanding the things the precede a new beginning
2. Understanding the forces that provoke a new beginning
WHAT HAPPENS BEFORE THE NEW BEGINS?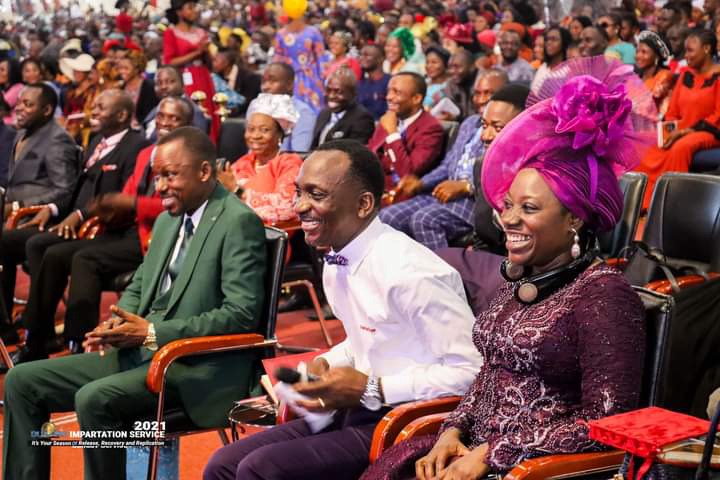 1. Before the new begins, the old appears to be in charge.
The old appears to be fully settled and unmovable
There are times where people accept their present situation as their final destination
2. Before the new begins, there appears to be a climate of defeat and failure.
Until you have appreciated darkness you don't know the value of light
You don't know what a new beginning is until the devil has tried to impose on you defeat
It is not how you started, but where you are going and where you will end.
What we call defeat/failure/stagnation is a process; God is taking you somewhere.
Only wise men can see a star in a baby
Those who cannot perceive what God is doing with your life is a spot diagnosis of wisdom bankruptcy
3. Before the new begins, there is often a climate of uncertainty
4. Before the new begins, there appears to be the darkness of lack of direction, confusion and cluelessness
5. Before the new begins, the force of darkness and evil seem to hold sway.
When you are in a situation where it seems like evil and occultic power are stronger than the power of God, then you are set for a new beginning
Spirit husband is not stronger than the power of God
THE SEEDS THAT BRING ABOUT A NEW BEGINNING:
1. The seed of understanding of Divine purpose (Prov. 4:18)
Every new thing begins with a seed
2. The seed of understanding of Divine timing (Eccl. 3:11)
3. The seed of positive vision (Gen. 13:14-15)
What your eyes can see determine what your God can give
4. The seed of Word revelation (2Cor. 3:18)
5. The seed of the move of the Spirit (Gen. 1:2-3)
If you can create the move of the Spirit, anything can happen
6. The seed of Word declaration (Gen. 1:3)
7. The seed of Consecration/Separation (Gen. 32:24; 12:1)
Many times, the season of isolation, consecration and separation is the season of Divine visitation
If you want God to do serious things with you, you must become serious with God.
If you want to become Israel, Jacob must die!
PRAYERS
Father, Thank You for Your Word to us today. To You be all the glory Lord, in Jesus' Name.
Father, I trust You for a new beginning today. Give me a change of story today; Father, confirm today that the power of the Almighty is stronger than the power of darkness in my life, in Jesus' Name.
PROPHETIC DECLARATIONS:
- Every arrow of death looking for you or your loved ones is returned back to hell!
- The devil troubling you shall be ashamed today!
- Your miracle will draw people to God
- Everything the devil damaged in your life is recovered in Jesus' Name!
- You will not lose your loved ones!
- Where blood is shed yours shall not be shed!
- Where others are located for negative results you will never be there!
- Anything the devil is fighting in your life, you shall achieve that thing!
- It is a new day, new season and new dawn for you!
- Where the devil kept you all these years, you are stepping out of it now!
- Any altar that will not let you rest, that altar is set on fire and you are out of where they kept you!
- Everything they used to tie your finances, resources, job, marriage, wife or husband to be, that chain is broken now!
- Everything the devil has tied down in your life is loosed now!
- Anywhere they have kept your name and the names of your family members, those names are out now and that calabash is set on fire!
- Whatever belongs to you that is being denied you, they are entering your hands now!
- Your documents are released and your children are released now!
- Anything the devil is holding belonging to you, it is released now!
- Anyone irritated or aggravated by your potentials and your future, whatever they did against you is undone and if they do not leave you alone, this day, they shall experience judgment!
- Whatever is responsible for pain, backwardness and stagnation in your life, family and destiny, today, they are uprooted!
- Everywhere there is darkness around your life, that darkness gives way for light now in Jesus' Name!
- Anything dead in your life is coming back alive now!
- Your new beginning is here!
- Whatever appears to be established in your life shall experience a knockout blow!
- You are about to see something that will shock your family and community!
- God is not going to give you the results of one person; the results you are about to see are the results of 10 people in 1!
- After this meeting, there are those who will see you and they won't believe that you are the one!
- In a short while from now, you shall tell your story!
- Surely there is an end, and your expectation shall not be cut short! It shall end well and in your favour! It shall end according to the plan of God!
- Every power of darkness that appears to be winning the battle over your life, that battle is dismantled and dissolved right now!
- The altars of your father's house will not prevail over your life and your children!
- What they did against you in your father's house, I set it on fire!
- The altar of premature death is cancelled from your household and from your lineage!
- Every list where they have put your name for destruction, that list is set on fire!
- Every power contending with the power of God in your life dies now in Jesus' Name!
- Every garment of financial wretchedness, today is the end of it!
- Every curse of failure at the edge of breakthrough, today that curse is broken!
- I prophesy upon you today, financial empowerment!
- From this hour, the door of financial favour is open unto you!
- The power to get wealth is released unto you right now!
- Every leviathan who swallowed your wealth, today, it is cast out of their belly and released into your hands!
- The days of begging and borrowing are over forever!
- Everyone holding what is yours, from this hour, they lose their peace, sleep and rest until all that is yours enters into your hands!
Content created and supplied by: DunamisMessages (via Opera News )
Opera News is a free to use platform and the views and opinions expressed herein are solely those of the author and do not represent, reflect or express the views of Opera News. Any/all written content and images displayed are provided by the blogger/author, appear herein as submitted by the blogger/author and are unedited by Opera News. Opera News does not consent to nor does it condone the posting of any content that violates the rights (including the copyrights) of any third party, nor content that may malign, inter alia, any religion, ethnic group, organization, gender, company, or individual. Opera News furthermore does not condone the use of our platform for the purposes encouraging/endorsing hate speech, violation of human rights and/or utterances of a defamatory nature. If the content contained herein violates any of your rights, including those of copyright, and/or violates any the above mentioned factors, you are requested to immediately notify us using via the following email address operanews-external(at)opera.com and/or report the article using the available reporting functionality built into our Platform See More