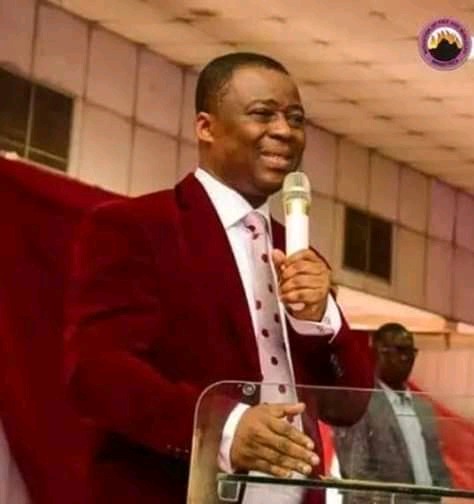 THE THREE IN ONE PERSON
As an introduction of this crucial message, I would like to share the illustration of a woman with four lovers. She so loved the first lover that she spent fortune just to please him. She bought him choice clothes, perfumes, exotic cars, expensive food and drinks. She also loved the second lover though not as much as the first one because he gave her all she desired.
So she took care of him as best as she could. She loved the third lover though not as much as the first and second. The reason she loved the third man was because he was trustworthy and loyal to her. She confided in him and got good counsel through him. She did not love the fourth lover at all although he loved her to the extent that he was ready to do anything for her and ready to go anywhere, including dying with her.
When death came to take her one day, she requested the first lover to die with her. He refused. He said to her, "once you're dead, we are separated from each other. We simply go to our separate ways."
She made the same request to the second lover. He replied her at once, "I'll never die with you, come what may. Once you are dead, I'll simply get another lover to replace you. That may be harsh but that is what I am going to do." Thinking the third lover would be willing to die with her, she made the same request to him. He said in a gentle voice, "I can't die with you, you know. We all come at different times and we'll go at different times. The best I can do for you is to walk with you to the grave where you'll be buried. There is nothing more I can do for you."
The woman did not ask the fourth lover if he would die with her or not because she didn't like him. The lover, however, decided to die with her. She wished she loved him before death came but she did not. If she had loved him, she would have taken good care of him when she had the chance but now it was too late. When both of them died, they ended up in the same grave together.
The name of the first lover is Body. A lot of people like their bodies so much that they never think other things deserve their attentions. And yet the Bible says in Romans 8:6, "to be carnally minded is death, but to be spiritually minded is life and peace."
The name of the second lover is Wealth. Many people seek and keep wealth at the expense of their eternal lives. In 1 Timothy 6: 10, the Bible says, "for the love of money is the root of all kinds of evils, for which some have strayed from the faith in their greediness, and pierced themselves through with many sorrows." When people that heap wealth for themselves die, others inherit everything they have laboured for.
The name of the third lover is Family. No matter how much your family loves you and no matter how much you love anyone, no one will die or go into the grave with you. The best your loved ones can do for you is to follow you to the grave, mourn for you and later forget about you. No one would enter the grave with you.
Of course, the fourth lover is called Soul. A lot of people do not love their souls. That is reason they trade with it. The Bible says in Hebrew 9:27, "And as it is appointed for men to die once, but after this the Judgement."
Here now is the explanation about three in one person according to 1 Thessalonians 5:23 which says,"And the very God of peace sanctify you wholly; and I pray God your whole spirit and soul and body be preserved blameless unto the coming of our Lord Jesus Christ."
This passage reveals the three in one person which are as follow:
1. THE BODY: When God created man from the dust, according to Genesis 2:7, he was like a dead body. To make him a living person, God had to do something.
2. THE SPIRT: What God did to make this dead man comes to life was to borrow him His breath according to the passage in Genesis 2:7 which says, "And the LORD God formed man of the dust of the ground, and breathed into his nostrils the breath of life; and man became a living soul." Because God is a Spirit, according to John 4:24, everything about Him including His Breath and Word Who became Flesh called Jesus is a Spirit. So the breath of God became the spirit of man which made him "a living soul", according to Genesis 2:7. When God takes away His breath which is the spirit of man, the body goes back to the dust according to Ecclesiastes 12:7 which says, "Then shall the dust return to the earth as it was: and the spirit shall return unto God who gave it."
3. THE SOUL: This is the immortal but the real part of a person which goes to stay for all eternity in either hell or heaven as in Revelation 21:4 which says, "And God shall wipe away all tears from their eyes; and there shall be no more death, neither sorrow, nor crying, neither shall there be any more pain: for the former things are passed away." Because the soul is the conscious part of a man, God says in Ezekiel 18:4, "Behold, all souls are mine; as the soul of the father, so also the soul of the son is mine: the soul that sins, it shall die." The death of a soul is explained in Revelation 21:8 which says, "But the fearful, and unbelieving, and the abominable, and murderers, and whoremongers, and sorcerers, and idolaters, and all liars, shall have their part in the lake which burns with fire and brimstone: which is the second death."
This is a warning that loving the wrong thing is eternally disastrous. You need to love God with all your heart because He so much loves mankind that, according to John 3:16, He gave us Jesus so that our souls do not by going to hell. I pray that the Lord will save our souls and uphold us till we reach heaven in Jesus name.
Content created and supplied by: Gee4 (via Opera News )
Opera News is a free to use platform and the views and opinions expressed herein are solely those of the author and do not represent, reflect or express the views of Opera News. Any/all written content and images displayed are provided by the blogger/author, appear herein as submitted by the blogger/author and are unedited by Opera News. Opera News does not consent to nor does it condone the posting of any content that violates the rights (including the copyrights) of any third party, nor content that may malign, inter alia, any religion, ethnic group, organization, gender, company, or individual. Opera News furthermore does not condone the use of our platform for the purposes encouraging/endorsing hate speech, violation of human rights and/or utterances of a defamatory nature. If the content contained herein violates any of your rights, including those of copyright, and/or violates any the above mentioned factors, you are requested to immediately notify us using via the following email address operanews-external(at)opera.com and/or report the article using the available reporting functionality built into our Platform See More