You haven't seen nothing yet! It'll get worse as we approach Rapture, and spiral out of control after Rapture!!
• But who/what actually is behind it all?
• Who's the real force behind it?
• Who's pushing it?
PALE HORSE OF THE APOCALYPSE
Also known as the Angel of Death
In the Book of Revelation Chapter Six, the opening/breaking of the Fourth Seal unleashes the dreadful Rider of the Pale Horse/Angel of Death
"When he opened the sixth seal, l heard the voice of the fourth living creature say, 'Come!' 8 l looked, and there before me was a pale horse! It's rider was named Death, and Hades was following close behind him. They were given power over a fourth of the earth to kill by sword, famine and plague , and by the wild beasts of the earth." [REVELATlON 6:7-8.]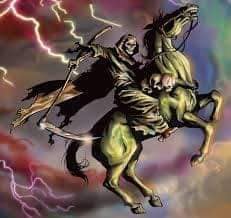 Photo credit : Duckduckgo
Responsible
It's therefore this dreadful Pale Horseman of the apocalypse – also known as the Angel of Death who is responsible for the current havoc being wrecked globally by the Coronavirus. And in it's wake there's death and death everywhere! This is the same Angel of Death who appeared in Egypt on the Night of the Great Exodus and left a trail of death, death and death all across the entire land not, withstanding the Palace where Pharaoh and his royal family were. They were not spared either. They too woke up in wailing and mourning because death struck there. Every home had someone dead. I guess no-one attended funeral nor went assist one another in burials, since all were mourning at the same time. Therefore everyone on their own!
#lmminent_Tribulation_And_Grea
t_Tribulation
The full effects of this dreadful Pale Horse of the Apocalypse or other Angel of Death will be felt in the Post-Rapture Tribulation and Great Tribulation Period that's right round the corner. At that time, the Bible says that, in just a span of a few months, over a quarter of the world population, of which based on the current world population estimated to be over 7 billion people, is approximately 1.6 billion people will be killed(fall down dead) by diseases, wars, famine and wild animals. So if you divide 1.6 billion by 4 you end up with 400 Million people each. That means diseases and pestilences alone will kill over 400 Million people just in a span of those few months. Meanwhile it will all be working in synergy with war, famine and wild beasts and causing the death of the one quarter of the entire world population in that short time!
#Death_Everywhere !
So this dreadful Pale Horseman is going to wreck the worst havoc across the entire earth and cause death , death , death
and death everywhere! There will be nowhere without a dead body. Dead bodies will be scattered all over with no-one to mourn for or even bury. Funerals will become a thing of the past!
"Say, 'This is what the LORD declares: 'The dead bodies of men will lie like refuse on the open field, like cut corn behind the reaper( the grim reaper), with no-one to gather them.' " [ #JEREMIAH 9:22 ]
#Beginning
What we are currently witnessing, is just but the beginning of it all. It's more like "Testing, testing, testing " here and there! But after Rapture, this Pale Horseman of the Apocalypse will go full throttle and unleash death on earth in the most horrible way never seen before since Adam and Eve's time. In those dreadful days, it will be death
, death , desth and death ! A stench of death will rise all over the land with no-one to mourn for, or even bury the dead!
And most sadly, is the fact that the majority of those dying will end up in Hell because behind this Angel of Death we have Hades collecting those souls and casting them into Hell ! You don't want to go there!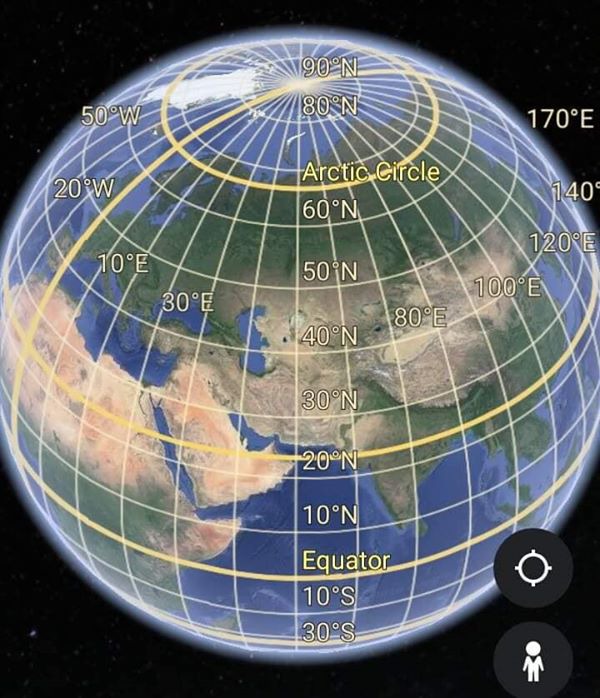 Photo credit : Duckduckgo
#The_Church_Of_Jesus
Jesus said that;
"l will build my Church, and the gates of Hades will not overcome/prevail against it." [MATTHEW 16:18 ]
Only the true Church of Jesus is going to overcome this Angel of Death just like the Children of Israel were not touched nor harmed by it, on the Midnight Hour when they left Egypt. And this is a clear testimony and confirmation that, when you see this particular Angel of Death arriving and beginning to wreck havoc on earth, as is currently happening, then get to know that, the Midnight Hour is just about to strike, and the holy remnant Church of Jesus will be taken away into the safety of Heaven before the full effect of this Pale Horse can ensue on Earth! There's going to be a holocaust and the Church of Jesus can not be here to experience that, because Death and Hades is NOT her portion. It's for the rebellious and unrepentant!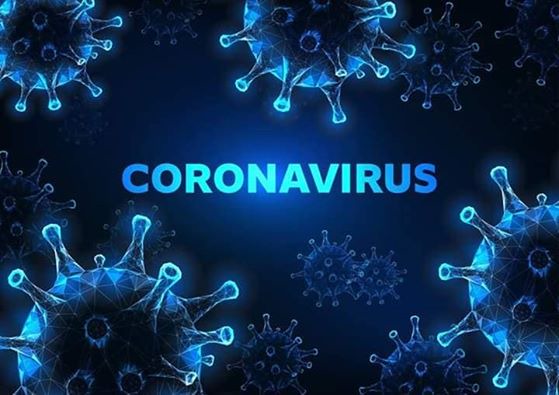 Photo credit : Duckduckgo
This is scary! Rapture may take place sooner than we expect.
Repent now for tomorrow might be too late.
This is a must share.. Please kindly share
Content created and supplied by: Worldnetwon (via Opera News )
Opera News is a free to use platform and the views and opinions expressed herein are solely those of the author and do not represent, reflect or express the views of Opera News. Any/all written content and images displayed are provided by the blogger/author, appear herein as submitted by the blogger/author and are unedited by Opera News. Opera News does not consent to nor does it condone the posting of any content that violates the rights (including the copyrights) of any third party, nor content that may malign, inter alia, any religion, ethnic group, organization, gender, company, or individual. Opera News furthermore does not condone the use of our platform for the purposes encouraging/endorsing hate speech, violation of human rights and/or utterances of a defamatory nature. If the content contained herein violates any of your rights, including those of copyright, and/or violates any the above mentioned factors, you are requested to immediately notify us using via the following email address operanews-external(at)opera.com and/or report the article using the available reporting functionality built into our Platform See More