One very significant aspect of training and also being a natural genius could be seen in the life of King David and his son, King Solomon, who later became his successor. King David was the last child of Jesse, a reputable elderly man in Israel. It was during the warring years of King Saul's regime that the life of David, as regards his training and growing up was highlighted.
The Spiritual Trainings Of David: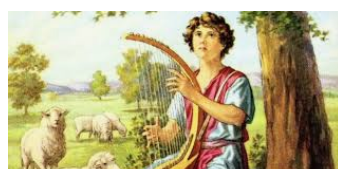 (David was a shepherd boy, trained instrumentalist. This attributes got him to the palace to I strict King Saul in music. He was not from a rich family. He already has a background in good relationship with God)
The little "ruddy" David has been a shepherd since he was little. His father Jesse has trained him severally on what it takes to rare the sheep and take care of the fold as against intruders in wolves and bears alike. He always spends most of his time in the plains, seeking where the grass is greener, for his father's sheep. In the process, he has learnt how to play the harp and some other musical instruments. In this, he plays and glorifies God daily while tending his sheep. In this, he was able to gain entrance into the King's palace, minister in music to him. His music was so powerful that it cures King Saul of his madness.
David has been a believer since his youthful days. He has been under the personal training of God in warfare, perseverance, and leadership. Whoever knows how to control animals, and could take them deeper into the forest, and also bring them back safely, without any, missing from the flock is truly a leader. If you could be a rearer of herds, you could also lead people who are more complex and unpredictable as compared to animals.
David has always been conscious of who he is, right from his childhood. At a time he had battled a bear and lion that took some of the sheep from the flock, and he successfully slew both. This was enough to convince king sul of his battle experience when he offered to face Goliath.
Under normal circumstances, this curriculum vitae of David is not enough for him to be able to face the mountain of a man in Goliath, but, God himself is in charge of David's life. He was about to pass his first interview which landed him his first battle job and eventually got him to the throne of Israel.
His valiant features earned him several accolades, but, his spiritual connection with God, having been properly trained consciously under Him for several years, earned him the throne of Israel, and kingship forever. God made a covenant with the house of David, that he will not lack a man that would sit on the throne of Israel, forever. This was among what gave king Solomon access to the throne of Israel.
Solomon's Training: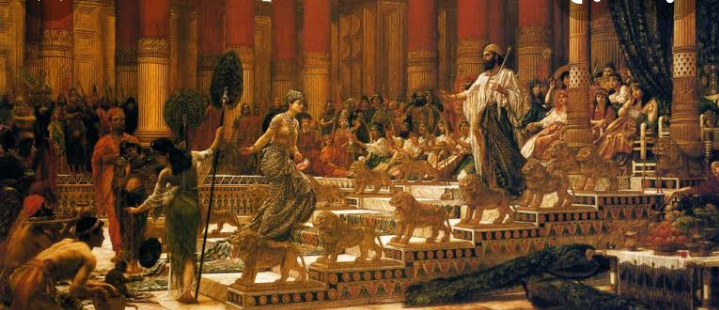 (Solomon was a palace to throne king. He does not have any serious background with God. His woeful performance at the later stage of his life with God is a good example of a background not so sound)
Solomon lived like every other child of Kings did. He was born and bred in the palace of King David in Israel. He knew exactly what it means to fight a battle, however, he never attempted one. He was among the favoured of men because God has already taken interest in Solomon right from his childhood days. Although, he was born by Bathsheba, the wife of Uriah, one of the valiant soldiers of his father, whom David killed, to illegally get intimate with his wife. It was this relationship that bore Solomon.
There was never any area in the Bible written that Solomon went through any military training, even though, his father Hasan had a mighty army of soldiers, the best in the world around that time. The army of Israel was the greatest, and most valiant. Israel was the world power, as King David has defeated every one of his enemies and those of Israel round about him.
When King Solomon was enthroned, he never fought any battle as God gave him total peace all around. His Wisdom was without competition, those who were supposed to be against him paid obeisance to him. God was mightily behind him at all levels. He was friends with all the enemies of his father, including dreaded Egypt. He got married to the daughter of King Pharaoh of Egypt. In his lifetime, King Solomon had 700 wives and 300 concubines, making 1000 women in all.
His regime was full of affluence and merriment all through. In this, owing to the so many strange women he had married from all over the nations of the gentiles that God has warned the Israelites not to marry from, he got carried away in his affluence and pride. The women that were from idol-worshipping nations, introduced him to idol worship. King Solomon who was once a favourite of God, and so favoured for God to appear to him and gave him "blank cheque" of whatever he might want, fell short of the glory of God and ended an idol worshipper.
Highlighting both lives of Kings David and Solomon:
As seen from the lives of both great kings of Israel, personal encounter with God indeed and in-depth training goes a long way to firmly and consciously establish one's foot in the heart of God. The Bible calls King David, "a man after God's heart". He knew when to fall heavily before God in repentance of his sins; instances in when Satan made him count Israel, and when the prophet Nathan brought him a message of condemnation from God, as regards the wicked murder of Uriah, and the illicit affair with Bathsheba his wife.
King David has ever been faithful with God all through his life. He died in the arms of God, unblemished and justified. God has always made king David as His example of godly living and total obedience in which all the kings that would be mentioned after him are measured.
King Solomon, on the other hand, was more favoured than King David his father. He was opportune to have a rare encounter with God, at two different instances. He was more endowed and enriched than anyone living or dead, or that would ever be born. His destiny was very rare.
But, Solomon does not have a personal encounter with God like David his father did. He was just opportune, having found favour in the sight of God. King Solomon was nurtured and bred in the wealthy King's palace. He hasn't for once knew what it means to hunger, to wield the sword, or to throw the lance against an enemy on the battlefield. The difference is clear. God has purposely set an example in both Kings, in which believers could learn. You could prefer to be like King David, who though, is full of flaws, but, always conscious of who he is in God.
King Solomon al so, on the other hand, is a very good example of wisdom, knowledge and understanding of God. He is the epitome of great influence to good judgement, justice and greater sacrifices to God. King Solomon made sacrifices, in great abundance to God, and God was moved mightily in heaven. Believers could learn from this and effect a greater influence on their lives.
Learn and inculcate the godliness and decisions of King David, but shun his usefulness. Learn and inculcate the wisdom, knowledge and understanding of King Solomon, but, shun his whoredom.
Image Credits:
Https://www.google.com
Content created and supplied by: OlowookereAdebayo01 (via Opera News )
Opera News is a free to use platform and the views and opinions expressed herein are solely those of the author and do not represent, reflect or express the views of Opera News. Any/all written content and images displayed are provided by the blogger/author, appear herein as submitted by the blogger/author and are unedited by Opera News. Opera News does not consent to nor does it condone the posting of any content that violates the rights (including the copyrights) of any third party, nor content that may malign, inter alia, any religion, ethnic group, organization, gender, company, or individual. Opera News furthermore does not condone the use of our platform for the purposes encouraging/endorsing hate speech, violation of human rights and/or utterances of a defamatory nature. If the content contained herein violates any of your rights, including those of copyright, and/or violates any the above mentioned factors, you are requested to immediately notify us using via the following email address operanews-external(at)opera.com and/or report the article using the available reporting functionality built into our Platform See More