Men of God are blessed or ordained by God to shepherd the people who are ready to serve God, we live in a society where people don't encourage or show gratitude to God by showing love and care towards men of God.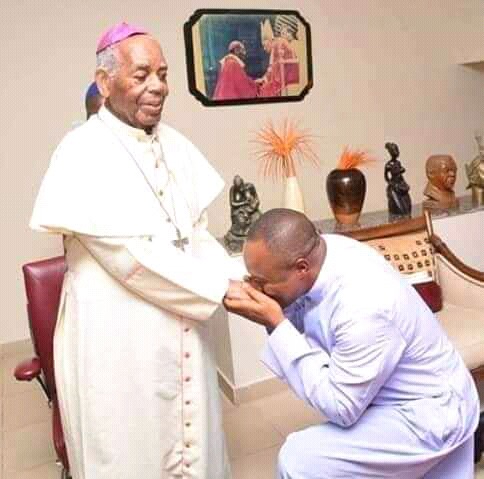 Today Rev Fr Alfred Agbonlahor went to thank his former Bishop for not listening to people who tried not to allow him to be ordained, checkout what he said below.
In his words, I have come to return thanks and gratitude to you Most. Rev. Dr. Patrick Ebosele Ekpu, the emeritus Archbishop of Benin City. Today 17th of March 2021 (The feast of St. Patrick) makes it 17 years ago you ordained me a deacon an ordination you did against all odds. I have come to say thank you. My heart is saying "I AM VERY GRATEFUL" I thank you for allowing God to use you to silence all my accusers with their evil intentions. I am very grateful. This gesture of yours is never going to be taken for granted may God give you many days. May you live to see 100 years. I love you my Archbishop. I owe you my life in gratitude. May God richly bless you. Amen.
What is your take on this? Kindly drop it at the comment section.
Content created and supplied by: Slyode (via Opera News )