LAST NIGHT BISHOP OYEDEPO SAID TO ME-THE WAY SOME OF US ARE WORKING, IF NOT FOR THE GRACE OF GOD WE WILL HAVE DIED SINCE
THERE ARE TIMES WE HAVE ORGANIZED 3 PRIVATE JETS AT ONCE SO THAT ALL MEMBERS OF OUR CRUSADE TEAM CAN BE IN CHURCH ON SUNDAY.
IT IS WHEN THERE IS NOTHING GREAT ABOUT YOU THAT GRACE PICKS YOU UP.
IN MY PRIMARY SCHOOL, A TEACHER LOOKED AT ME AT THE END OF THE CLASS AND SAID, "LOOK AT THIS ONE, THIS TYPE DON'T BECOME ANYTHING".
BUT GOD SAID, "THIS ONE THAT YOU THINK WILL BE NOTHING, I AM GOING TO SHOW YOU WHAT HE WILL BECOME IN THIS GENERATION"
THE GRACE OF GOD IS THE REASON FOR STRANGE RESULTS IN LIFE. THE GRACE OF GOD MAKES A MAN TO TAKE HIS WORLD BY SURPRISE.
IT IS NOT HOW EARLY OR HOW LATE YOU CAME, BUT WHAT IS WORKING FOR YOU THAT DETERMINES YOUR OUTCOME.
- Pastor Paul Enenche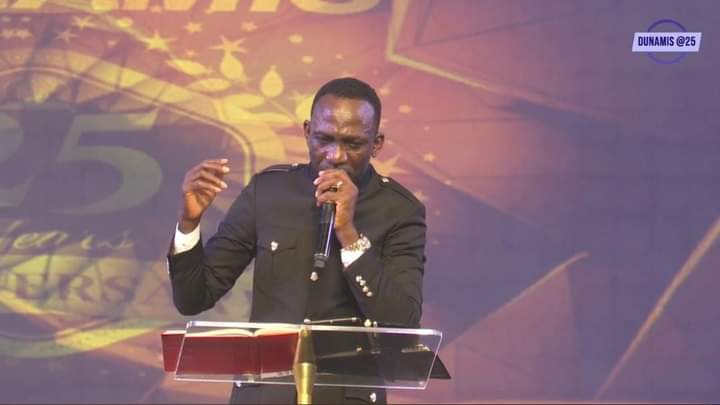 at Kingdom Power and Glory World Conference 2021
Day Three, Morning Session
Lift your hands in the worship of God. Father we give You the praise, we give You the honour. We give You the adoration because You are God. Thank You for a day like this. Thank You for a time like this. Visit someone today. Touch someone's life. Let not one person leave here the same way they have come, to the glory of Your name. In Jesus precious name.
Give the Lord a big clap of hand as you take your seat.
I want to welcome everyone here this morning in the precious name of Jesus.
1 Timothy 1:13-14.
The Lord bless His word in Jesus' name.
I will do a series of Exceeding Abundance Grace and this is Part 1
Our objective is:
1. To Understand the mysteries of the grace of God.
2. To understand access to grace.
The grace of God is one of the greatest mysteries of children of God. The grace of God is a reason for strange results in life. The grace of God gives assistance to the resisted. The grace of God releases favour to the disfavoured. The grace of God gives advantage to the disadvantaged. When a man is disadvantaged on every ground, when a man is rejected on every ground; what bails him is the grace of God.
The grace of God was the mystery behind the life of Paul the apostle. There will be no Paul without grace. The grace of God qualifies the disqualified. In fact, the unqualified. When they say a man is not qualified or a person is disqualified, the grace of God qualifies the unqualified. If it was left for the vote of man, many men of grace would have lost.
The grace of God makes the unknown to become the renowned. This person wasn't known before. There is no basis for him to be known, it makes the unknown to become the renowned. The grace of God makes the rejected becomes the accepted.
The grace of God gives general ease to life. You are just moving with ease and people are wondering? The grace of God makes a man to take his world by suprise. Those who know you and those who love you and those who hate you are taken by surprise.
WHO WAS PAUL THE APOSTLE BEFORE GRACE CAME?
1. He was a murderer that later became the deliverer (Acts 22:4). You shouldn't call a murderer a preacher.
2. He was the late comer who never witnessed the story of redemption. He was the person that never witnessed the journey of Jesus on the earth, he wasn't there. If anybody should tell us the story of the movement of Jesus, the crucifixion, redemption, details of what happened when Jesus died, it shouldn't be Paul. Maybe Peter or James.
3. He was the Apostle with deficient physical appearance. Many of us are fine boys and girls, not Paul the Apostle (2 Corinthians 10:10). I saw a commentator trying to describe him, he was actually little. He was small and no body feature that looks attractive. It is when there is nothing great about you that grace picks you up. When people can say there is nothing great about your family, background or where you have come from. That is when grace picks you up. That was why the Bible says, you have seen the grace of our Lord that not many people have been chosen. But God has chosen the weak things of this world to confound the wise that no flesh should glory in His presence (1 Corinthians 23 - 29).
Let me tell somebody here today, what you think is your qualification becomes your greatness disqualification before God. If it was based on handsomeness, Paul would not be called. If it was based on height, Paul wouldn't be called. If the qualification was based on morality and you haven't done anything bad before, Paul was a murderer. That is the summary of grace. That you have no reason to be helped, your only reason is God.
- I see grace exploding upon someone here!
4. He was of the sect of the Pharisees that Jesus hated with passion (Philippians 3:5-6). Jesus permanently was on the neck of the Pharisees only for Him to go to the same group of the Pharisees to pick a man. The only reason why that can happen is called grace. The grace that qualifies the unqualified, that gives acceptance to the rejected. The grace of God that makes a plus where there was a minus.
5. He was from the least tribe of Israel, the tribe of Benjamin (Philippians 3:5-6). Concerning the tribe of Benjamin, there is nothing great and God was taking a risk because the first He chose from the tribe of Benjamin, the person failed. Now, He is choosing another person from the tribe of Benjamin with the same name - Saul. If it was just coincidental, that this is from the tribe of Benjamin, He's choosing another Saul. The first Saul misbehaved; consulted familiar spirit, went to witch doctors, committed suicide and wanted to wipe out the seed called David. Now, You are taking a risk to choose another Saul.
Listen, it is grace that makes God to take risk. Many of us who are called, God took a risk - colossal risk. The possibility of falling, the possibility of messing up and disappointing. But He said, give him a chance. Your tendencies, the history of those before you, your family line, what is possible around where you have come?
- I am here speaking to somebody, my God and your God is about to give you a chance. He's taking a risk regarding your life but that risk shall be a successful risk because you are not going to fail or disappoint!
Romans 9;16
It is not the question of human qualification, will or effort. Many of us grew up, people never gave us the chance to fail or succeed before they concluded that we will never succeed. They never gave any chance. I am not talking of whether you are a Christian here. You are just growing up, a neighbor saw you and saw this type of people can't amount to anything. In my primary school, a teacher looked at me at the end of the class; "Look at this one, this type, they don't become anything". But God just crosses His hand and He said that, "this one that you think will be nothing, I am going to show you what he will become in this generation. This one that you say can amount to nothing, I will show you that I am a specialist in turning nonentities into some entities".
I think God decided to call another Saul to proof to the world that it doesn't matter what your name is and it doesn't matter what your tribe is, the history of those before you. I can change the story with your life. I can still trust you and use and still make you what you are meant to be.
6. He was the over educated Pharisee whose education could have been a limitation (1 Corinthians 1:26). But God said, I am still going to pick you and make something out of your life.
Lift up your right hand and say:
"Father, I apply for Your grace right now".
To qualify for grace, you must drop your qualifications. Anything you think is a reason why? Some people, it is because of your boosting of how much you can fast that you haven't seen anything. It is your over understanding that is why God is saying, "alright. I want all the things you know to help you." . I told you the story before, when we came into this town newly, one young man, he was in town here. He came to me and said, (I was talking to a senior man of God at that, how God was leading us to the City) and he said; "oh, there are some many churches here in town already" and he was mentioning different churches and this other senior man of God told me, "Is he talking to you? Leave him to discuss with me". So, I finished talking and we left. Sometime later, that pastor came to me and said, "man of God. I am excited how God is helping you, helping your ministry and I see things happening around. Can you tell me the secret of how a church can grow and flourish? I know that you have to fast and pray very well. I know that you have to study the Word, preach and teach the Word very well". He kept on talking and talking. So I told him, you already know all of it. Just go ahead and do what you know. He didn't hear one word from me because he didn't come to hear anything. He came to tell me what he knows. That guy has no address now. He was popular, he was known but he is nowhere now.
WHAT DID GRACE MAKE PAUL THE APOSTLE?
1. Grace turned him into the frontline star apostle. Apostle of the Apostles. He was the late comer that became the frontliner. He didn't come when Peter came. He wasn't there when James was there. He was a sinner, a Pharisee but when God went for him, He turned him into a star Apostle. He took him from the background to the forefront.
- This same grace I am talking about is about to turn you into something that will amaze your world!
It is not how early or how late you came, but what is working for you that determines your outcome. If grace is working for you and great grace is working for you and exceeding great grace is working for you, you can become the late comer that ended as the frontliner until people begin to ask, we don't know what they are doing, we don't know what they are using. Maybe they are using charm. That is an insult on God because charm shouldn't be stronger than God. Archbishop Benson Idahosa said, if they use charm, use God and God is bigger than charm.
Peter began to receive instructions from Paul the apostle by grace (2 Peter 3:15-16). Things that were hard to be understood were spoken to me, of Paul by grace. Beloveth, it is not of him that willeth, nor of him that runneth, but of God that sheweth mercy.
2. Grace ushered Paul into the manifestation of diverse giftings. He was an apostle, a prophet, an evangelist, a pastor, a teacher. You cannot explain what you do not understand. Paul the apostle, if Paul didn't mention the gifts, we won't know. So, he explained the things that were in his life. He was telling the story of his glory. He was like the David version of the Old Testament. When grace speaks, gifts explode. You don't struggle. People begin to wonder, what is this with this man? What do we call you?
Somebody was interviewing me the other week and he said, tell us who are you? Are you a pastor, an evangelist, a singer... Just tell us who you are? I said, I am a passionate lover of God, a pursuer of God. That was the man that was not qualified to be anything. This guy manifested what Peter only dreamt about. That was Paul.
3. The explosion of the supernatural. This is separate from the gifts I was talking about (Acts 19:11-12). Paul the apostle came to the point where the cloth on his body was healing the sick. He came to a point where his name was known in hell "Paul we know, Jesus we know. Who are you?". The demons equated Paul on the same pedestal with Jesus. Why didn't they say, Peter or James we know? They were all Apostles. It was not people who put Paul there. Demons placed Paul where Jesus was. There are people who are known in Heaven, earth and in hell. It was such an explosion of the supernatural. That is what God is doing in our days, where devils will recognize you by name (1 Corinthians 15:10).
4. Access to strange visions and revelations (2 Corinthians 12:1-4). Paul died with light. He was telling the Hebrews, there are things I want to tell you but you are not matured to accommodate them, so no need. So, he died with light. What a grace! We are seeing things that we can talk about all the time. He went into the spirit, out of the spirit at will by grace. Grace causes revelation, vision and direction to explode. He said one day he was in the water for 24 hours, and you are not fish and you didn't die? Even the hippopotamus that stays in water come out to take breath before going back. This guy was there for 24 hours (2 Corinthians 11:25, Acts 27:23).
5. The privilege of being the author of almost half of the New Testament. He left the rest for the eleven. One thing you will understand is that grace does not always appear fair. But never fight a man who carries grace otherwise you will suffer disgrace and you are deleted.
What is it that are conditions to experiencing exceeding Grace? There are things that God will see in a man and He will say, let me do this in a man's life. Before Jacob and Esau ever made any decision, God said, Jacob have I loved. Esau, have I hated. They were still in the womb (Romans 9:13). God was speaking for what He could see in the tomorrow of the baby, that this baby will be such a useless baby, he will sell his birthright. He will outrightly go out of the covenant of Israel to marry the Hittites.
There may be no qualifications but there are certain things that a person can carry that even though everything physically is against you, God says from what I can see in this one, if I anoint him and give him grace. He will not disappoint.
Lift up your right hand and say:
"Father, I receive your help to do your will"
1. Death to self. Any man, any woman who will embrace death to self will see grace like never before.. Absolute death to self which translates into humility is a qualifier (Galatians 2:20, Philippians 1:20-21, Ephesians 3:8).
Many of us, our arrogance and pride are the reason for our limitation (James 4:6). God can see the posture of our hearts before He can put His deposits in our hands. No matter how golden a cup us, if it must receive water, it must bow for the tap. It was pride that made Lucifer to crash. There was a young man that God was using and then he stopped coming to church. They said, "why are you not coming to church?" He said come to church to sit down under who?" That guy ran mad, grace disappeared, insanity arrived. That was his end.
You cannot please God without his help (1 Corinthians 4:7). Pride brings one down, it will usher you into a realm that was worse than whare you were before. I like us to calm down. God wants to do so much but He's been limited by the pride of people. One day I went to God praying for seven days and I asked God, "I'm trusting you for this and that. By the fourth day, He said what you are asking is not too difficult but can you defend my glory? I don't want you to touch it and I don't want anybody to touch it". Then I went for another three days crying, "give me the grace. Let me never behave like an achiever or like I am anything. Help me. Always remind me of where you took me from".
1 Corinthians 4:4
My Father in the Lord said, don't struggle with honorarium if I come to preach. I am not a guest minister. My and you are hosting the program together.
- It is a new day for you!
- Any tendency of arrogance, Lord kill it!
Don't let God humble you, let revelation humble you. See something in scripture that will calm you down. Don't let God pass you through things because you may come out of it but you will never be the same. Jacob came out but with a limp. Let revelation bring you to submission because when other things bring you into submission, they bring you into total frustration. You may come out of it but the scars remain.
2. Flowing with the spirit (Zachariah 12:10). The spirit of God is the spirit of grace (Luke 2:40). Flowing abundantly in prayer, Worship, being guided by the Spirit, being led by the Spirit.
3. Existing with the spirit of prayer (Ephesians 6:18, 1 Thessalonians 5:17)
4. Grace will answer to the willingness to labour; the acceptance of responsibility (1 Corinthians 15:10-11)
God does not give grace to holiday makers. He gives grace to labourers. He doesn't give grace to fund seekers. Grace is not for funfair. Do you know how the ancient fathers laboured? Oral Roberts will be in a garden for five weeks every night. Dr Morris Cerullo said they were fasting for days. As long as the crusade lasted, he was fasting. Our generation, that's why we are not touching what the people touched. Billy Graham stayed for 88 nights, two days it would have been 90 days. He was there until when Billy stadium became overflowed. Lived to be almost 100 years. Many of us are 40 years old and we are tired. Tired of doing what?
I was talking with Papa Oyedepo yesterday, he said the way we are working, if it was not the grace of God, somebody would have died since. Because at times Good Morning can be 3:00am or goodnight. You may not be an evangelist but when was the last time you did a neighborhood outreach where you are located? When a man decides to labour, God gives him the mantle of many people. That was happened to Elijah. He was the only prophet that was ready to speak in Israel against Ahab and the evil of the land. Smith Wigglesworth said, God will bypass a thousand people to anoint one man who has a heart and a passion and willingness to do God's will.
Stand up on your feet everyone.
We returned from crusade on Saturday night because there was no airline flying at that time. At times we organised three private jets so that everyone can be in church on Sunday. We came from Lafia crusade, four weeks ago, then the following week, we were in Lagos. Church is happening, Seed of destiny daily devotional is happening. Everything is happening. Fire burning everywhere. Something is happening to you.
If you don't have energy to labour, apply for grace to labour. You can get grace to labour and by labouring, you connect more grace. You can labour in Kingdom service, soul winning, giving and imparting your generation
Lift up your hands and lift up your voice everywhere you are and just receive something that God is releasing to you right now.
PRAYER:
- Lord, crush anything in me that stands in the way of your grace. Every tendency of arrogance, pride and ostentation; crush it Lord in my life in the name of Jesus.
- Father, I receive your grace to pray like never before. I connect with the spirit of grace today at the altar of prayer.
- Father, I receive the grace for labour. Prepare me a body that can carry Your assignment for my life and fulfil my destiny in the land of the living; help me Lord in Jesus' name.
Content created and supplied by: DunamisMessages (via Opera News )
Opera News is a free to use platform and the views and opinions expressed herein are solely those of the author and do not represent, reflect or express the views of Opera News. Any/all written content and images displayed are provided by the blogger/author, appear herein as submitted by the blogger/author and are unedited by Opera News. Opera News does not consent to nor does it condone the posting of any content that violates the rights (including the copyrights) of any third party, nor content that may malign, inter alia, any religion, ethnic group, organization, gender, company, or individual. Opera News furthermore does not condone the use of our platform for the purposes encouraging/endorsing hate speech, violation of human rights and/or utterances of a defamatory nature. If the content contained herein violates any of your rights, including those of copyright, and/or violates any the above mentioned factors, you are requested to immediately notify us using via the following email address operanews-external(at)opera.com and/or report the article using the available reporting functionality built into our Platform See More