Valentine is a season of love as exemplified by Saint Valentine of Rome in the 3rd Century AD. Since then, all over the world, people celebrate Valentine Day on every 14 February of the year which marks the day in which Saint Valentine was executed. In Nigeria, thousands of families, loved ones and acquaintances celebrated the 2021 Valentine Day on February 14, and the family of Mr Abioye Toba, a civil engineer residing in Port Harcourt, Rivers State was not left out in the show of love with the members of his family.
In what appeared to be an adorable concept, Mr Abioye Toba shared a family picture on his Facebook page where he and his family members adopted the positions they took 20 years ago while taking a family picture, and enacted same on the eve of February 14, 2021. What draws a lovely attention in the picture is that, every member of the family in the older picture was not only present but also posed exactly the same way like the older picture and maintained their positions. It was breathtaking!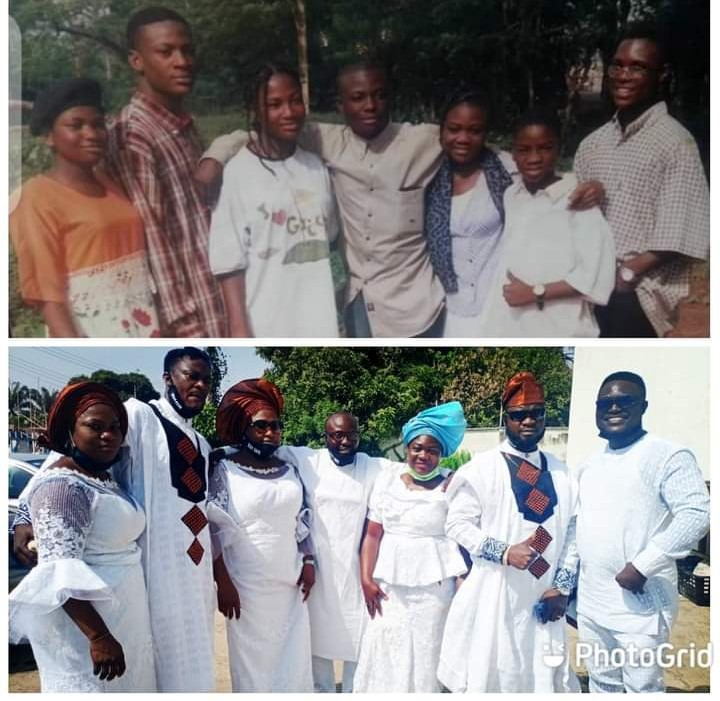 From Right to Left, Engineer Abioye Toba came first in both picture
This single picture explains a lot: that the family appreciate their humble beginning; that the family members love one another; that all of them being alive after 20 years to see themselves again in an organized setting is a big feat to give thanks to God; that coming together again like one, in a single accord, can go a long way to healing wounds and restoring hope, not withstanding their differences.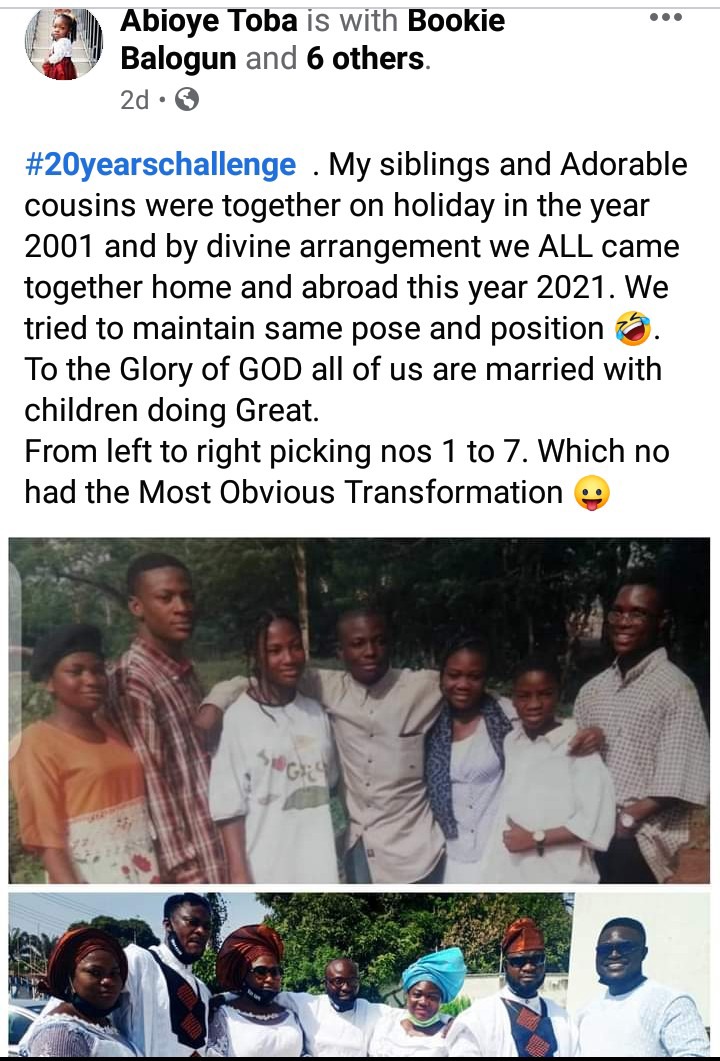 In fact, it is important to note that all of them in the picture are now married with kids. 20 years difference is not a joke. Nonetheless, they all have obvious transformation in their physical development. It is a thing of joy to share love with your family. It brings about a lasting happy memory. In a morally debased world decay of human and family love, yet is important to maintain love in your family because family is everything.
In the spirit of the Valentine season, true love means uniting in family love, helping those in need, and giving hope to the hopeless. It means healing wounds and engendering peaceful coexistence. Just as Saint Valentine cut heart shapes from parchments to the persecuted Christians and soldiers to remind them of their vows and God's love, it is important to give to people our warm love and remind them that God loves them too.
In this season of global pandemic, it certain that a lot of people have lost their loved ones in dead. Others have lost their jobs. And many others have got their business grounded. Means of livelihood of thousands of families have crumbled. Yet, we cannot deny the fact that there are a lot of well placed individuals in the society who could strive to learn a helping hand in order to ameliorate the suffering of the less privilege.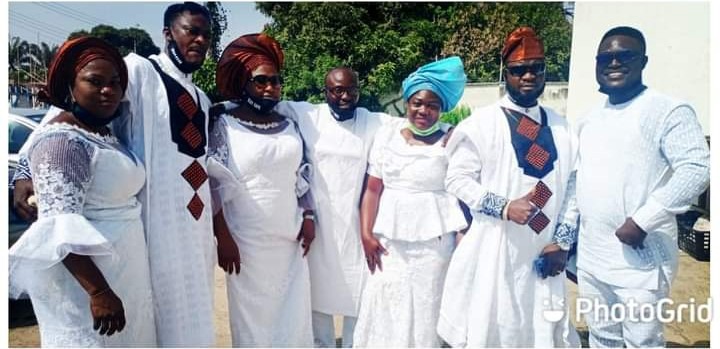 In the euphoria of the Valentine season of 2021, how many lives have you touched? How well has your life been touched by someone? It is imperative to remember that love is kind, does not puff up with pride, does not behave indecently, does not keep account of injuries and does not look for his own interest alone. Love never fails according to the Holy Book at 1 Corinthians 13:4-8.
Content created and supplied by: Penason (via Opera News )